Meeting America's Need for More Physicians & Nurses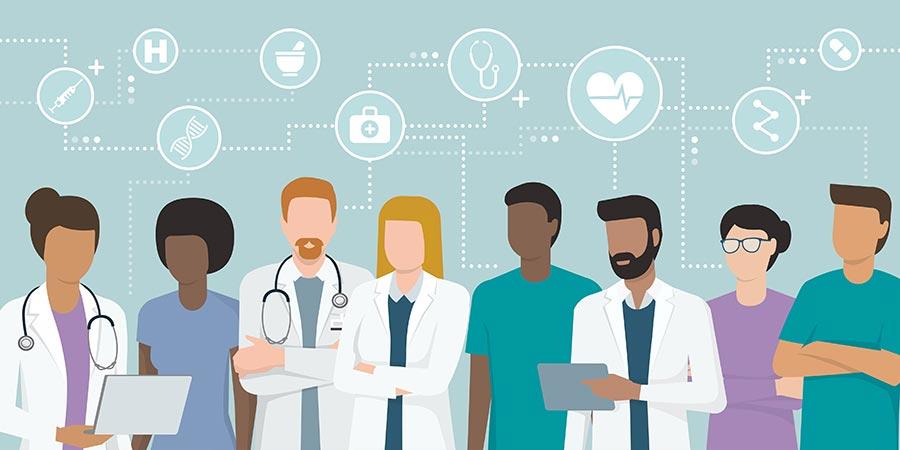 Article by Lisa Wardell
As the number of COVID-19 cases in our country multiplies, so has the strain on a primary care system that was already short of physicians and nurses before this crisis hit. In order to build a deeper bench of healthcare professionals, we must understand the limitations of the system and embrace the important role the full spectrum of medical science educators play in filling critical care gaps.
The availability of healthcare workers was already stressed by the demands of caring for an aging U.S. population, coupled with the near-term retirement of scores of physicians and nurses. As previous projections highlight, the current rate at which new physicians and nurses enter the system was already not enough to meet changing demographics and healthcare system demands. With more than one million registered nurses (RNs) expected to reach retirement age within the next 10 to 15 years (as highlighted in other studies), there is a need for approximately 200,000 additional new RNs each year through 2028 to fill new positions and to replace retiring nurses.
The COVID-19 pandemic is exacerbating these trends and bringing the need for more healthcare professionals into sharp focus as a critical national issue. As the leader of one of the largest providers of healthcare professionals to the U.S., it has been my priority and mission to help address these shortages. To do so, we are focused on expanding access to high quality medical education, delivering highly qualified professionals to the healthcare workforce, particularly in underserved communities, and working with providers to strengthen the performance and resiliency of their human capital supply chains.
From providing the end to end academic journey for nursing and medical students, to partnering with hospitals and health systems to better understand their workforce needs; to responsively embedding those accumulated insights into our curricula and programs: this is what being a leading workforce solutions provider is all about. We are building a more sustainable and impactful bridge between supply and demand in one of the most critical social and economic systems we have – healthcare.
As we've seen from this pandemic, the collaboration amongst the private and public sectors is critical for us to rapidly serve the needs of our nation with increased testing, scaling personal protective equipment development and mass volunteerism. Collaboration and partnerships have long been a key focus for us. For example, Adtalem's medical and healthcare institutions regularly engage with key government officials to advocate for critical issues such as disaster medicine, diversity & inclusion in the industry and One Health, those areas of research that allow for a collaborative approach to human, animal and community health. Adtalem also supports numerous non-profit organizations in both the U.S. and the Caribbean that are working to advance public health priorities, by way of community grants, in-kind donations of resources and employee/faculty/student volunteering.
At the same time, we've been working on establishing these robust partnerships to drive better outcomes and focus on creating additional strength in numbers through our infrastructure. Our two medical schools, American University of the Caribbean School of Medicine (AUC) and Ross University School of Medicine (RUSM) just announced that more than 900 of their students have attained residency positions in the U.S. and Canada. I'm proud to say that more than half of these students have already graduated and are eligible to start their residencies immediately and join the fight against COVID-19, adding to the more than 21,700 physicians AUC and RUSM have graduated to date.
Our business model is designed to educate, train, and prepare future healthcare professionals at scale. Rather than being confined to a limited annual enrollment schedule, our international medical schools offer three enrollment periods per year. This provides the opportunity for an influx of physicians into the workforce year-round and results in a substantial increase in the number of qualified graduates.
We believe our institutions are demonstrating education at its best—expanding the talent pool while providing successful outcomes for students, value to employers and positive social impact in our communities. During this critical time, we will aggressively pursue our education mission to ensure public health needs are met both in the near, immediate and long-term. We will use our experience and the upward demand for online learning, along with continued public and private sector collaboration, to lead on innovating new ways to meet the demands of public health and other critical societal needs.
Defeating COVID-19 and eliminating shortages of healthcare providers will require the full resources, dedication and commitment of every healthcare training institution to support front line doctors and nurses. At Adtalem, we are doing our part and we are proud of our 2020 graduates who will enter the healthcare system in short order to join the fight against this global pandemic.