Community Support
---
Adtalem Global Education and its family of institutions and companies are committed to serving as responsible community citizens. We provide community support to charitable and civic organizations globally that share Adtalem's values, as we greatly understand the importance of volunteering and engaging with our local communities. We also strive to instill the value of service in our students and members,  and encourage colleagues and staff to lead by example. Adtalem is aligned with the medical, nursing and healthcare communities, helping to cover costs of medical services and supplies for groups in need and raising awareness of non-communicable diseases and other health risks. Our Financial Services businesses also support groups that align with their areas of expertise, such as combating financial crime and human trafficking, as well as encouraging financial literacy programming.
Fighting Modern Slavery and Human Trafficking
ACAMS established a strategic partnership with the Liechtenstein Initiative for Finance Against Slavery and Trafficking (FAST), a project based at the United Nations University Centre for Policy Research, to further mobilize financial sector stakeholders against modern slavery and human trafficking. ACAMS launched an Official Pledge in support of FAST, encouraging its global member community to commit to taking action in line with the FAST Blueprint program. In addition, ACAMS has committed to creating awareness on modern slavery and human trafficking within its global community and beyond through its events, webinars, chapters and editorial content.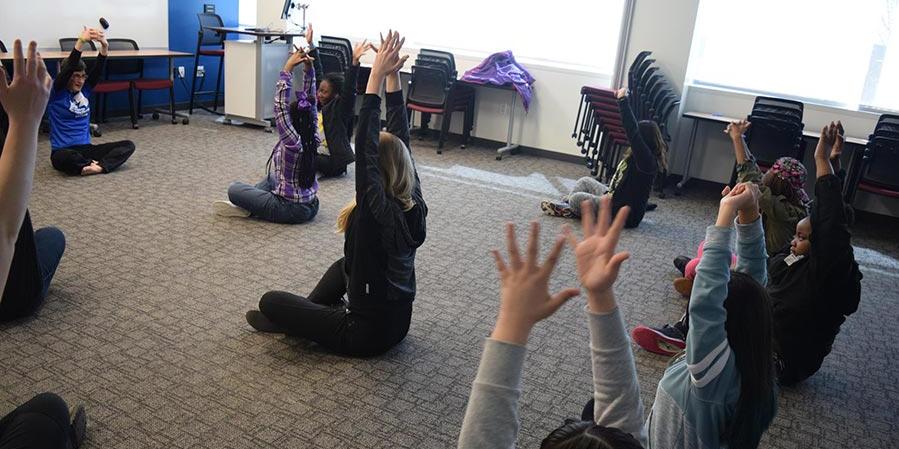 Girls in the Game
A group of highly-motivated students from Girls in the Game's Teen Programming visited an Adtalem campus for a workshop focused on leadership, self-esteem and career development.
"Support from Adtalem Global Education has deepened Girls in the Game's ability to help girls develop into role models as they grow up. They have graciously hosted our annual Leadership Institute from the event's inception, providing a day of networking, exploration and early professional development for teen and middle school girls." Dawn Kobel, Director of Development and Communications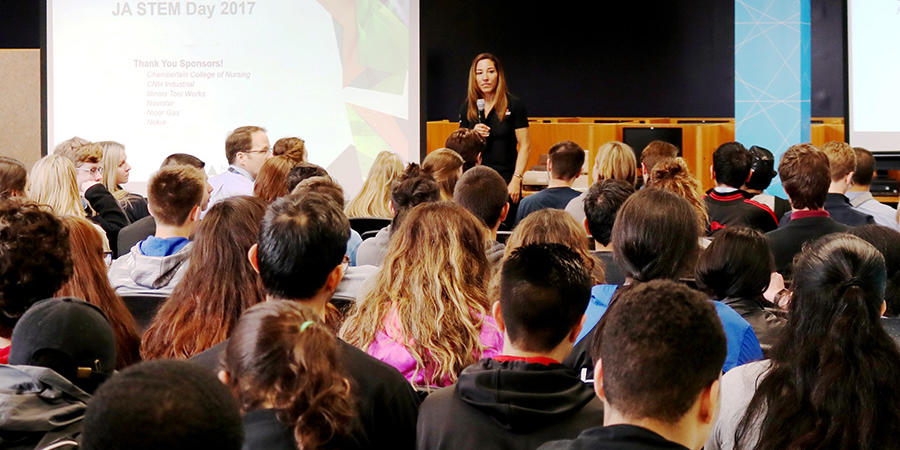 Junior Achievement
Since 2008, Adtalem Global Education and Junior Achievement have worked together to inspire young people to succeed in a global economy. Adtalem employees regularly volunteer to teach students lessons on financial literacy and workforce readiness.
"Junior Achievement is fortunate to be a long-time partner of Adtalem in our efforts to inspire and prepare young people to succeed in a global economy. Adtalem has played an invaluable role in helping our students prepare for careers." Derek Ernst, Vice President of Operations, Junior Achievement of Chicago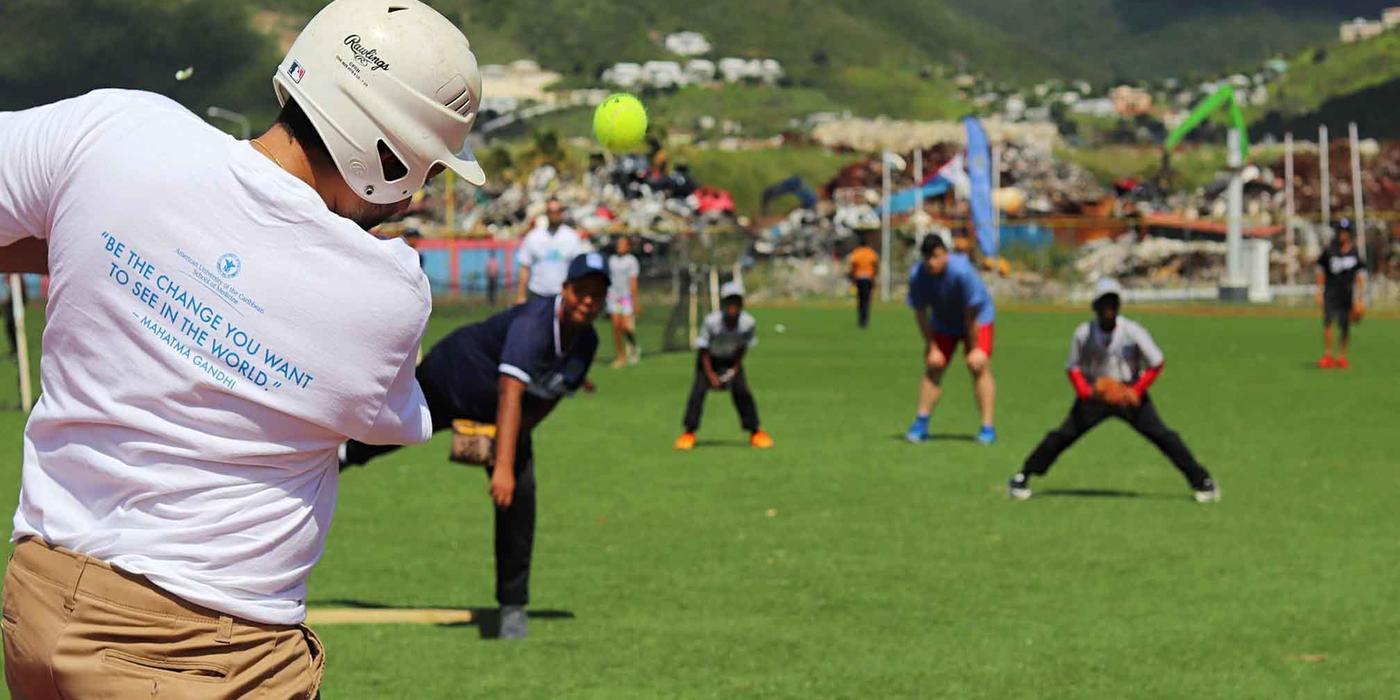 Community Action Days
The American University of the Caribbean (AUC School of Medicine) regularly holds Community Action Days, opportunities for the university to collaborate with local organizations on a variety of volunteer projects benefitting the people and communities of Sint Maarten. Similarly, Ross University School of Medicine initiated a Day of Service program to give back to the Barbados community. During the inaugural event in 2019, more than 120 students volunteered at eight different locations. Pictured above, AUC School of Medicine students volunteer with the Player Development SXM Little League Baseball Program.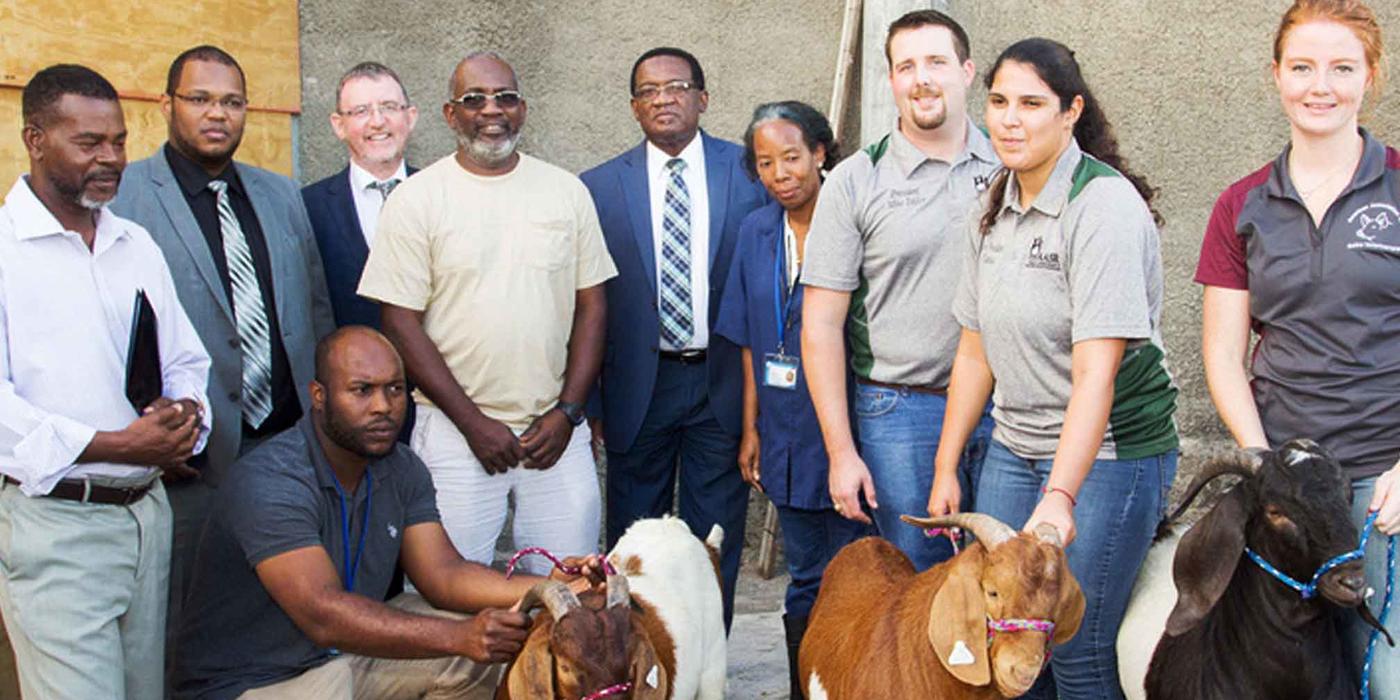 St. Kitts & Nevis Agriculture
Ross University School of Veterinary Medicine's Small Ruminant Student Club collaborated with the St. Kitts & Nevis Ministry of Agriculture to improve goat production on both islands. Through the crossbreeding of local indigenous species with goats from the United States, the project will enhance the agriculture industry through the quality of livestock on the island by producing offspring with better growth rates and stronger resistance to local diseases.
Employee Volunteerism
---
Our team is passionate about giving back to the communities in which we work, live and teach, and to helping those in need. Around the world we collectively use our skills and volunteer our time in fulfillment of our values. Adtalem students, faculty and employees participate in philanthropic opportunities throughout the year at corporate and campus-supported events. Adtalem holds an annual "Month of Service," providing a paid work day for employees to volunteer with a charitable organization of their choosing. Many of our employees, including senior leaders, also lend their expertise to the community by participating on nonprofit boards or by speaking on panels at community events.
Philanthropic Giving
---
Adtalem Global Education recognizes that uplifting a community often requires philanthropic support, and that is why we are committed to giving back through both our 501(c)(3) charitable arm, the Adtalem Global Education Foundation, and through corporate support of non-profit and civic organizations that promote economic and workforce development, support community health and well-being, improve and increase educational access, encourage innovation, and support members of the U.S. Armed forces and their families.
Helping our Adtalem Family
---
The Adtalem Assistance Fund supports the colleagues and students of Adtalem Global Education's institutions and companies who are in need. Most recently, donations to the site benefitted members of the Adtalem community who were affected by the hurricanes across the Caribbean and in Texas, as well as those in our community affected by the California wildfires.
---
Independent from the corporate giving efforts, the Adtalem Global Education Foundation, a 501(c)(3) organization founded in 2010, focuses on supporting global education and workforce initiatives that advance career opportunities for underserved populations and improve the economic and physical health of local communities. The Foundation supports non-profit organizations that align with the values of its sole member, Adtalem, and promotes a vision of an equitable, healthy and economically productive society.
---
Established in 2000, the Empower Scholarship Fund provides financial support in the form of scholarships (restricted and unrestricted) to current students, especially those with the greatest need and who have established a successful academic track record. Students who, without scholarships, may find it difficult to continue their education.