Adtalem Global Education medical schools add more than 900 physicians to U.S. and Canada residency programs during 2020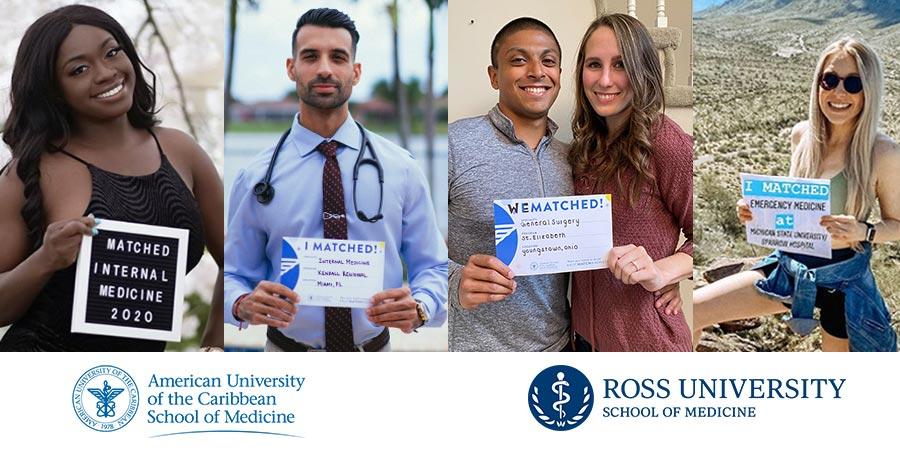 Graduates will contribute a significant influx of new primary care physicians to the healthcare system
CHICAGO – April 7, 2020 – As COVID-19 continues to add strain to the U.S. and Canadian healthcare systems, Adtalem Global Education (ATGE), a leading workforce solutions provider, continues to make significant contributions to address the need for more physicians.
Adtalem's two medical schools, American University of the Caribbean School of Medicine (AUC) and Ross University School of Medicine (RUSM) announced more than 900 students and graduates have attained residency positions in the United States and Canada. This brings the total number of alumni at both schools to 21,700. AUC students achieved a first-time residency attainment rate of 91% and RUSM achieved a rate of 93.5%.
"As the COVID-19 pandemic tests the capacity of an already strained primary care system experiencing a growing shortage of physicians, 70% of Adtalem institution's students and graduates who attained residencies will enter residencies in internal medicine, family medicine or pediatrics – the heart of primary care," said Lisa Wardell, chairman and CEO of Adtalem Global Education.
Of the 909 individuals who attained a residency, more than half have already graduated and are eligible to start immediately.1 This represents a significant level of support at a critical time for healthcare providers. With residency placements in 42 states, including New York, Florida, California and Illinois, AUC and RUSM graduates have an opportunity to contribute in the states most heavily impacted by COVID-19.
Adtalem's medical schools are in a unique position to fill this need. Qualified students at AUC and RUSM have the ability to begin their medical education three times per year — in January, May and September. This added flexibility allows students to obtain their Doctor of Medicine degree at more frequent intervals.
As one of the largest providers of healthcare professionals in the U.S., Adtalem is proud to support and contribute to the medical professionals working tirelessly in our communities. In addition to Adtalem's physician graduates, Chamberlain University, another Adtalem institution, has graduated more than 3,000 Bachelor of Science in Nursing (BSN) students since January. This brings the total number of Chamberlain University alumni to over 76,000.
---
1 ECFMG certification and training license required.
Media Contact:
Elizabeth Story
elizabeth.story@adtalem.com
(815) 545-4242