Adtalem to Acquire Walden University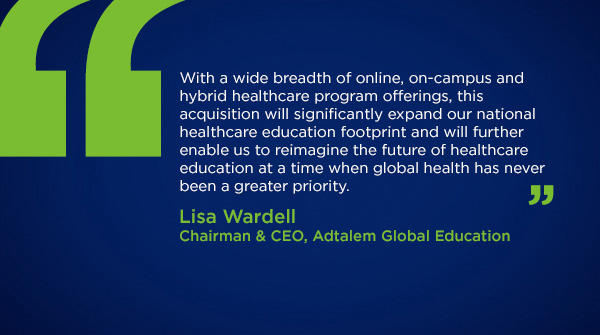 Reimagining the Future of Healthcare Education
Adtalem Global Education has entered into a definitive agreement to acquire Walden University, a leading online healthcare education provider, from Laureate Education, Inc. With the addition of Walden University, Adtalem will become the premier national healthcare educator, providing comprehensive workforce solutions to employers through proven learning modalities with superior academic outcomes.
With the addition of Walden University, Adtalem will have an even greater ability to broaden access to high-quality education for students through an unmatched depth and breadth of online, on-campus and hybrid educational offerings and clinical partnerships. Through the acquisition, Adtalem will also gain additional capabilities in multiple learning modalities which have become increasingly important since the onset of the global pandemic. This enhanced ability to expand access and broaden student offerings will better enable employer partners to solve complex challenges at scale.
The combined organization will have 26 campuses across 15 states and 4 countries, 6,100 dedicated faculty members and more than 90,000 enrolled students. The combined organization will rank number one for total undergraduate and graduate nursing enrollment and be the world's top provider of MDs, PhDs and nursing degrees to African Americans.
Read more about Adtalem's acquisition of Walden University
Driving More Access to High-Quality Education