Healthcare Education Enrollment Growth Featured in Adtalem Results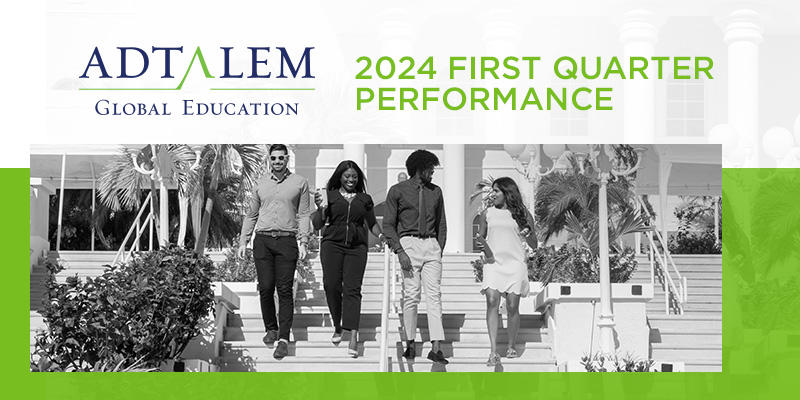 The first quarter of fiscal year 2024 shows Adtalem well-positioned to address workforce shortages in healthcare.
On October 26, Adtalem Global Education, the nation's leading provider of healthcare education,1 reported results from the first quarter of fiscal year 2024. A return to total enrollment growth was one of the highlights, with total enrollment at 81,073 across five institutions.
Adtalem is well-positioned to address critical healthcare provider shortages. And our enterprise-wide emphasis on advancing health equity has never been more important,
said Adtalem President and CEO Steve Beard.
Nursing Enrollment at Chamberlain University
Enrollment was up for a third consecutive quarter and 5.2% year-over-year at Chamberlain University, a vital workforce solution for the nursing industry. As an example, the report notes how the school's innovative Practice Ready. Specialty Focused.TM model helps to address nursing shortages in several specialty areas, including peri-op, home health, nephrology, and emergency care.
Among other demonstrations of market-leading scale, Chamberlain has the largest Bachelor of Science in Nursing and Master of Science in Nursing programs in the U.S.  Chamberlain was the No. 1 provider of nursing degrees to minority students in the 2020-21 school year, providing 5% of all nursing degrees to minority students.
Enrollment and Graduation at Walden University
Walden University also saw total enrollment growth year-over-year. At its most recent commencement ceremony, it celebrated the conferral of more than 6,500 doctoral, master's, and bachelor's degrees. Nearly 35% were for post-licensure nursing programs, and more than half of the graduates who reported their race identified as being from minority groups.
Social Change, Awards, and Sustainability
The report highlights faculty members from Chamberlain and Walden who were accepted into the Leadership Academy in Social Determinants of Health and Social Change; innovation in the student experience recognized with multiple awards, and the release of Adtalem's 2023 Sustainability Report.
Read the press release.
1. Based on 2021 data.