Adtalem's Medical, Veterinary Schools Celebrate Graduates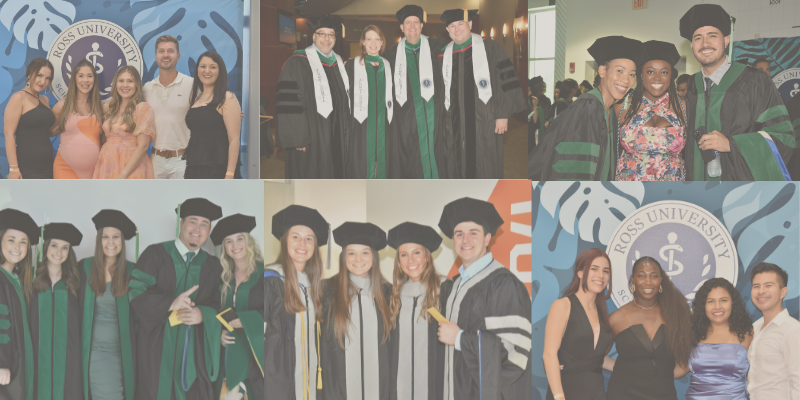 On May 19 and 20, graduates and their families celebrated commencement from American University of the Caribbean School of Medicine (AUC), Ross University School of Medicine (RUSM), and Ross University School of Veterinary Medicine (RUSVM). A total of 1,028 medical students from 44 states and 22 countries along with 395 veterinary students from five countries and 44 states were invited to participate in the ceremonies in Miami.
Adding Diversity to the Medical Profession
Some 27% of those invited to participate in Adtalem's 2023 medical school graduations identified as a race or ethnicity that is underrepresented in medicine (URiM). During the 2021-2022 academic year, the most recent data available from the Association of American Medical Colleges (AAMC), 19% of MD graduates from U.S. medical schools identified as a URiM graduate.  
In 2021-2022, 6.9% of all US allopathic medical school graduates were Black/African American and 6.1% were LatinX, according to the AAMC. Of those invited to participate in Adtalem's 2023 graduation ceremonies, 16% identified as Black/African American and 11%  as LatinX. A recent study suggests that "greater Black primary care physician workforce representation is associated with better population health measures for Black individuals."
Adtalem's medical schools reached a 97% first-time residency attainment rate for 2022-2023 graduates [1] with placements in 29 specialties. As newly minted physicians, they will begin their graduate medical training over the coming months at programs across 45 states. They enter a job market where the US could see an estimated shortage of between 37,800 and 124,000 physicians by 2034, including shortfalls in both primary and specialty care.
Read about Match Day and meet some of Adtalem's graduates headed to residencies.
Filling a Need for Veterinarians
Employment of veterinarians is projected to grow 19 percent from 2021 to 2031, much faster than the average for all occupations. About 4,800 openings for veterinarians are projected each year, on average, over the decade. With 395 students invited to participate in commencement, Ross University School of Veterinary Medicine could fill more than 8% of that annual need.
Veterinary medicine remains one of the least diverse professions in the U.S. Some 8% of those invited to participate in Adtalem's veterinary school graduation identified as a race or ethnicity that is an underrepresented minority.
Inspiring Speakers
Ross University School of Medicine
Dr. Janet D. Donlin

As CEO of the American Veterinary Medical Association, Dr. Janet Donlin works closely with volunteer leaders, staff, and veterinary colleagues to advance the AVMA's mission "to lead the profession by advocating for our members and advancing the science and practice of veterinary medicine to improve animal and human health."

Watch the entire RUSVM ceremony.
"I've been fortunate to have had the chance to meet veterinarians who are integral parts of their local communities—veterinarians who were astronauts, veterinarians doing amazing research, and veterinarians who have shattered societal barriers that have been placed before them. They all understood that joining the veterinary profession meant they needed to be of service to others, and to the profession itself, and that's what drives them."
Ross University School of Medicine
Dr. Oliver Tate Brooks

Board of Trustees member Dr. Oliver Tate Brooks is interim chief executive officer, chief medical officer, and past chief of pediatric and adolescent medicine at Watts Healthcare Corporation in Los Angeles, where he also serves as the medical director of the Locke High School Wellness Centers. He is a medical director consultant for L.A. Care Health Plan, one of the nation's largest Medicaid managed care plans. He is also past president of the National Medical Association.

Watch the entire RUSM ceremony.
"You will be entering residency programs; I see excellence. You all will become practicing physicians; I see caring healers. You all will be revered in your community; I see leaders. You will stand up for what you believe is right; I see nobility with integrity. You will have a coterie, a squad around you that supports you, cares for you, prays for you; I see love."
American University of the Caribbean School of Medicine
Dr. Monica Arti Makhija

Dr. Monica Makhija, a 2007 AUC graduate, is a neurologist at Beth Israel Deaconess Medical Center, Harvard Medical School. She carries board certifications in both Epilepsy and Sleep Medicine, and her clinical and research interests are in the intersection of these two fields. She runs a specialty clinic for epilepsy patients with undiagnosed sleep disorders. In addition to research and clinical care, Dr. Makhija devotes substantial time to teaching.

Watch the entire AUC ceremony.
"With the knowledge you have gained at AUC, the opportunities are absolutely endless. … It's important to recognize the problems you face as opportunities for growth whether you learn a new skill or something important about yourself, remind yourself to find the silver lining about each of these challenges."
---
[1] First-time residency attainment rate is the percent of students attaining a 2023-24 residency position out of all graduates or expected graduates in 2022-23 who were active applicants in the 2023 NRMP match or who attained a residency position outside the NRMP match.