7 Strategies to Balance Motherhood and Career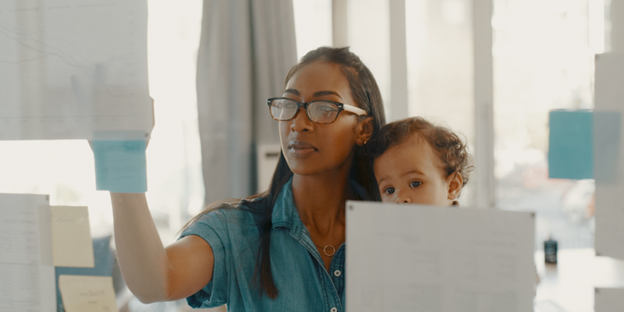 Although it can be difficult at times, the balancing act of raising children and maintaining a career is possible. Add these seven tips into your life to better manage it all.
Being a working mother is no small feat. From daycare to deadlines, staff meetings to story time, balancing the responsibilities of both personal and professional life can seem like a never-ending to-do list. While some days there may be a sense of being pulled in opposite directions, creating a routine to better manage both worlds is doable. Get started by incorporating these seven strategies into your daily routine:
Set a Schedule. Create a calendar that outlines work, family, and personal time. As much as possible, try to stick to your schedule to make sure that you have time for everything that's important to you. However, life does happen … which leads us into our next strategy. 

Be Flexible. Both your career and motherhood are unpredictable. Sometimes the only way to combat that is by being prepared for the unexpected. Stay flexible and adjust your plans when needed. 

Maintain Healthy Habits. You can't give your best to others if you're not giving it to yourself first. Make sure you're eating to fuel your body with nutritional food, staying hydrated, and getting adequate sleep.

Establish Boundaries. This one can be hard, but learning to say no to commitments or requests can help you stay aligned to your priorities. Mastering the ability to decipher between being busy and being productive will help your focus stay on what's truly important to you. 

Outsource to Optimize. Who said you had to do everything, everywhere, all at once? Take some tasks off your plate so you can make the most of the time you do have. This can look like hiring a cleaning company for your house chores, asking a partner to help prepare dinner, or paying a local business to do some yardwork.

Relax & Relate. Don't let your hard work be in vain. Take some time away for yourself and rejuvenate. Pencil time in your schedule to exercise, spend time with friends, relax or practice self-care. Making time for this will help you maintain not only your physical health, but your mental health. 

Remember Your Why. Often it's hard to see past the duties of the day, but there is a reason you do what you do. Don't forget the goals you set for yourself and use that as motivation to continue to thrive at work and at home.
Being a working mother is a process, filled with adventures and learning, but it can also be one of the most rewarding roles you'll have. Be patient, kind to yourself, and keep the focus on what's most important to you.