The Adtalem Global Education Foundation Partners with the Children First Fund to Support Educational Pathways to Health Sciences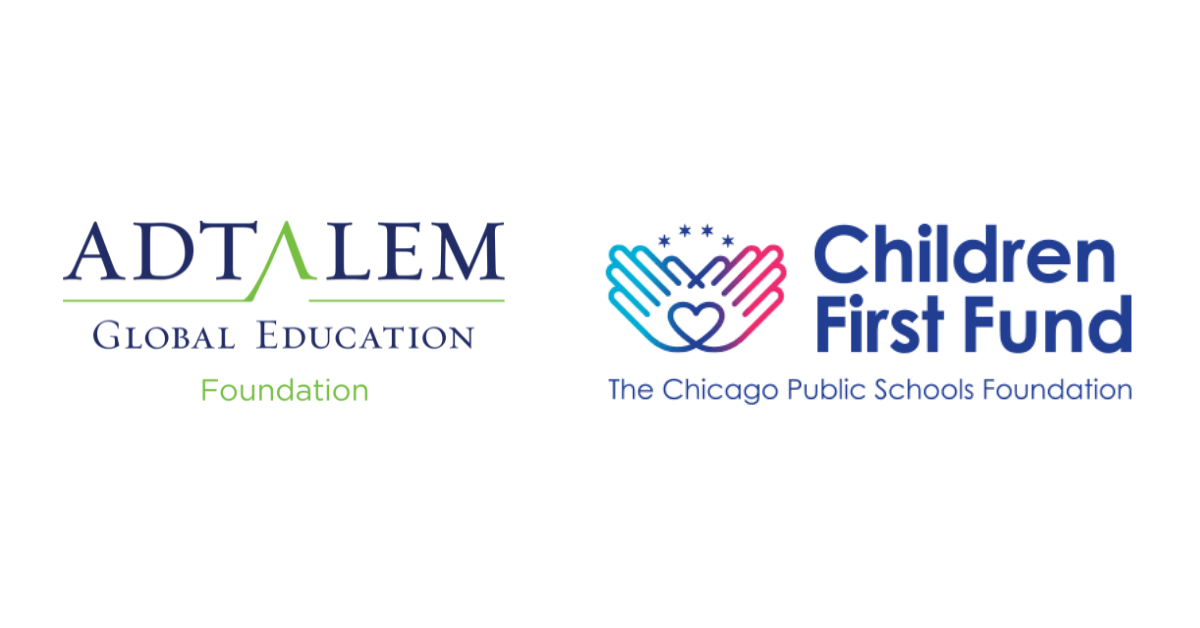 CHICAGO — May 31, 2022 —The Adtalem Global Education Foundation has announced a partnership with the Children First Fund (CFF), the foundation arm of Chicago Public Schools (CPS), to bring cutting-edge health sciences technology and curriculum to CPS classrooms.
This partnership aims to give CPS students opportunities to master health science content and skills through hands-on training with credentialed Career and Technical Education (CTE) teachers starting in their sophomore year. Students will learn skills like taking blood pressure, interpreting diagnostic images, conducting blood typing labs and much more. This grant also provides funding and resources for the professional development and training of credentialed CTE teachers.
The grant of $50,000 from the Adtalem Global Education Foundation supports the CPS CTE pathway in health sciences, and brings pilot, station-based health science labs to two Chicago public high schools, Theodore Roosevelt High School and South Shore International College Preparatory High School (SSCIP). These labs feature immersive virtual reality, enabling students to dissect, manipulate and explore virtual models of the human anatomy. The grant also aids in the creation of new health science curriculum using applicable data from published resources and strategic input from teachers and the district's CTE curriculum specialist.
"Expanding access to education is core to the mission of Adtalem. Through our partnership with the Children First Fund, we are opening pathways to health science careers for Chicago students from diverse backgrounds," said Steve Beard, president and CEO of Adtalem Global Education, which is headquartered in Chicago. "For those students interested in pursuing a medical or nursing career, these health science stations provide students with a head start on preparing for college and even allow for access to certain certifications while they are still in high school."
The CTE Health Science lab technology puts students "in charge of their learning environment and how they interact with content. Complex content seems less abstract when it literally pops off the screen," said Beth Heckinger, CPS Early College and Career Curriculum specialist. "Not only is AR/VR engaging, it also strengthens technology fluency so our students are better prepared to become healthcare professionals ready to embrace emerging equipment and technology-based systems."
In utilizing the lab's virtual reality and augmented reality technology, Dr. Felix Egharevba, CTE Medical Program teacher at CPS South Shore International College Prep High School notes that this, "makes students fearless - they take educated risks and learn from mistakes without the stress and cost of restarting a physical experiment."
The health science labs and curriculum piloted with Adtalem's support provide a foundation to scale this model of high-quality CTE in Health Science and for advancing equity in science, technology, engineering and math (STEM).
"Involving students in authentic, hands-on learning experiences is crucial to engaging more of our youth from backgrounds underrepresented in STEM fields," said Sadie Stockdale Jefferson, executive director of Children First Fund. "This partnership advances equity for CPS students by expanding access to advanced technology and healthcare career exploration during high school."
The CPS Office of Early College and Career Education aims ultimately to provide different types of unique technology for all 19 CPS schools with Health Science CTE programs, allowing students in these CTE programs to visit different schools and encounter different technology, and to conduct lessons for their peers.
For more information about this program, visit https://www.cps.edu/academics/career-and-technical-education/health-science/.
About Children First Fund: the Chicago Public Schools Foundation
The Children First Fund is the philanthropic and partnership arm of Chicago Public Schools (CPS). It serves as a knowledge hub and liaison between CPS and its community of partners, securing and organizing resources that advance CPS' mission to provide a high-quality public education that prepares every child in every neighborhood for success in college, career and civic life. For more information, please visit https://www.childrenfirstfund.org or find us on social @ChiFirstFund.
About Adtalem Global Education Foundation
Founded in 2010, the Adtalem Global Education Foundation is organized to support charitable, educational and research purposes. The Foundation's sole member is Adtalem Global Education. The Foundation's activities reflect commitment to the following strategic areas: investing to expand access to education, jobs and careers; supporting the development of the communities where we live and work; and combating inequality and encouraging civic engagement. Visit the Adtalem Global Education Foundation for more information or to apply for funding.
About Adtalem Global Education
Adtalem Global Education (NYSE: ATGE) is a leading healthcare educator and provider of professional talent to the healthcare industry. With a dedicated focus on driving strong outcomes that increase workforce preparedness, Adtalem empowers a diverse learner population to achieve their goals and make inspiring contributions to their communities. Adtalem is the parent organization of American University of the Caribbean School of Medicine, Chamberlain University, Ross University School of Medicine, Ross University School of Veterinary Medicine and Walden University. Adtalem and its institutions have more than 10,000 employees and a network of more than 275,000 alumni. Adtalem was named one of America's Most Responsible Companies 2021 by Newsweek, and one of America's Best Employers for Diversity 2022 by Forbes. Follow Adtalem on Twitter @adtalemglobal, LinkedIn or visit Adtalem.com for more information.