Kenya Beard, Associate Provost at Chamberlain University, Appointed Chairperson to the New York State Board for Nursing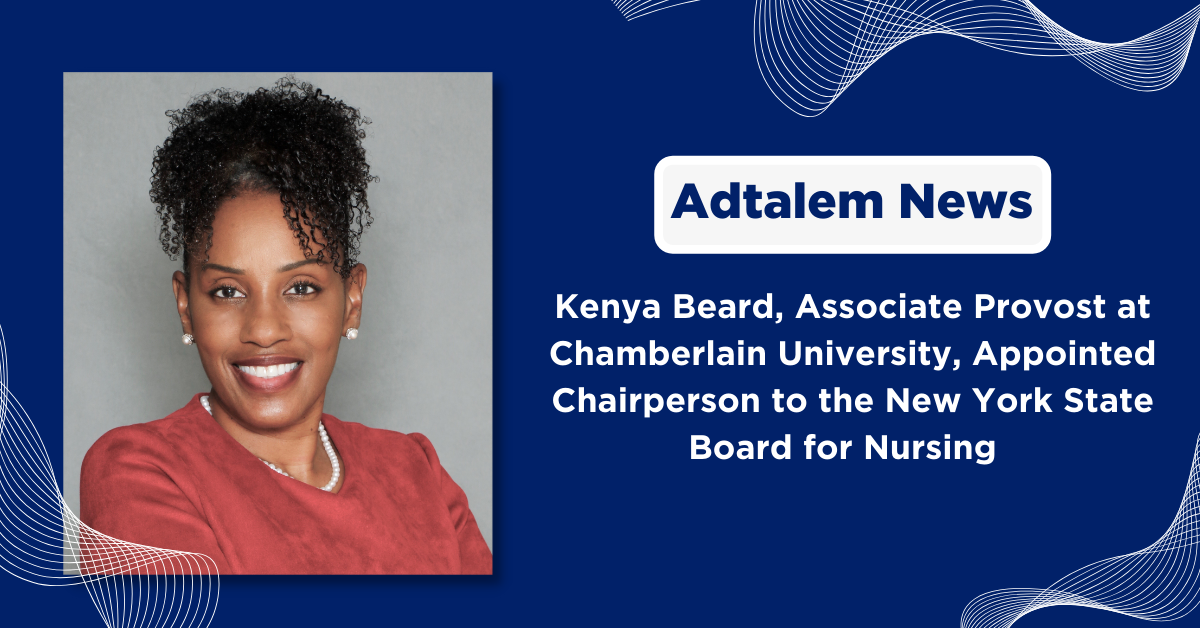 CHICAGO –  December 15, 2021 – Chamberlain University Associate Provost Kenya Beard, EdD, AGACNP, CNE, ANEF, FAAN, has been appointed chairperson of the New York State Board for Nursing.

Beard has dedicated her 35-year career to the nursing profession and education with an emphasis on advancing health equity and education at the national level. At Chamberlain, which is the leading grantor of BSN degrees to underrepresented minority students in the United States, Beard's focus is on social mission and academic excellence on behalf of the largest school of nursing in the country.

"We congratulate Kenya for this remarkable honor, and for her ongoing commitment to service, leadership and education in the nursing profession," said Chamberlain University President Karen Cox, PhD, RN, FACHE, FAAN. "Her life-long dedication to increasing diversity in nursing and improving health equity aligns with Chamberlain's mission to expand access to a high-quality education and enhance student outcomes." 

Beard served on the New York State Board for Nursing eight years prior to assuming the title of chairperson. In her new capacity, she will guide a board of 17 esteemed leaders in the healthcare sector.  The Board provides guidance to the New York State Board of Regents and the State Education Department to advance the nursing profession by establishing standards in nursing practice and education. 

"Creating a more diverse and inclusive nursing pipeline is a public health priority," said Beard. "In my position at Chamberlain, and in my new role with the New York State Board for Nursing, I am committed to engaging healthcare and education partners to ensure that the nursing workforce more clearly represents the communities and the patients we serve."

Beard's work addresses issues of improving healthcare outcomes and diversity in the nursing profession, including two published pieces in the Journal of Professional Nursing:  In 2019, she co-authored the study "Meaningful inclusion of diverse voices: The case for culturally responsive teaching in nursing education." In 2022 she co-authored the study, "Looking backwards to move forward: Using a social mission lens in nursing education."  

The appointment is the latest recognition of Beard's dedicated efforts to improving healthcare outcomes and increasing diversity in the nursing profession, and it aligns with Chamberlain's own efforts. Chamberlain, an Adtalem Global Education institution, has developed a research-based framework – Social Determinants of Learning ™  –  to inform and advance nationwide efforts to create a more diverse pipeline of students entering the nursing profession. This commitment to education and health equity is also incorporated within personalized learning approaches offered through the Chamberlain Care Student Success Model. The need for greater diversity in the nursing profession is outlined in the Future of Nursing 2020-30: Charting a Path to Achieve Health Equity report from the National Academy of Medicine. 

Beard represents the National League for Nursing as a commissioner for the American Nurses Association's National Commission to Address Racism and is chair of the American Academy of Nursing's Diversity and Inclusivity Committee. She is a fellow of the New York Academy of Medicine, the American Academy of Nursing, and the Academy of Nursing Education. She previously served as an advisor to the New York Academy of Medicine's Health Equity Scholars Network and has co-authored a perspective for the National Academy of Medicine, which was recently accepted. In addition to her new role as chairperson with the New York State Board for Nursing, she is also on the editorial board for the American Journal of Nursing. 

About Chamberlain University  
Chamberlain University is a part of Adtalem Global Education (NYSE: ATGE). Chamberlain University's mission is to educate, empower and embolden diverse healthcare professionals who advance the health of people, families, communities and nations. Chamberlain is comprised of the College of Nursing, which offers a three-year Bachelor of Science in Nursing degree program and flexible post-licensure programs such as the RN to BSN option, Master of Science in Nursing degree program, Doctor of Nursing Practice degree program and graduate certificates, and the College of Health Professions, which offers Master of Public Health and Master of Social Work degree programs. Chamberlain University is accredited by the Higher Learning Commission (www.hlcommission.org, an institutional accreditation agency recognized by the U.S. Department of Education. For the most updated accreditation information, visit chamberlain.edu/accreditation. To learn more, visit chamberlain.edu. 

About Adtalem Global Education 
Adtalem Global Education (NYSE: ATGE), a leading workforce solutions provider, partners with organizations in the healthcare and financial services industries to solve critical workforce talent needs by expanding access to education, certifications and upskilling programs at scale. With a dedicated focus on driving strong outcomes that increase workforce preparedness, Adtalem empowers a diverse learner population to achieve their goals and make inspiring contributions to the global community. Adtalem is the parent organization of ACAMS, American University of the Caribbean School of Medicine, Becker Professional Education, Chamberlain University, EduPristine, OnCourse Learning, Ross University School of Medicine, Ross University School of Veterinary Medicine and Walden University. Adtalem has more than 10,000 employees, a network of more than 275,000 alumni and serves over 82,000 members across 200 countries and territories. Adtalem was named one of America's Most Responsible Companies 2021 by Newsweek and one of America's Best Employers for Diversity 2021 by Forbes. Follow Adtalem on Twitter (@adtalemglobal), LinkedIn or visit adtalem.com for more information.