Dr. Vivian W. Pinn, Founding Director, Office of Research on Women's Health at the NIH, Addresses Graduates of Ross University School of Medicine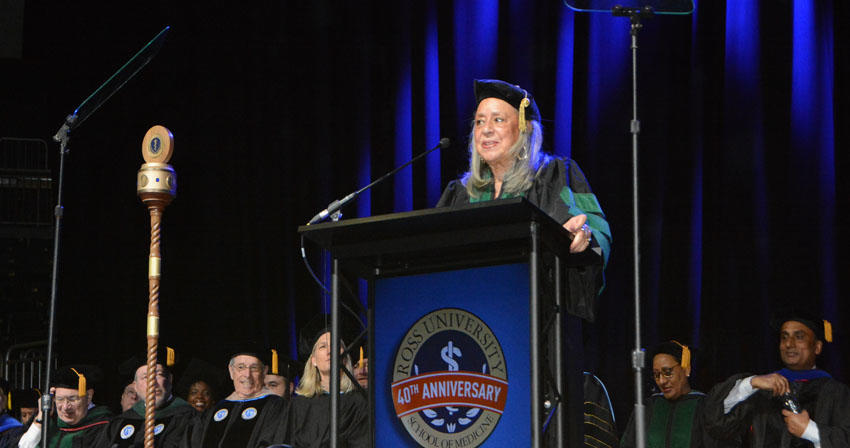 Ross University School of Medicine (RUSM) today celebrated its commencement ceremony at the Watsco Center in Coral Gables, Florida, and recognized 679 graduates, who join RUSM alumni practicing medicine in all 50 U.S. states and globally.
Vivian W. Pinn, M.D., was the keynote speaker. She was the inaugural full-time director of the Office of Research on Women's Health at the National Institutes of Health (NIH) beginning in 1991 and associate director of NIH for Women's Health Research from 1994 until her retirement in 2011.
"We are honored to have such a distinguished physician, scientist and researcher as our commencement speaker," said William F. Owen, Jr., M.D., FACP, dean and chancellor of RUSM. "Over the course of her long career, Dr. Pinn has consistently led the advancement of women's health research, as well as developed career pathways and opportunities for women in medicine and science. Her own journey through the segregated schools of Lynchburg, Virginia, to earning her M.D. as the only woman and minority in her class at the University of Virginia School of Medicine, to becoming a world-renowned biomedical researcher is truly inspirational. She is an example to our graduates about the many opportunities that lie ahead."
Dr. Pinn led the implementation of NIH's research inclusion policies and developed the national strategic plan for women's health research. She established many new research funding initiatives and career development programs in collaboration with the NIH Institutes and Centers. During that time, she also established the NIH Committee on Women in Biomedical Careers with the NIH Director. Following her retirement, Dr. Pinn was named as a senior scientist emerita at the NIH Fogarty International Center.
"I welcomed the opportunity to be the keynote speaker for Ross University School of Medicine, and to address this diverse group of future physician leaders," said Dr. Pinn. "RUSM has a strong record of quality academics and over 14,000 alumni who serve their patients and communities with passion and commitment."
Dr. Pinn has held leadership positions in many professional organizations, including as the 88th president of the National Medical Association (NMA) and is currently chair of the NMA Past Presidents Council. She serves on the Board of Trustees/Advisors of Thomas Jefferson University, the Sidney Kimmel Cancer Center at Jefferson, and Tufts University School of Medicine. She is also a fellow of the American Academy of Arts and Sciences and was elected to the National Academy of Medicine in 1995.
David Irwin
David.irwin@adtalem.com
(312) 906-6701
Source: Ross University School of Medicine