Chamberlain University and LCMC Health in Louisiana Welcome Inaugural Class of Called-to-Care Scholars Program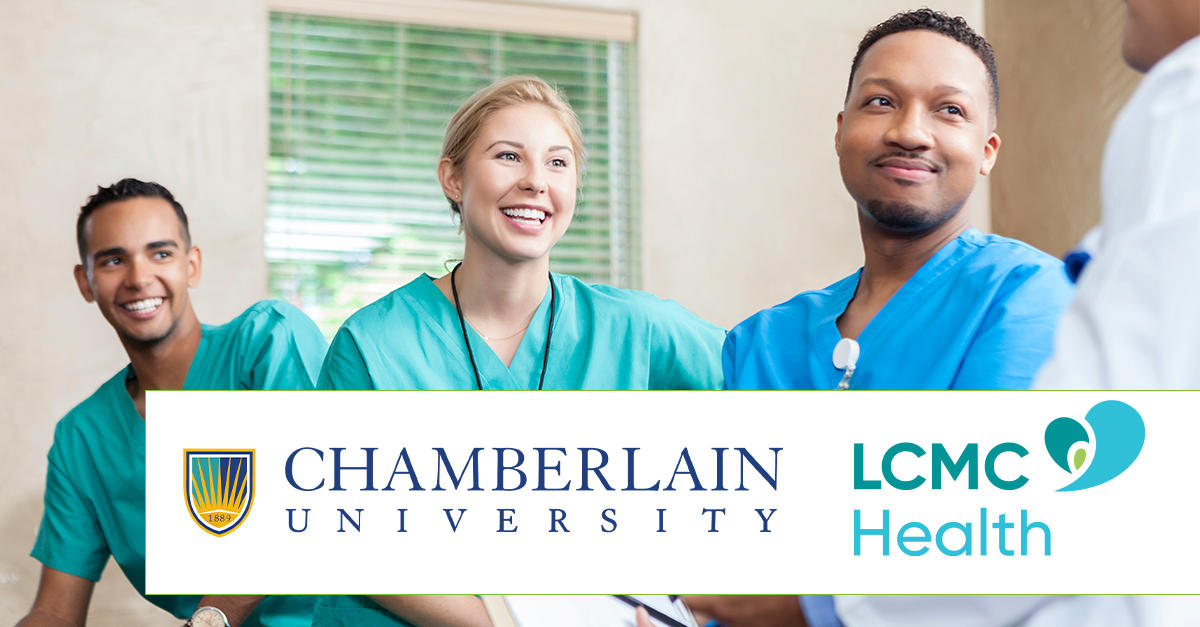 CHICAGO, – Sept. 15, 2021 –  Chamberlain University, which has the largest school of nursing in the nation, and LCMC Health in Louisiana are pleased to welcome the inaugural class of the Called-to-Care Scholars Program, which has been developed to create a pipeline of nurses committed to serving the region's healthcare needs by increasing access to a high-quality education.

The initiative, which is open to applicants nationwide, offers up to three years of paid tuition for qualifying students to earn their Bachelor of Science in Nursing (BSN) degree through Chamberlain in exchange for passing the NCLEX-RN® licensure exam and committing to work for the health system three years after graduation. For more information on how to apply for the forgivable loan program, including upcoming admissions cycles at Chamberlain, which is part of Adtalem Global Education (NYSE: ATGE): www.chamberlain.edu/called-to-care.

"Nurses are vital contributors to the health and well-being of our communities, and this innovative alliance with Chamberlain University and LCMC Health allows us to collectively recognize the dedication and service of nurses everywhere by proactively investing in them," said Karen Cox, PhD, RN, FACHE, FAAN, president of Chamberlain University. "As the largest nursing school in the country, we are excited to welcome the inaugural class of the Called-to-Care Scholars Program as we look to future opportunities to replicate this approach for more hospital systems and aspiring nurses across the United States."

As the nation faces a projected shortage of half a million nurses by 20301,  the Called-to-Care Scholars program offers a targeted approach to pro-actively address healthcare workforce shortages and community healthcare needs in the region served by LCMC Health. In the first year, up to 90 students will be split across three sessions starting with the September cohort. LCMC Health is dedicated to delivering high-quality healthcare services through six hospital locations and is deeply focused on clinical excellence, education, technology and research. The partnership with Chamberlain University will support patient care readiness by: 
Expanding educational opportunities:  The scholars program provides forgivable financial assistance from LCMC Health to students who either fulfill a paid, eligible position at a designated LCMC Health facility or monetarily repay LCMC Health for the courses taken. Up to 100% of the tuition payments (including accrued interest) can be forgiven if the work commitment (as outlined in the Program Description and Recipient Agreement) is completed. 
Creating a nursing pipeline to support regional and employer needs: The Called-to-Care Scholars Program aims to build a robust talent pipeline in support of LCMC Health's efforts to establish a more sustainable, long-term healthcare ecosystem. 
Maximizing community impact by scaling healthcare excellence:  With more practice-ready nurses available to serve the community through the Called-to-Care Scholars Program, the region benefits from quality healthcare that supports more equitable access to preventive disease measures and healthcare supports.
The program is being made available initially through Chamberlains' BSN hybrid option, so current students are starting classes online with on-site activities planned to commence in 2022 at a New Orleans-based location near LCMC Health's East Jefferson General Hospital. 

"This is truly an investment in people, as our nurses are often the magic ingredient in providing healthcare with heart," said Greg Feirn, CEO, LCMC Health. "Their dedication and compassion represent that one-of-kind care that comes from one-of-a-kind people."

More than a quarter of qualified applicants to pre-licensure nursing programs in the state of Louisiana were not admitted last year due to limited capacity in nursing programs2. The initiative  also aligns with priorities outlined in the National Academy of Medicine report The Future of Nursing 2020-2030: Charting a Path to Achieve Health Equity.
1https://www.chamberlain.edu/media/15701/us-registered-nurse-workforce-report-card-and-shortage-forecast.pdf
2http://www.lsbn.state.la.us/Portals/1/Documents/AnnualReport/AnnualReport2020.pdf

About Chamberlain University  
Chamberlain University is a part of Adtalem Global Education (NYSE: ATGE). Chamberlain University's mission is to educate, empower and embolden diverse healthcare professionals who advance the health of people, families, communities and nations. Chamberlain is comprised of the College of Nursing, which offers a three-year Bachelor of Science in Nursing degree program and flexible post-licensure programs such as the RN to BSN option, Master of Science in Nursing degree program, Doctor of Nursing Practice degree program and graduate certificates, and the College of Health Professions, which offers Master of Public Health and Master of Social Work degree programs. Chamberlain University is accredited by the Higher Learning Commission www.hlcommission.org, a regional accreditation agency recognized by the U.S. Department of Education. For the most updated accreditation information, visit chamberlain.edu/accreditation. To learn more, visit chamberlain.edu.  

About Adtalem Global Education
Adtalem Global Education (NYSE: ATGE), a leading workforce solutions provider, partners with organizations in the healthcare and financial services industries to solve critical workforce talent needs by expanding access to education, certifications and upskilling programs at scale. With a dedicated focus on driving strong outcomes that increase workforce preparedness, Adtalem empowers a diverse learner population to achieve their goals and make inspiring contributions to the global community. Adtalem is the parent organization of ACAMS, American University of the Caribbean School of Medicine, Becker Professional Education, Chamberlain University, EduPristine, OnCourse Learning, Ross University School of Medicine, Ross University School of Veterinary Medicine and Walden University. Adtalem has more than 10,000 employees, a network of more than 275,000 alumni and serves over 82,000 members across 200 countries and territories. Adtalem was named one of America's Most Responsible Companies 2021 by Newsweek and one of America's Best Employers for Diversity 2021 by Forbes. Follow Adtalem on Twitter (@adtalemglobal), LinkedIn or visit adtalem.com for more information.

About LCMC Health 
Established in 2009, LCMC Health is a Louisiana-based, not-for-profit hospital system serving the healthcare needs of the Gulf Coast region. LCMC Health currently manages Children's Hospital New Orleans, East Jefferson General Hospital, New Orleans East Hospital, Touro, University Medical Center New Orleans, and West Jefferson Medical Center.