American University of the Caribbean School of Medicine Welcomes New Class with White Coat Ceremony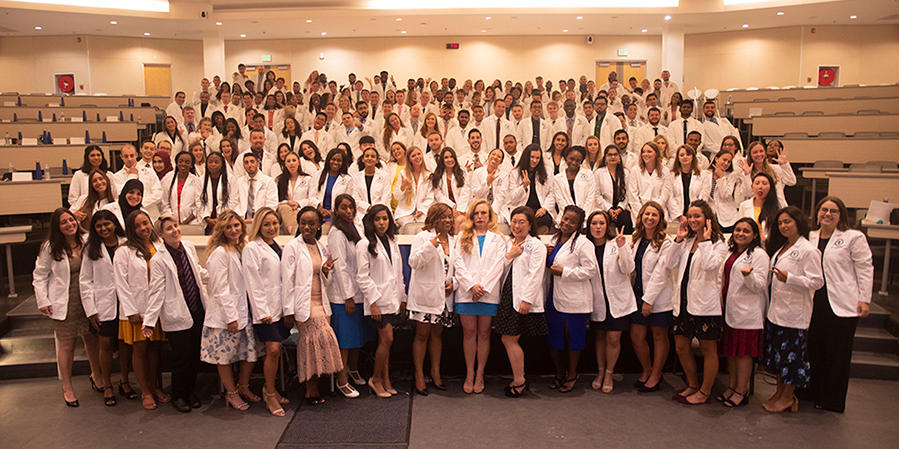 CUPECOY, Sint Maarten – Sept. 3, 2019 – With classes underway for the semester, new American University of the Caribbean (AUC) School of Medicine students took part in a time-honored tradition yesterday, receiving their first white coats. A rite of passage for new medical students, putting on the white coat symbolizes their commitment to the values and professional expectations of a physician.
With students from the U.S., Canada and other countries, the incoming class joins an international medical community at AUC School of Medicine who will help alleviate physician shortages around the world.
AUC School of Medicine customarily invites alumni to address the students at this event. This year, Dr. Ali Alikhani, a 2013 graduate of AUC School of Medicine, spoke to the incoming students about the challenges and rewards on their path to becoming doctors. Following his residency, Dr. Alikhani completed a fellowship at Brown University and has gone on to practice in Washington, D.C., as an Interventional Radiologist.
"I bet on success and was able to achieve it, both with AUC's tremendous support and my own hard work," said Dr. Alikhani. "I met great friends along the way, ones who will always be close to me. And for that, I am grateful. We all did it together. We did the long haul -- the many hours, days, weeks, months and years to get to where we all are, and you all will too."
"This is a particularly exciting semester, as our Sint Maartin-based students are joined by the inaugural class participating in our new U.K.-based program, becoming part of our growing international community designed to support their development as physicians," said Dr. Heidi Chumley, executive dean of AUC School of Medicine. "Coming from many different parts of the United States, Canada and across the world, each with their own unique story, we welcome this exceptional class to our Sint Maarten campus."
Media Contact:
David Irwin
david.irwin@adtalem.com
+1.630.453.1120