You Have to Ask: Understanding and Treating Postpartum Depression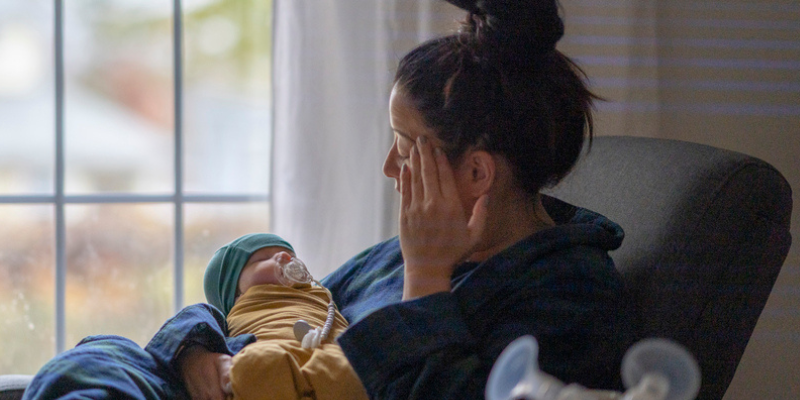 What healthcare providers can do to address a leading cause of pregnancy-related death.  
Postpartum depression is much more serious, and dangerous, than most people think. For years, the emotional highs and lows after giving birth were dismissed as the short-lived baby blues.   
But now, postpartum depression is recognized as one of the leading complications of childbirth. It affects one in eight new moms and can hit at any point during the first year following delivery. Mental health struggles are a leading cause of pregnancy-related death in the United States, primarily from suicide and drug overdose.  
Yet postpartum depression often goes unaddressed in mothers, and about half of the women struggling with maternal mental health don't receive treatment.  
The most shocking takeaway I've discovered is that providers have to ask women if they have any symptoms, because women don't tell that they are not feeling well,
says Dr. Cathleen Crowley-Koschnitzki, associate dean of the Psychiatric-Mental Health Nurse Practitioner track at Chamberlain University. "Most women tend to wait and hope it will go away. Or well-meaning family members will tell them it's just an adjustment to motherhood, that all will be good." 
Addressing Postpartum Depression: What Providers Can Do 
The sooner postpartum depression can be diagnosed; the sooner it can be treated, says Dr. Crowley-Koschnitzki.  
She offers this advice for healthcare professionals: 
Recognize the symptoms. Postpartum depression is very isolating, and symptoms include: 

Lack of engagement and energy 

Sadness and hopelessness 

Feeling overwhelmed 

Other changes that signal the woman is just not herself  

Identify at-risk mothers through screening. The American College of Obstetrics and Gynecologists recommends providers screen for perinatal depression and anxiety at the initial prenatal visit, later in pregnancy, and at postpartum visits. There are myriad screening tools available including the Edinburgh Postnatal depression scale. Available free online in multiple languages, it is 10 simple questions that provide a narrative for how the new mom is feeling. And it serves as a starting point for a deeper conversation about the patient's mental health and wellbeing.  

Assure the patient "You are not alone." "I can't stress enough the importance of support," says Dr. Crowley-Koschnitzki. "We need to encourage the patient to seek a friend or family member who is just willing to listen to them or hold the baby so the mom can take a shower or who can bring in meals." 

Discuss treatment options. Identifying resources for new mothers and families struggling with postpartum depression is critical. There are many community resources for women. A great place to start is Postpartum Support International, whose purpose is to increase awareness among public and professional communities about the emotional changes that women experience during pregnancy and postpartum. 
Risk factors including a pre-existing depression or family history. 
Fighting the Stigma of Women's Mental Illness  
The stigma of mental illness is pervasive. But by bringing conditions like postpartum depression into increased awareness, healthcare providers help normalize it and remove barriers to treatment.  
"It's critical for healthcare professionals to talk about mental health concerns with patients, just like you would talk about having a pap smear," Dr. Crowley-Koschnitzki says. "You can ask, 'When was the last time you had a mental health checkup?' It's within the safe space of the patient-provider relationship where the work must be done to move forward."  
It's also important for providers to foster collaborations between OB-GYN staff and mental health professionals, which can enhance the overall quality of the entire pregnancy journey. 
Chamberlain University's Role 
At Chamberlain, we have long understood the impact that comprehensive, accessible, and trusted education can make for new and expecting parents,
says Dr. Crowley-Koschnitzki. "We look forward to engaging with more and more providers around the all-too-often overlooked topic of postpartum mental health." 
Students in the Chamberlain nurse practitioner and mental health tracks gain experience treating women of childbearing age. The programs have specific modules dedicated to perinatal mood disorders, which include therapy and medication.  
"I started out as a nurse midwife, so I have a special place in my heart for caring for women," says Dr. Crowley-Koschnitzki.
With students, I share my love and passion for caring for moms and young families. If you can help the mom, you can help the whole family.
For more information, email the Adtalem Global Communications Team: adtalemmedia@adtalem.com.