Why Private and Public Partnerships are Crucial to Bridging the Racial Disparity Gap in the Nursing Workforce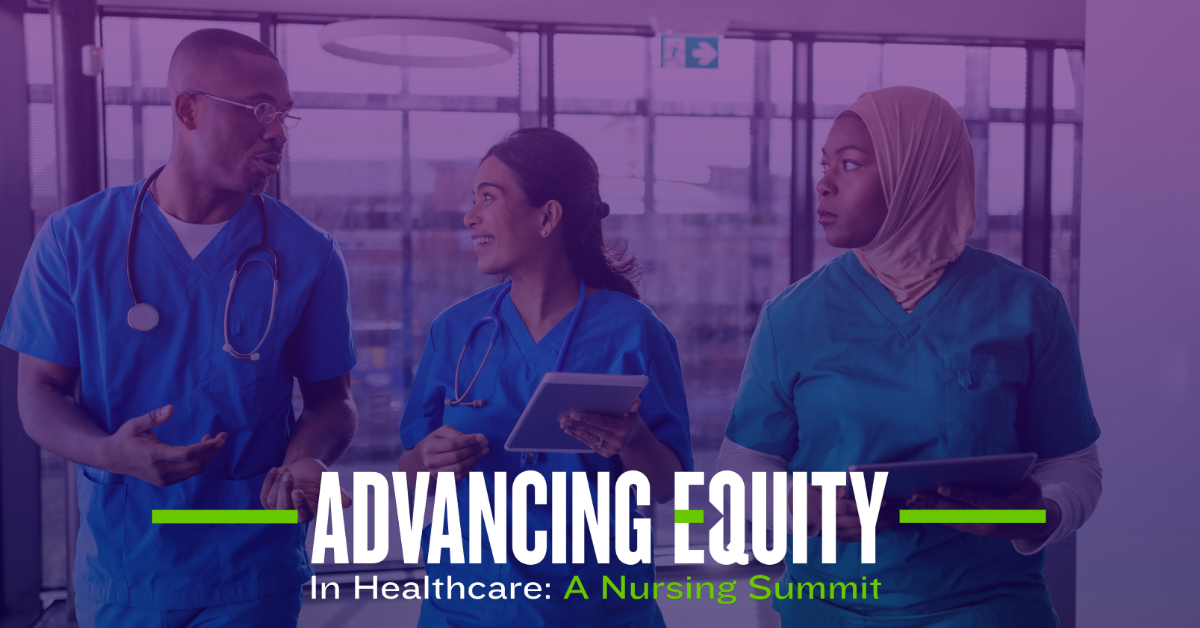 All individuals have in common the desire to flourish in life and health. Yet a disproportionate number of individuals live in poverty, in communities where crime rates are high and resources for strong schools are low. The denial of access, opportunity and dignity is a major contributor to health disparities, poor health status, and premature mortality, and has long undermined efforts to diversify the nursing workforce and thereby advance the health of all individuals. Within the U.S., it is projected that by 2060 the population demographics will reflect 44.3% non-Hispanic white, 27.5% Hispanic, 15% Black, 9.1% Asian, 1.4% American Indian and Alaska Native, 0.3% Native Hawaiian and other Pacific Islander. For decades studies have shown that patients have better health outcomes when they are cared for by someone of their own ethnic background, who understands their culture and its unique sensitivities, but with 80% of the current nursing population being White/Caucasian, we are far from mirroring the U.S. population1. Yet, enrolling students from diverse backgrounds to embark on a nursing career and keeping nurses long-term in that career has become one of our health systems' greatest challenges. 
Glaringly apparent when analyzing why education is slow to make progress in a diverse and inclusive manner is the lack of collaboration across academia. Academic collaborations and inter-segmental partnerships are necessary to create more accessible educational and career pathways, better alliances for knowledge sharing across funding platforms and to ensure that the faculty, staff, and leaders at universities represent the diversity of the student population. 
In an effort to improve those kinds of collaborations, Chamberlain and Walden Universities gathered nearly 300 virtual participants earlier this year for the Advancing Equity in Healthcare: A Nursing Summit to address these crucial issues facing the nursing profession and education. The group included not only experts and educators in the field of nursing but also national health care specialists, policymakers, discipline organizations and leaders from Historically Black Colleges and Universities (HBCUs) who discussed, challenged, and sought solutions to address the reasons racial disparities are still so prevalent in today's healthcare system and across the education landscape. What we didn't do was accept these inequities as unavoidable occurrences. Instead, we gleaned wisdom from each represented specialty to create new strategies and next steps on how to secure a more robust, diversified pool of nurses by working together to secure funding, boost and expand student enrollment, support long-term nursing careers, and improve the health of all individuals. 
A Holistic Approach to Admission
A critical area in need of universal reform is admission policies. In many institutions, students are currently admitted based on GPAs – a system that doesn't consider a student's degree of opportunity or access to resources, keeping numerous students from quality education and creating a less-inclusive student population. To nurture access, opportunity and dignity and thereby encourage a more diverse nursing workforce, we need to engage and support students of all academic and economic levels and backgrounds. Universities must adopt an admission process that considers social determinants of learning which affect the student population such as where they live, their nutrition, and where they socialize, which all impact their ability to perform as a student. Chamberlain University instituted the Social Determinants of Learning (SDOL) framework™ to address learning disparities and support nursing student diversity, equity, and inclusion. The SDOL framework includes addressing "socially imposed forces which are causative factors that influence learning and life" -- being, physical health, psychosocial health, or economic issues.
The student model Chamberlain developed and is utilized across all Adtalem institutions strongly considers social determinants of learning and can be amplified to work on a much greater scale for both nonprofit and for-profit intuitions. With HBCU partners to share their insight and knowledge, we can build a more robust group of students and nurses, provide faculty, students and graduates who are prepared to fill critical gaps in the healthcare workforce and combat the nursing shortage while positively impacting the well-being of our global communities. 
Diversification of Funding 
It's not easy to ask other schools and organizations to break from the specific issues they face and contribute to a multi-segmented alliance but change needs to be driven by knowledge sharing among public and private sectors working together toward the same goal. That includes securing more funding—in particular, increased funding directed to HBCUs for scholarships and financial aid to offer more, less-resourced students access to achieve degrees they need to pursue the career of their choice. 
More must be done to redirect funding resources to strengthen HBCU nursing programs and graduate racially diverse nursing leaders to enable them to foster partnerships with other institutions. Policymakers should support the advancement of legislation such as H.R. 8803, the IGNITE HBCU, TCU, and MSI Excellence Act, introduced by U.S. Representative Alma Adams (D-N.C.), which would establish a grant program to support long-term improvements of historically Black colleges and universities (HBCUs), graduate programs at HBCUs, and other minority-serving institutions (MSIs). This legislation has been endorsed by the Congressional Hispanic Caucus, the Congressional Black Caucus, and the Congressional Asian-Pacific American Caucus. Collaborations can enhance the financial inequities HBCUs face by offering to develop innovative strategies for garnering greater alumni donations; supporting with the development of scholarship and grant submissions; or helping secure clinical placements for nursing students; and brokering relationships with future employers. A call for collaborations in support of the nation's HBCUs is a strong step toward creating a racially and ethnically diverse body of nursing leaders.
Incentives for Long-Term Careers
Lack of potential educators, inequitable workforce solutions, an aging nursing population and high turnover are major contributors to the nursing shortage. Putting actions in place to encourage long-term nursing careers, Walden University and the National League of Nursing partnered to create the Institutes of Social Determinants of Health & Healthcare (SDOH&H). The SDOH&H supports professional development for nurse educators and inter-professional colleagues so they can become leaders and catalysts of social change and incorporate social determinants of health into their practice programs and/or curricula across undergraduate and graduate studies.
In 2021, Chamberlain University became one of the pioneers in developing a nurse faculty fellowship program that transitions nurses from the clinician to faculty role in a contemporary society. The program helps reduce the nurse faculty shortage and supports the transition of faculty from their role as clinician to nurse educator through a curriculum that strengthens capacity to graduate students who are more prepared to advance health equity and mitigate healthcare disparities. Chamberlain also launched the Practice Ready. Specialty Focused™  Nurse Education Model to prepare graduates for long-term careers in perioperative nursing and help decrease first-year turnover. We plan to share both program models with other institutions for replication and greater scale-up. 
Our institutions are striving to make changes needed to teach, develop, and prepare future healthcare professionals to provide underserved communities with qualified workers who look like them and understand their needs – all leading to better health outcomes. However, educating professionals to fill gaps in the healthcare system takes multiple groups and sectors working together. With established partnerships we could build on successful programs and policies in place to make an impact on a larger scale with more capable, diverse nursing graduates contributing to an inclusive workforce. These types of partnerships with HBCUs, educational leaders and policymakers are critical to make necessary changes for the health and well-being of the world's population.