White Coat Ceremony Welcomes New Medical Students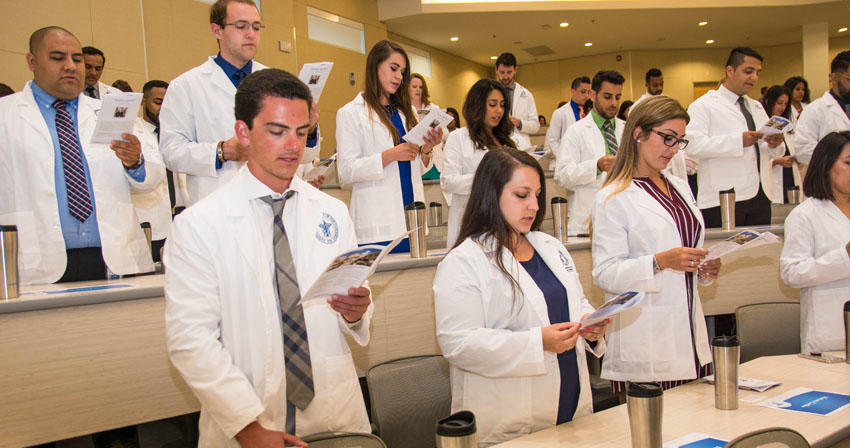 American University of the Caribbean School of Medicine (AUC) welcomed in a new cohort of medical students this week as the May 2018 semester got underway. Incoming students join a larger group of aspiring physicians in Sint Maarten who are beginning their second, third, and fourth semesters of medical school.
The May 2022 Class includes students who are the first members of their family to attend medical school, humanitarians, cancer survivors, musicians, world travelers, nurses, and research scientists. They come to AUC with various backgrounds—successful careers, different life experiences, multi-cultural upbringings, and geographic diversity—and range in age from 21 to 46. More than 20 U.S. states, two Canadian provinces, and Puerto Rico are represented in the class. 
Students' unique characteristics were celebrated during AUC's White Coat Ceremony on Monday, May 7. At the event, which is a tradition at many medical schools, AUC faculty members bestowed new students with their very first white coat—a symbol of their future profession in medicine, and the journey of study and training that they are embarking on to become physicians. One by one, they walked across the stage to receive their coat as family and friends cheered.
"There was just something particularly special and magnificent about having that white coat placed on my shoulders," said first semester student Sayeh Nabati, a native of Ontario who worked as a medical assistant before applying to medical school. "It's an overwhelming feeling knowing that you are recognized by others as a physician in training—something that you have worked so hard for your entire life. This is truly an honorable profession and I found myself fighting back tears because of how amazing it feels to finally be within reach of my lifelong goal."
The excitement was palpable as deans and members of AUC's faculty recalled the first time they donned a white coat. For practicing physicians, the coat is a constant reminder to represent the physician community and to uphold the ideals and tenants of medicine.
"Today is a milestone and a symbolic start to your careers," said Colin Michie, FRCPCH, Associate Dean of Academic Affairs at AUC. "You now join a community of individuals who are dedicated to caring for the sick. You will find that willingness to serve matched by the dedicated support of your new family at AUC."
Echoed throughout the night was that very notion of family. Student Government Association President Moe Ameri, a third-semester student from Houston, Texas, described the tight-knit family that he has formed in just two semesters at AUC.
"We care for each other and we look out for one another," Ameri said. "We have overcome adversity together and together we celebrate each other's successes on the path to becoming great caregivers."
Dr. Mitchell Clark, a 2012 AUC graduate and the evening's keynote speaker, also focused on the family that he developed during and after his time at AUC.
"We have a community here that is like nothing else that I have ever experienced," he said. "It is this network and sense of community that will carry you through medical school and it is these people who you will lean on when you feel challenged. They will become the family that you need when your own family is just a little bit too far away."
Dr. Clark advised new students to be confident in their abilities as a future physician and to strike a balance between school and life that will allow them to enjoy Sint Maarten.
"You didn't give up, you persevered, and you are worthy of this opportunity. Remember, it's not where you came from but it's your determination, work ethic, and the manner in which you treat your patients that will make you a great physician," he said.
After hearing from university and student leaders, the May 2022 Class joined to recite the Modern Oath of Physicians. Together, they committed to being responsible physicians who will respect and show compassion to their patients. On the morning after the event, they attended their first class as AUC medical students.