What Makes an Ideal Dissertation Chair? Top 10 Characteristics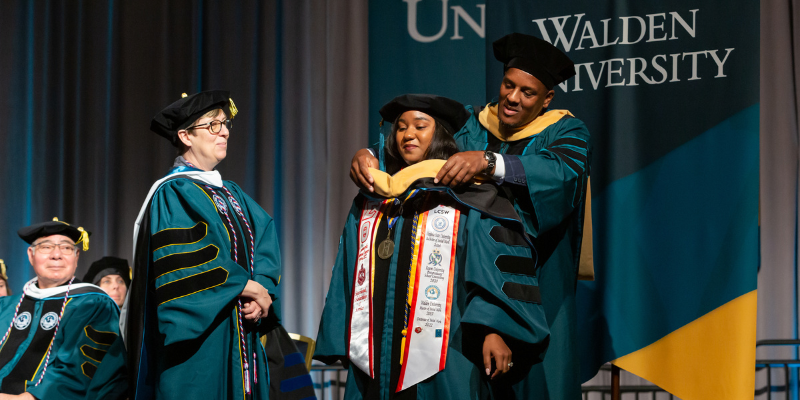 Researchers at Adtalem interviewed top faculty to find out what set them apart in supporting student success. 
Pursuing a research or professional doctorate is the ultimate academic journey. In 2021, only 52,250 people earned research doctorates from U.S. institutions, according to the Survey of Earned Doctorates.
The pinnacle is the doctoral capstone—using everything you've learned about research methodology and in a field you are passionate about to create new knowledge or enhance practice. Guiding students through that process is their doctoral committee, led by the chair. It's a vital relationship in a challenging process.
What Does it Take to Make that Relationship Work?
Dr. Gary Burkholder and Dr. Morris Bidjerano, faculty members at Walden University, an Adtalem Global Education institution, interviewed dissertation committee members with a track record of successfully leading students to complete their research and graduate. The results were published in the Mentoring & Tutoring: Partnership in Learning article "Getting Them Done: A Qualitative Study of Characteristics of Mentors Successful in Graduating Online Students in a Distance Education Context."
Characteristics of an Ideal Dissertation Chair
Click through the gallery to see the 10 characteristics identified in the research from Adtalem.
"Just having your own doctorate doesn't prepare you to be a successful mentor for doctoral students," says Dr. Burkholder, who also recently published a chapter in the book Driving Innovation with For-Profit Adult Higher Education Online Institutions. "Walden University has been supporting working adults in their pursuit of doctorates for more than 50 years, and we put a lot of effort into training faculty to work with diverse students in a range of fields."
Strategies for Doctoral Student Readiness
In 2022, more than 20 Walden authors contributed their expertise to the book Advancing DEI and Creating Inclusive Environments in the Online Space. Here Walden Dean of Student Success Dr. Laura Lynn discusses "Strategies for Doctoral Student Readiness, Student-Centered Support, and Inclusion."
What Makes a Successful Doctoral Student?
The study also asked faculty mentors what makes a successful doctoral student. They identified several characteristics:
Time management/organizational skills/goal setting
Scholarly writing/research preparation
Motivation to finish
Openness to learning and taking feedback to improve
Drive/goal orientation/focus
"The drive of the student is No. 1 because it doesn't matter the background or preparation," shared one faculty research participant. "They have the motivation and make the time to get to the end."
A Leader in Doctoral Degree Graduates
Walden is the No. 1 conferrer of doctoral degrees in:
Business and management
Education
Forensic psychology
Psychology
Public policy and administration
In terms of providing access to higher education, Walden University is one of the top 10 grantors of research doctorates to students who are:
Black and African Americans: No. 1
Hispanic: No. 6
Native American: No. 1
More than one race: No. 1
For more information, email the Adtalem Global Communications Team: adtalemmedia@adtalem.com.