Videos: Meet Award-Winning Nurse Alumni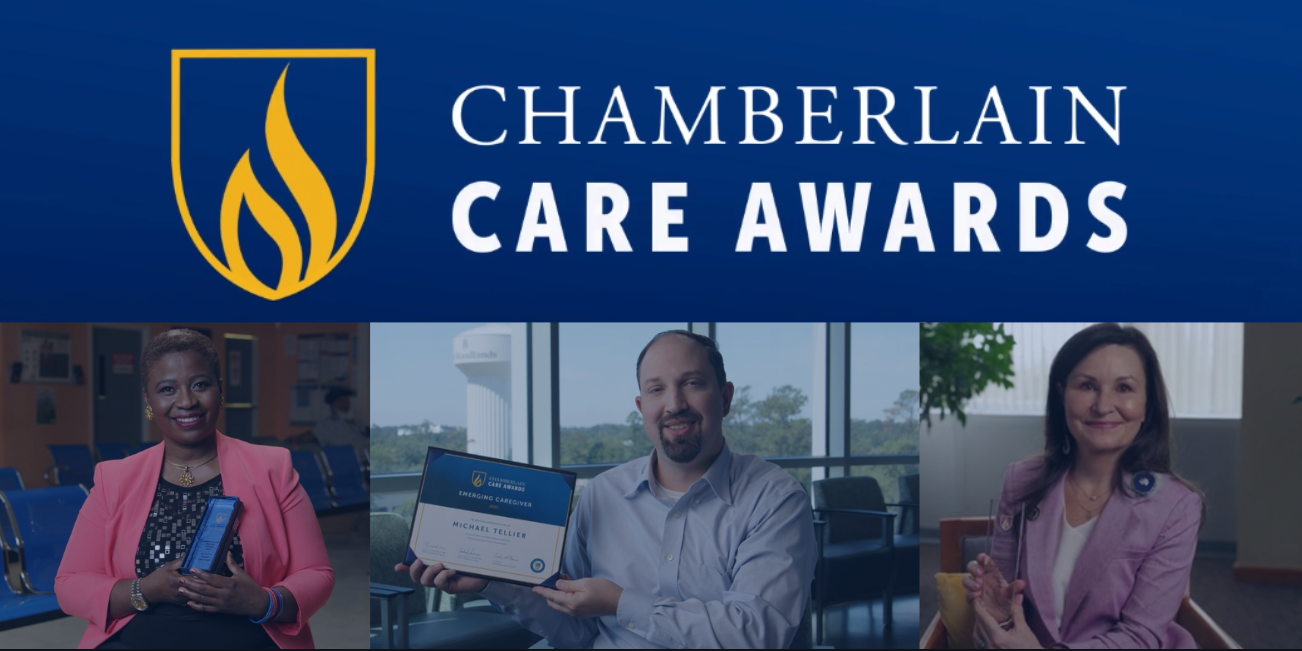 Adtalem Global Education's Chamberlain University takes great pride in recognizing its extraordinary network of alumni with its Chamberlain Care Awards consisting of three categories celebrating professionalism, advocacy, and compassion. Hundreds of nominations are gathered from fellow alumni around the country every year.
Learn about their inspiring careers—connecting with patients, starting a nonprofit, and leading a medical center in Alaska—in these heartfelt videos. 
Emerging Caregiver Award: Michael Tellier
Recognizes a graduate from the past 10 years who is positively influencing health care today and who will unquestionably shape the future of the profession.
Michael Tellier, BSN, graduated from Chamberlain in 2019, having experienced a calling to continue serving after seven years in the U.S. Army as a hospital religious affairs specialist. Tellier is currently a bariatric surgery program coordinator for Memorial Hermann – The Woodlands in Houston, Texas. In what he describes as his dream job, Tellier takes the most pride in being the bridge that connects patients who have turbulent pasts with a program designed to change their lives for the better. His key to positive patient outcomes is employing empathy and instilling trust. Despite serving eight surgeons and seeing anywhere from 700-800 cases a year, Tellier refuses to label his patients as numbers and has instead sought true connections. 
I think about my daughter who wants to become a nurse and how the legacy will continue through her. I also aspire to become a professor someday and teach, largely to show students how they can demonstrate compassion and patience in this profession.
Commit-To-Care Service Award: Saidat Oluwatuyi
This award recognizes an alum whose dedicated work and model service have benefited society and the profession of nursing. Recipients have demonstrated selfless, ongoing community service on a local, state, national or international level.
Saidat Oluwatuyi, BSN, is a clinical manager at Preventive Measures in Washington, D.C. She assists in providing mental health and supportive services to promote abundant living and mitigate out-of-home placement in her region. An African native, Oluwatuyi established a nonprofit organization, Cheerful Givers, after graduating from Chamberlain in 2017.
The program targets underserved populations in the United States, as well as less privileged communities in Africa. Oluwatuyi aspires for Cheerful Givers to become a recognizable name in the charitable space that touches the hearts and lives of millions.
I want people to live a normal life. I want to see people be useful to their communities instead of being on the street. Many of those who are unhoused struggle with mental illness and even those who don't struggle with mental health. I want to empower them to be better than their circumstances.


Distinguished Career in Nursing Award: Ella Goss
This award recognizes a nurse alum with more than a decade of experience, whose clinical practice is exemplary, and whose contributions exceed expectations. Recipients of this award are known to offer their time and expertise in support of fellow nurses.
Ella Goss, BSN, MSN, has modeled an acclaimed career in nursing since graduating from Chamberlain in 2010 and 2012 respectively. She is making history as the first woman CEO of Providence Alaska Medical Center, the state's largest medical provider. Goss retains an impressive tenure with Providence, having held a variety of leadership roles, including chief flight nurse for LifeGuard air ambulance service, clinical manager of emergency services, director of Medical Staff, risk management and regulatory services, and director of the Providence Cancer Center. Goss is committed to community and volunteerism through her participation in several boards and councils, including the University of Alaska Foundation and the American Heart Association Western States.
This is my 32nd year as a nurse and I love healthcare. I love nursing. I hope the legacy I leave is that people want to be in healthcare, they want to be nurses, and they want to be leaders.