Trauma Is Changing School Discipline: What Educators Are Saying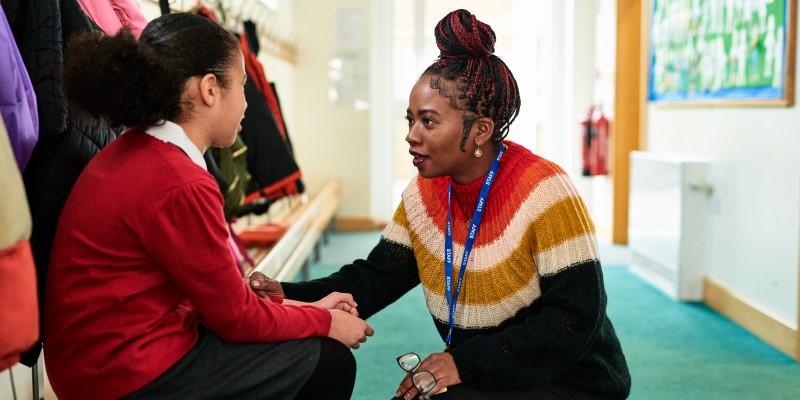 By age 16, two-thirds of students have experienced a traumatic event. Educators are responding with new strategies. 

It's a common occurrence. High schoolers checking their cell phones during class. Now add cursing, erratic behavior, and leaving without permission. An educator's first instinct might be discipline. A better one might be communication.
One teacher who faced this issue discovered that the student had family members with addiction issues, and they were getting updates on their phone. Rather than add to the student's trauma with punitive discipline, the teacher worked with them on a system of small daily rewards, like free time, for redirecting from her phone to her classwork. Turns out this student had never been recognized individually for positive behaviors.
That's one of the success stories shared in Dr. Amanda Henry's Walden University dissertation, "Teachers' Experiences Addressing Students' Trauma-Related Behavior in the Classroom," and one of many like it as a result of the use of trauma-informed education.
Trauma in K-12 Students
By the age of 16, more than two-thirds of U.S. children have experienced a traumatic event according to the National Center on Safe Supportive Learning Environments. Trauma, including adverse childhood experiences, can take a variety of forms, including abuse, neglect, and experiencing or witnessing violence, as well as being in a household with relatives experiencing substance abuse, mental health problems, or incarceration.
"There is always so much going on in the world. Right now, we are dealing with things such as the horrific wildfires and natural disasters," says Dr. Christie Jenkins, faculty member in Walden University's MS in School Counseling program. "We need to be skilled in helping and responding to our students in the best way possible when they are facing adversity. Providing compassion to our students is part and parcel to their overall learning experience."
Adverse childhood experiences and social determinants of health can affect brain development, which impacts attention and learning according to the Centers for Disease Control and Prevention. By one CDC estimate, the health costs add up to $748 billion every year across the U.S., Canada, and Bermuda.
"Trauma-informed work challenges the typical negative systemic responses," Dr. Jenkins adds. "It helps to ensure that we do not further marginalize and disenfranchise special populations by dismissing their unique experience."
Taking this approach can require a change in mindset and an openness to understanding how children respond to trauma—a mindset that views their behaviors as symptoms and a willingness to explore what they need to heal.  
Preparing School Counselors
School counselors are a key part of providing trauma-informed education. They interact with students, teachers, school administration and staff, parents, and the community. Walden's online MS in School Counseling program recognizes this with courses like Crisis, Trauma, and Disaster Response.
"We incorporate the most current research literature into our program," says Dr. Jenkins. "We also provide a community of caring within our classroom. This is done, in part, by providing an equity-centered environment. We infuse the unique experiences of an individual and the implications of trauma treatment for that particular person."
As school counselors see more trauma in their students and adopt new models to address them, Walden PhD in Counselor Education and Supervision alumna Dr. Sharon Hansen documented their barriers and successes in her 2020 dissertation, "The Lived Experiences of Professional School Counselors Who Have Implemented Trauma-Informed Practices."
A variety of reasons led school counselors to trauma-informed care, including professional development and experiences with specific students and family members affected by trauma.
Success, Dr. Hansen found, depended in large part on "greater staff buy-in, increased administrator support, sustained training, and an overall engaged belief in creating and sustaining positive, caring relationships with students while providing them with a range of allied interventions to assist in their ability to succeed within the school setting."
Documenting Teachers' Experiences
What does trauma-related behavior look like in the classroom? Dr. Amanda Henry, who earned a PhD in Human Services from Walden, captured teachers' stories, including the one about cell phone usage at the beginning of this article. As another example, she shared the story of a student who refused to do a writing assignment about a holiday. Family trauma associated with that time of year turned out to be the reason, and an alternate assignment was a success.
Among her other findings was that teachers often didn't know their students were exposed to trauma. That information wasn't shared due to privacy issues. They often found out by talking with students about their behavior, which ranged from acting out to shutting down. Once they knew, teachers were able to adjust.
"The most important finding was that teachers are willing to try multiple approaches to help their students," Dr. Henry wrote.
Using Simulations to Prepare Educators
Walden University's Richard W. Riley College of Education and Human Services offers the course Trauma Informed Educator in its online MS in Education program.
"The course focuses on helping educators at all levels understand childhood adverse events, recognize the effects of trauma that may be exhibited in a learning environment, and gain strategies to build supportive learning spaces for all students, particularly those who have experienced trauma," says Dr. Amy White, an academic program coordinator.
One innovative way the course does this is by incorporating a simulation. Students in the course practice the skills they are learning with digital avatars of K-12 students in a simulated restorative justice conversation. The avatars are controlled by actors prepared with script options to choose from depending on how the Walden student addresses the situation.
Support from the Adtalem Foundation
The Adtalem Global Education Foundation supports trauma-informed education for educators through contributions to Golden Apple. Each summer the nonprofit provides Illinois teachers who are early in their careers with mentorship and training on strategies they can use in their classrooms.
Among their 2022 cohort, all of survey respondents felt very or somewhat prepared to support youth and families. The training also increased their likelihood to use strategies such as preventing trauma triggers, teaching emotional regulation, and using restorative practices.
"These are especially challenging times for students and the educators who support them. Golden Apple's mission, programs, and track record of success will have a lasting impact especially in underserved communities," says Dr. Karen Cox, Golden Apple board member and president of Chamberlain University.
How Principals Create Safe Environments
Principals are accountable for the culture at their schools. That includes addressing the needs of students with trauma and their teachers. Dr. Laura Kelly sought to understand how elementary school leaders create this safe environment in her Doctor of Education (EdD) doctoral study, "Principals' Perceptions of Fostering a School Culture for Elementary Trauma-Exposed Students."
The principals Dr. Kelly interviewed emphasized the importance of fostering relationship-building in their school—between students and teachers, teachers and parents, and among the students. They described mentoring programs and extracurricular activities that promoted positive relationships between students and adults. Teachers being available at dismissal helped parents engage with educators outside of the office setting. For students, conflict mediation and conversations about how to get along with friends were seen as successful strategies.
Hiring was also important. Dr. Kelly quoted one principal as saying, "We are very honest when we interview. Kids show up [to our school] with a lot on them, and they will throw furniture, and they will hit and kick and spit and bite and all that, and the question is, 'How do you respond to that?' … So, we interview hard through that lens."
View from the Superintendent's Office
Dr. Denise Presnell went to the top of the school hierarchy for her PhD in Social Work research, "Public-School Superintendents' Perceptions of Trauma-Informed School Assumptions and Principles." Her interviews with leaders of rural school systems revealed barriers in the community such as high rates of poverty and trauma along with lack of family involvement and few mental health supports.
"The biggest challenge of all, I can tell you, doing any of this work is, at the end of the road, where are the service providers to provide this care for kids? They're not there," one research participant shared.
"And so, you can train people all day, you can have the best process in place for referrals, you can do your assessments and understand all those things, but if there's not a counselor, a qualified dedicated individual on the back end, then what are we doing?"
Employment of school and career counselors and advisors is projected to grow 5% through 2032, faster than the average for all occupations.* ​​Walden's MS in Clinical Mental Health Counseling is one of the largest programs of its kind in the U.S. and has more than 5,000 graduates from across the country.
Through training, another superintendent was able to shift thinking that discipline needed to be "punitive, strict, and harsh to be effective" to a model that helped students regulate their emotions and be ready to learn. It's a shift that needs to take place not just in the school, but with parents and in the community, as well as with school boards, to be effective.
Shared another superintendent: "If you are an educator, you are trained, but it's a calling. You don't give up on a child. So, you try to do things. Now, you might get frustrated, you might stop doing some things if you're a really frustrated teacher, but you don't give up."
For more information, email the Adtalem Global Communications Team: adtalemmedia@adtalem.com.
*School and Career Counselors and Advisors: Occupational Outlook Handbook, U.S. Bureau of Labor Statistics (bls.gov) (visited July 2023). Data reflects a projected percentage change in employment from 2021-2031 and may not reflect local economic conditions.