Technically Speaking: How One Alumna Leveraged Technology to Double her Practice Revenue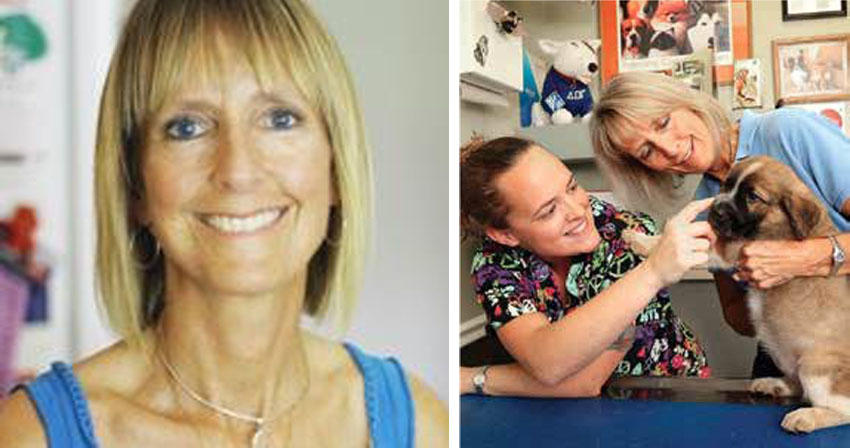 It was 2012, and Michelle Durkee, DVM '89 had reached a turning point. As the owner of Florida's West Palm Animal Clinic, she was maxed out, overwhelmed with charting, and considering hiring another veterinarian to help with the load. She couldn't possibly take on any more clients, so growth was at a total standstill. She had to make a decision: either hire someone new, or invest in technology that would integrate her practice and cut down on all the time she spent performing administrative tasks. "I chose the latter," Durkee says, "and have never regretted it."

At their completely paperless clinic, Durkee and her staff benefit from being able to share all client records online, which cuts down on review time needed at the beginning of appointments. They have a new server, 14 new workstations throughout the clinic, a full diagnostic lab, digital x-ray capabilities, and two electronic 50-inch whiteboards that are invaluable to the team. Each whiteboard tells staff which animals are there, what needs to be done, and what's been completed. When tasks are overdue, the board highlights them in red. "It's all electronic, and you can access that from any room in the hospital," Durkee says. "Even though I'm a one-doctor practice, we are very busy. I need to make sure everyone is efficient."

All this technology is fully integrated, which means that when Durkee submits orders for a client, those orders are sent directly to the lab or x-ray room; when the test is completed, clients are automatically charged and the results are populated back into their electronic medical record. "No more missed
charges or duplicate inputs needed," she says. "In turn, within only five years, we've doubled our annual practice revenue—still with one veterinarian."

Durkee's tech-minded approach to medicine earned her a coveted place among the six national winners of the 2014 Innovations 4 Entrepreneurs competition, a joint effort from Comcast Business and Inc. Magazine that awards more than $600,000 in cash and services to business owners who leverage technology to better serve their clients and grow their businesses.

As a winner, Durkee had the opportunity to fly to New York and have one-on-one meetings with nationally recognized business leaders like Michael Angelakis, vice chairman and CFO of Comcast, celebrity chef Robert Irvine, and Marcus Lemonis, businessman, investor, and star of "The Profit." But Durkee's always looking forward. She's currently a beta tester for IDEXX, her software provider, which allows her to access new technology before it becomes public, and provide feedback that shapes the official launch.

"And, I'm at the point in my life where I really need to start thinking about an exit strategy,"
she says. "No matter what, I truly want this clinic continue to thrive long after I am gone. I probably need to start looking for a veterinarian who operates in the same spirit as I do, or help groom someone who maintains an energetic, internal drive to do what's right for our clients and their furry loved ones."

So, is she looking for a Rossie to follow in her pioneering footsteps? As Durkee puts it: "You know what, I wouldn't mind a Rossie. I think Ross students have a uniqueness to them, because they went and did something a little different." And that's something Durkee, surely, knows a little bit about.