'Teaching Back' and Other Ways to Improve Maternal Health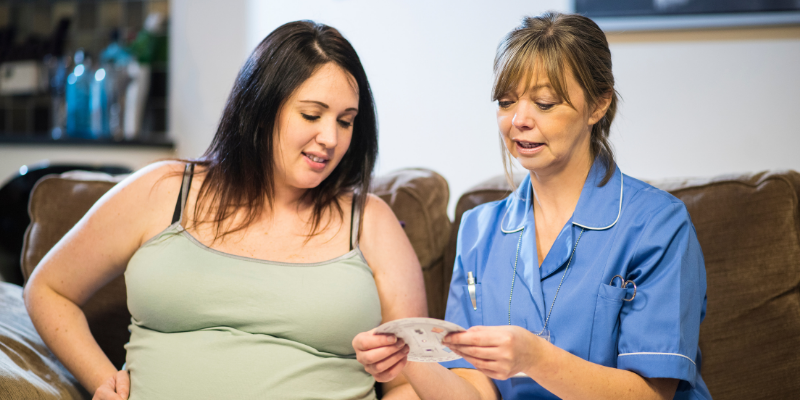 From countering social media misinformation to increasing equity, health literacy techniques can play a positive role in pregnancy outcomes.
  
Early in her career, Dr. Yitza Arcelay-Rojas worked in Puerto Rico as a childcare and lactation health educator for low-income populations. For someone committed to improving health literacy, it was an engaging time.  
"Pregnancy is one of the moments when we are eager to learn, especially with our first child," says Dr. Arcelay-Rojas, a faculty member at Adtalem Global Education's Walden University. "The people I worked with were eager to learn about the delivery process, about taking care of their child, about post-partum care. Pregnancy was the best time to empower that population."  
What is Health Literacy? 
Health literacy is more than just providing a pamphlet. The Centers for Disease Control and Prevention (CDC) define it as "the degree to which individuals have the ability to find, understand, and use information and services to inform health-related decisions and actions for themselves and others." 
On a macro level, better health literacy could "prevent nearly 1 million hospital visits and save over $25 billion a year," according to a report from UnitedHealth Group. For the best individual outcomes, providers across a range of roles need to know how to deliver vital health information and ensure that their patients truly understand it.  
'Teaching Back'  
When healthcare providers talk with patients, it's easy to slip into relying on medical jargon. But complex medical language poses challenges for nearly 90% of adults when they try to understand and use that information, according to CDC estimates.  
"Choosing to use jargon is an act of exclusion. Using clear communication advances health equity." —CDC 
"People can be well educated and not necessarily have a higher level of health literacy," says Dr. Arcelay-Rojas, stressing the importance of creating a welcome environment and using plain language, ideally in their native tongue. "If we want our patients to follow directions, we need to corroborate and confirm that they comprehend what we are saying to them." 
One way to do that is the "teach back" method. Rather than looking for a binary yes/no answer to a question like "do you understand what I shared with you today?" providers ask their patient to tell them what they learned during the visit. The ask the patient to teach the provider what they learned during their appointment.  
Teach-back resources are available from the Agency for Healthcare Research and Quality offers along with dire statistics on why it's critical: "Studies have shown that 40-80% of the medical information patients are told during office visits is forgotten immediately, and nearly half of the information retained is incorrect." 
Misinformation on Social Media 
There is more information about pregnancy on the internet than any one provider, patient, or professional organization can properly assess. Some of it can feel compelling even if it's inaccurate.  
"I want to see where patients are getting information and try to provide the correct information, because if one person has this doubt or this misinformation, it's probably out there for many other people," says Dr. Arcelay-Rojas. "I ask where did you see this information? Can you send me a link? So I can see if it is evidence-based."  
Another suggestion she has is for people to join support groups, especially one with a professional facilitator who can balance anecdotal experience with solid research. She also notes that sometimes there is new research that she hasn't seen and she wants to be open to assessing it.  
Health Education Curriculum 
Learning health literacy skills is part of the online MS in Health Education and Promotion and Master of Public Health programs at Walden. Students in the online PhD in Health Education and Promotion, PhD in Public Health, and DrPH of Public Health programs have the opportunity to research and add knowledge to the field.   
One of the assignments in Walden's public health programs asks students to choose a health issue and a population. They assess how income and education levels—two social determinants of health—impact that population. Then they create materials that are evidence-based and use language at an appropriate grade level.  
"It's important for students to focus on evidence-based research and also understand the importance of tailored interventions," says Dr. Arcelay-Rojas. "When healthcare providers work together in delivering the same information and we all use plain language, we can have positive outcomes." 
For more information, email the Adtalem Global Communications Team: adtalemmedia@adtalem.com.