Supporting the Mental Wellness of Veterinary Students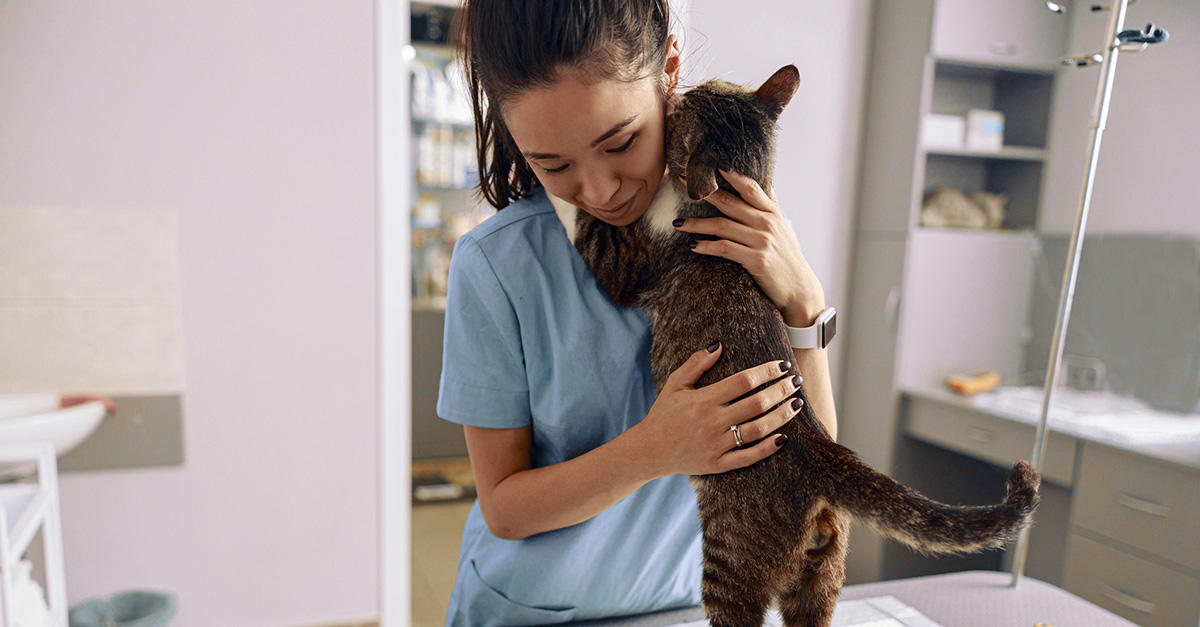 As veterinarians, we are called to serve the health and well-being of animals, but we're also called to serve their owners. Whether it's through coaching a pet owner who's caring for an ill dog or being there for emotional support after the loss of a pet, our work encompasses caring for humans and animals alike. We are in the business of both animal health and human compassion. 
These responsibilities – while many times rewarding – can also have negative mental health implications for veterinarians, including burnout, depression, anxiety, substance abuse and even self-harm. According to a study published by the American Veterinary Medical Association (AVMA®)  in 2019, veterinarians face disproportionately high suicide rates compared to the general population, with male veterinarians 2.1x more likely to die by suicide and female veterinarians 3.5x more likely – a staggering statistic considering suicide is more common in males than females in the general population, and 63% of veterinarians identify as female. 
These mental health concerns have been exacerbated by the pandemic, which caused a surge of animal adoptions during lockdown, altered more complex working processes and resulted in staffing shortages across the U.S. – a perfect storm for overworked and overburdened vets. Even before the pandemic, many vets suffered from empathy overload and compassion fatigue. 
A more modern issue veterinarians face is cyberbullying and harassment over the cost of their services, with one in five veterinarians reporting they had either been a victim of cyberbullying or knew a colleague who had been victimized. Some owners, disgruntled by the inflation of pet costs or other care issues, may take to the internet or social media to leave negative reviews, disparage practices or threaten colleagues. 
Knowing these statistics, the faculty at Ross University School of Veterinary Medicine (RUSVM) and I have made it our mission to do all we can to prepare our students for their veterinary careers and all that it entails, including caring for their mental well-being. Wellness has become a priority for the veterinary profession, its major organizations such as the AVMA and the American Association of Veterinary Medical Colleges (AAVMC), but it starts at our Universities and Colleges of Veterinary Medicine. 
At RUSVM, we established organizational wellness initiatives before the pandemic and they have gained a lot of traction with our students and faculty in the last few years. We launched a program called Thrive, which emphasizes the significance of total health (mind and body) for veterinary students, faculty, staff and administrators. Our Student Wellness and Experience Committees coordinate activities that promote and improve mental health, wellness and unity. These include yoga, hikes, sound baths, virtual cooking classes and much more.
In addition to Thrive, we also provide mental health resources that are aligned with wellness programs advocated by the AAVMC. These include:
Creating a 24-hour hotline for students needing mental health support.
Providing certified mental health first-aid advocates.
Offering well-being classes and committees (such as our Student Wellness and Experience Committee) to promote wellness programs and provide feedback to administration on students' mental health.
Providing courses that highlight the value of the human-animal bond in support of mental wellness including implementing processes such as therapeutic animal sessions with puppies and older dogs during stressful times, especially during exam periods 
Establishing ongoing lecture series featuring stories from faculty and staff on their personal experiences with mental health.
As an institution that has nearly 6,000 alumni and affiliated clinics in the U.S, Europe and other locations, it is our duty to prepare our current students to handle the challenges that come with a veterinary career and help them thrive in every way possible. As Dean of RUSVM, I'm excited to see how the steps we're taking to improve the mental health of our students today will impact the future of veterinary education and the veterinary field in the years to come.