Student Achievement on Display at Celebration of Academic Excellence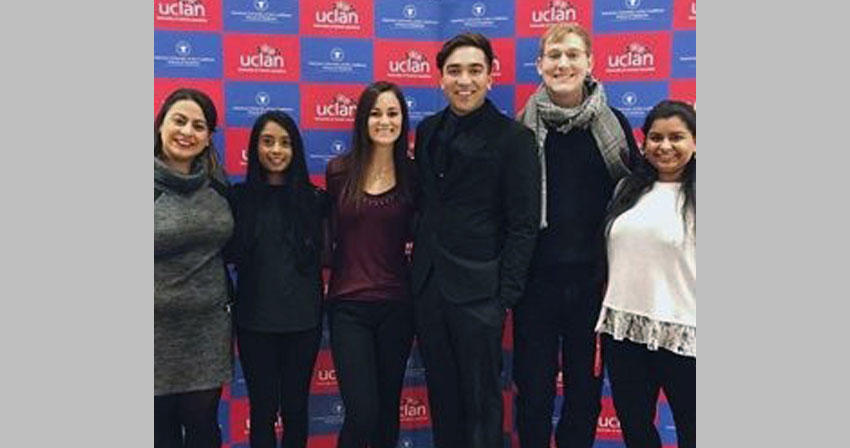 AUC hosted its third Celebration of Academic Excellence on Sunday, December 3, 2017 to recognize the efforts and academic achievements of students in medical sciences. The event, which has evolved since its original place at the White Coat Ceremony, recognized 80 second, third, fourth and fifth semester students who made Dean's list last semester, as well as 21 new inductees to the Alpha Omega Phi Honor and Service Society.
Five students received special recognition by AUC departments for their academic performance and contribution. This year's award recipients included:
Thomas Godwin - Department of Anatomy, Embryology and Histology
Hannah Schuett - Department of Microbiology and Immunology
Taylor Abraham - Department of Physiology and Neuroscience
Emmanuel Leung - Department of Pathology
Hannah Schuett - Department of Pharmacology
This semester's Faculty Appreciation Award went to Dr. Daniel Quinn, Associate Professor of Immunology. Fifth semester student and Alpha Omega Phi president Macklin Loveland presented the award to Dr. Quinn, calling it an honor to have been in his classroom.
"Dr. Quinn is one of the most memorable of my five semesters at AUC," Loveland said. "He went above and beyond the calling of a medical school professor and has always made it extremely clear for students what was expected of them and how we are expected to apply the knowledge gained. Dr. Quinn is the kind of professor that will never forget your name and will always take the time to stop and chat."
The evening ended with the presentation of three awards for leadership and goodwill both within AUC's campus and in the outside community.
Cole Uhland received the Student Judiciary Committee's Karl Stockhausen Student of the Semester Award, which recognizes service to the community and compassion towards colleagues. The award includes a grant of $5,000, which Cole will invest in blood pressure machines to provide free monitoring for people in Sint Maarten. He is also developing an elective credit that will engage AUC students in community education on diabetes and hypertension.
This semester's Social Accountability Scholarship was awarded to Rohan Patel (pictured center) for his outstanding contributions to the communities of Sint Maarten and AUC.
"Fortunately for us, Rohan identified AUC as the right medical school to fulfill his commitment to his philosophy and to community engagement," said Dr. Golden Jackson, Assistant Dean for Service-Learning and Community Affairs. "During his time at AUC, he has contributed to the breast abnormalities research study and to the Sint Maarten AIDS Foundation. Rohan created a comfortable environment for individuals waiting for clinical breast exams; his approach and ability to connect with persons from diverse backgrounds is one of his gifts."
The Student Engagement Scholarship was awarded to Daniel Garcia for his work to enhance and foster the AUC culture of collaboration.
"Daniel's record of contributions to the AUC community is really outstanding," Dr. Jackson said. "He has participated in both peer-to-peer and group tutoring programs, and received recognition from the anatomy department for his outstanding contributions to the department in his third semester. Daniel's peers describe him as an active participant and leader in AUC organizations, taking large roles in the Surgery Interest Group, Latino Medical Student Association, and in numerous fundraising drives to support communities organizations in need."
Congratulations to all of our students who were recognized during this semester's ceremony.