Sheryl Recinos, MD, Charted a Bold Plan to Pursue Her Dream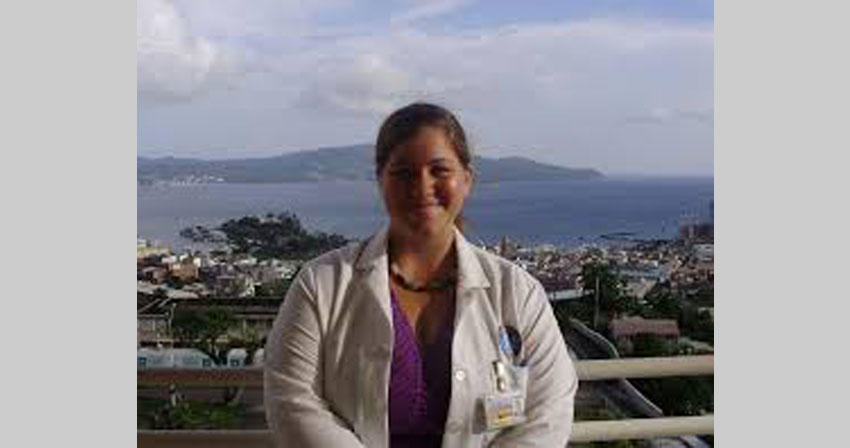 At just 16, Sheryl Recinos packed her things, left her friends, her family, and the place she called home, and began a cross-country journey that would take her to a new home in southern California. There she would learn to support herself, both financially and emotionally.

Beating the Odds

"Those were some of the hardest years of my life, but I realize that the struggles that I went through as a teen helped shape me into the person that I am now," said Sheryl about making the decision to live on her own at such a young age. But the same adversity that made for a trying childhood also taught Sheryl how to thrive amid challenging circumstances.

As an adult, Sheryl translated the grit she developed as an LA county teenager into the traditional measures of success. She made good money working as a biology teacher, married her husband Byron, and even went on to graduate school where she earned her MA in education, all while raising three children.

Not until this point in her life, had Sheryl much exposure to the healthcare industry. No one in her circles were physicians. It wasn't until Sheryl and her husband started a family that her level of interaction with the American healthcare system increased.
 
Discovering a New Passion

When her first daughter was born, Sheryl developed a connection with a new resident physician who saw her daughter for wellness screenings. It was during these visits that her fascination with medicine started to grow and she discovered that she wanted to pursue medicine.

Not content to dream about what it might be like to become a doctor, Sheryl took a hands-on approach and started volunteering after work at local hospitals. One program in particular really let her get her hands dirty, participating in clinical work alongside doctors and nurses. She even shadowed residents at the University of Southern California to experience what it would be like to train as a doctor.

Sheryl found herself thinking about the volunteer shifts while she was teaching, looking forward to her next opportunity to return to the hospital. "I knew it's where I belonged," she said. She continued to volunteer, but each year as she re-signed her teaching contract, she dreamed of being a doctor. Sheryl had worked hard to get to this point in her career, she was successful and had overcome great adversity, but something was pulling her in a new direction.
 
A Life-changing Decision

The decision to change careers was not without its pressures. She would be leaving a full-time job that supported her family. She may have to leave the place she had long called home. Making matters worse, "Everyone kept telling me I couldn't do it," she said, "but my friends and mentors at the hospital said I could."

With the approval of her children and husband, Sheryl made the decision to begin applying for medical school. She seemed like the perfect candidate: she was published, the holder of multiple degrees, made good grades, and was beaming with confidence and perseverance having overcome so much personal adversity. So, it came as a shock when U.S. medical schools wouldn't interview her, citing a below-average GPA during the third year of her undergraduate campaign as the primary reason.

After being shut out by U.S. medical schools, Sheryl learned about Ross and its more rounded approach to admissions.

"Sheryl really impressed me because she went through school while raising her family," said Lori Muramoto, a Senior Associate Director of Admissions at Ross.

Where other medical schools had focused on Sheryl's below average year during undergrad, Ross took other factors into consideration, such as Sheryl's post-graduate work, hospital volunteer experience, studies in biology, published article, and personal character.

"She thought that medicine was not going to happen for her, so she earned a master's degree and worked as a biology teacher to raise her family, " said Muramoto. "She volunteered through the Clinical Care Extender program and was part of its leadership team. She was never a person that let obstacles stand in her way. Whenever she was faced with a challenge, she figured out a way to make it work."
 
Making Her Mark in Southern California

After being accepted at Ross, Sheryl's transition from teacher to student began. "It was overwhelming at first," she said. Her husband and two of her kids were still stateside for the first few months and she was adjusting to working, studying, and caring for her oldest daughter in Dominica. But Sheryl's goal never escaped her: she would return to southern California – the place she became an adult, got married, and had kids – to become a physician and serve the community she describes as "her happy place."

Since earning her M.D. from Ross, Sheryl has returned to southern California for her a Family Medicine residency at the University of California - Riverside where, just a few months from now, Sheryl will complete her training and begin practicing as a licensed family medicine physician.

As Sheryl closes in on accomplishing her dream, she's paying it forward by mentoring younger students with similar aspirations. Her advice to them is simple but profound:
Never lose sight of your ultimate goal – becoming a doctor.
Instead of focusing on maximizing your test scores, get out in the community. Volunteer, meet patients, and understand the role you can play.
Time is going to pass regardless, just apply and see if you get in.