Safety First: How Vets are Making a Name in Public Health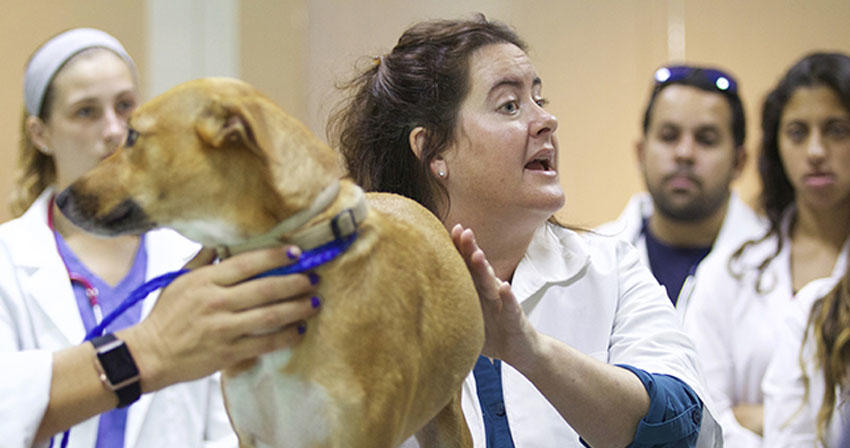 When Christa Gallagher, DVM '93, joined the North Carolina State Veterinary Response Corps, that was her first introduction to the ties between public health and veterinary medicine. From there, as she took courses in disaster management and dove into epidemiology, zoonotic disease, and other public health issues, she began to see that the two were inextricably linked. That's when she decided to earn her Master of Public Health (MPH) degree.

She enrolled in a program designed for practicing veterinarians at the University of Iowa, while continuing management and practice within her small animal hospital. Today, Dr. Gallagher is Assistant Professor of Public Health and Epidemiology at Ross, where she's continuing her work to strengthen the relationships between public health and veterinary medicine. It was her brainchild to pursue a partnership between Ross and the Johns Hopkins Bloomberg School of Public Health.

In November of last year, that idea became a reality when Ross and the Bloomberg School signed an agreement to explore research collaborations and joint educational activities. Among other opportunities, the agreement paves the way for Ross students and alumni to pursue public health degrees at John Hopkins— something eagerly anticipated by Dr. Gallagher. "Due to my own experience, I knew there was a need for DVM students to have the opportunity to do a Master of Public Health," said Dr. Gallagher. "It's really gratifying to see it come to fruition." She added, "This opens the door not only for those in the Ross community to obtain a world-class MPH, but also for our students and faculty to do collaborative public health research with the Bloomberg School."

The MPH program can be completed full-time in 11 months on campus, or part time over 2-3 years, with the majority of coursework conducted online with some required in-person time. The online option is ideal for alumni who are practicing veterinarians, Dr. Gallagher said. They can complete most of their education from home, while occasional form relationships with classmates.

Dr. Gallagher is still close with many of her own MPH classmates. In fact, she worked with her MPH classmate and fellow Ross alumna, Dr. Barbara Jones, to co-develop an elective in disaster management for Ross's Master of Science in One Health degree.

"There are so many ways you can use an MPH, both in and out of private practice," Dr. Gallagher said. "The government sector is a large employer of veterinarians for public health and an MPH is desirable. The United States Department of Agriculture [USDA] hires vets to work in food safety, disaster management, and zoonotic and infectious disease. There are also employment opportunities within the CDC and FDA. You can work as a state veterinarian, and there are options to work in human health
departments as well."

This blurring of lines between veterinary medicine, human medicine, and ecosystem health is a testament to the One Health movement, Dr. Gallagher said. "Vets are being recognized for their expertise in topics such as population medicine, zoonotic disease, and food safety," she noted. "We're now seeing veterinarians sitting on various public health boards as well. Our country and the world needs veterinarians in public health—there's no dispute about that.