RUSVM Collaborates with St. Kitts Government to Support International Women's Day Breakfast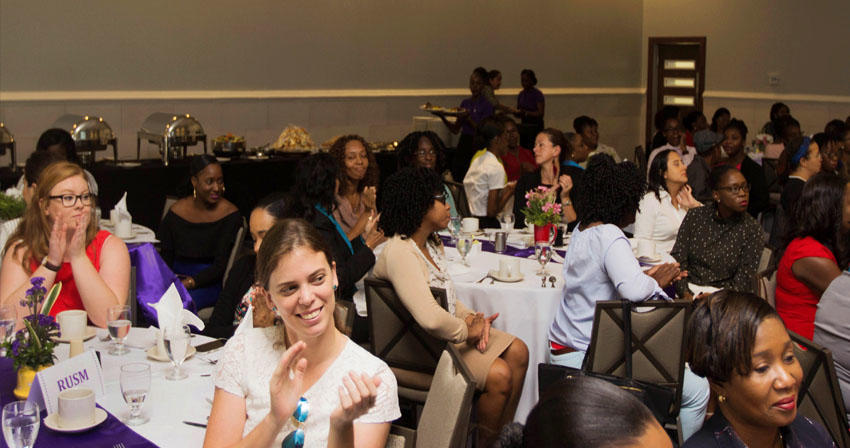 Ross University School of Veterinary Medicine (RUSVM) EDGE Chapter in partnership with the St. Kitts Ministry of Gender Affairs were hosts of the International Women's Day Awards Ceremony and Motivational Breakfast. Celebrated since 1909, International Women's Day is recognized to honor both exemplary and ordinary women in our communities and brings awareness to pressing issues of gender parity. Hundreds of senior government officials, community members and business leaders and members of staff attended the event on March 8 at the Royal St. Kitts Hotel in Frigate Bay.

Dr. Rhonda McIntyre, Dean of Ross University School of Medicine St. Kitts satellite campus and former Director of Health Services at RUSM provided special remarks on leadership and empowerment, and through personal anecdotes, encouraged women to push forward in their careers and life to attain their goals.

RUSVM Edge Chapter presented a check of EC $7,141.00 to Ade's Place, a local charity selected by the St. Kitts and Nevis Ministry of Community Development.  Ade's Place serves as a safe haven for adults with disabilities in St. Kitts. Funds were raised through sale of breakfast tickets to the RUSVM community, the government and various local businesses. RUSVM Edge will be holding a second raffle fundraiser to be drawn on March 29, with proceeds to be donated to Project Viola, a government initiative providing services and support to teen mothers in school. The Royal St. Kitts Hotel, FLOW and The Cable donated prizes for the winners.

Representatives from the RUSVM EDGE chapter also facilitated the presentation of 7 special business awards to women who were chosen by their companies for their outstanding contribution to the success of the respective organizations in the St. Kitts and Nevis community. The awardees were from Development Bank, JARO Electronics, Kajola Kristada, the Royal St. Kitts and Nevis Police Force, Ross University School of Veterinary Medicine, Scotia Bank and St. Kitts Electricity Company (SKELEC). RUSVM Edge chapter awarded Ms. Andrea Alexander, RUSVM Groundskeeper for outstanding work in a traditionally male dominant field. Ms. Alexander was recognized for her leadership, team spirit and commitment to her job.