Recognizing Nurses' Extraordinary Care: DAISY Award Recipients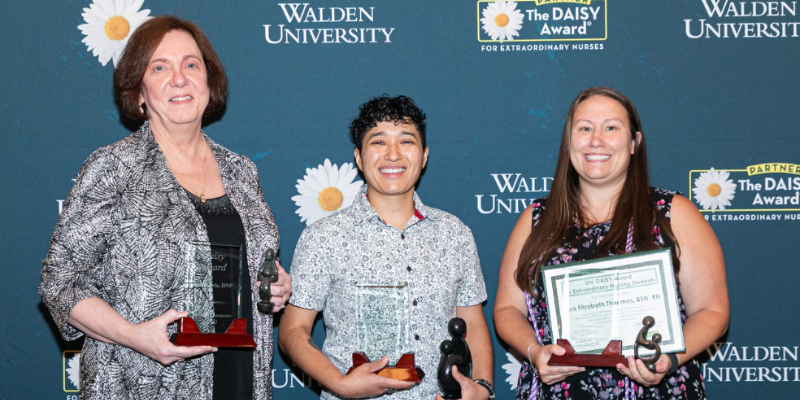 Twice a year, Adtalem's Walden University presents nursing students and faculty with the DAISY Award. This awards platform is best known for recognizing exceptional nurses from varying backgrounds with one recurring theme—they exemplify a deep sense of dedication and unparalleled commitment to strengthening patient outcomes and the nursing profession.
Meet the newest DAISY Award recipients below in addition to Walden and Chamberlain University DAISY recipients from earlier this year.
Student and Alumni Recipients
Sara Thimmes
Sara Thimmes is warmly regarded by her nominator as "always willing to go the extra mile and positively effect social change." The Master of Science in Nursing student is a former oncology and hospice nurse who leads with compassion when advocating for patients and navigating difficult conversations with family members.
"Being a good nurse is all about reading the room and being prepared for whatever the patient may need," she says. "If they want you to lead, then you lead. If they just want you to be there and support them through those tough conversations, you do that."
When a Walden faculty member and mentor of Thimmes was diagnosed with Amyotrophic Lateral Sclerosis (ALS), a rare neurological disease, she sprang into action, driving across several states to be with her.
"Caring for her was one of the hardest things I've had to do because of how much I loved and respected her," Thimmes says. "But there was no doubt in my mind I wanted to help her and her family. I'd do it a million times over."
Tammy Prado
In the dynamic realm of healthcare, the role of a preceptor is pivotal in shaping the future of nursing students. Amidst this crucial responsibility, Tammy Prado, a Master of Science in Nursing graduate, stands out as a beacon of excellence.
Prado's journey as an exceptional preceptor began in the emergency room. Her nominator, who had the privilege of working with her, found themselves not only learning from a seasoned professional but also witnessing the embodiment of the qualities that define a role model.
Within the family practice setting, Prado's dedication to patient care shines through. A driving force in Tammy's approach to patient care is her aspiration to create lasting impacts. With her compassion as the foundation, she strives to revolutionize the patient experience, making lasting changes that enhance the quality of care. This pursuit has led her to invest not only in her patients' well-being but also in the clinic's adaptability to emerging healthcare trends.
Faculty Recipient
Dr. Judi Kuric
A nursing educator's impact extends beyond the classroom, influencing the quality and future of nursing care through their dedication to teaching and mentoring. A practitioner for over three decades and across various specialties, Dr. Judi Kuric embodies this dedication by contributing to a culture of compassion and empathy and fostering an environment where students and faculty thrive.
Dr. Kuric's nominators commend her visionary approach that encourages creativity and "tailoring the educational journey to meet students exactly where they are." Dr. Kuric regularly enlightens her students on the importance of expanding their knowledge to embrace the demands of advanced practice. She is also passionate about bolstering Walden's reputation in creating changemakers.
"You're going to be a great nurse practitioner when you leave my program, I can tell you that, but you're also going to be a great nurse practitioner who affects the community that you want to be in," says Dr. Kuric. "We look forward to the contributions our students make."
Alumni Recognized by Their Employers
SarahBeth Phillips
Walden Master of Science in Nursing grad SarahBeth Phillips '21 was honored with a DAISY Award by the University of Arkansas - Little Rock where she is an assistant clinical professor of nursing.
"Nursing school is an interesting time for everyone," says Phillips. "I think it's important to remember it's not just about being a nursing student but being a person too. I try to keep that at the forefront of my mind that they are also experiencing life, jobs, children, etc. I try to keep an open door for them to come in with any problem while also helping them build the clinical judgment that makes them an exceptional nurse."
For more information, email the Adtalem Global Communications Team: adtalemmedia@adtalem.com.