Preparing Healthcare Professionals to Provide LGBTQIA+ Inclusive Care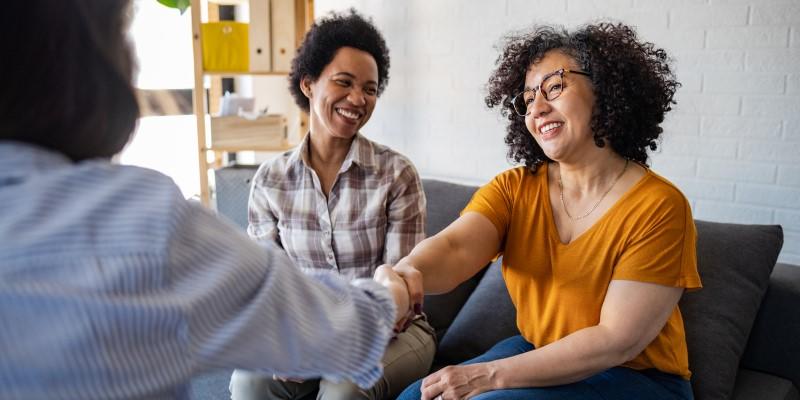 It's a powerful moment at commencement for Adtalem Global Education medical schools. Hundreds of new doctors reciting the Physician's Pledge, a sacred vow derived from the Hippocratic Oath that calls on each medical professional to:
Respect the autonomy and dignity of my patients. I will not permit considerations of … sexual orientation … or any other factor to intervene between my duty and my patient.
So how are Adtalem's medical students prepared to work with LGBTQIA+ patients? For that matter, how are nurses, counselors, and other healthcare professionals? These are urgent questions as researchers document barriers to healthcare and higher rates of suicide, substance abuse, and mental health problems for this population.
Here are just a few examples of how Adtalem institutions are answering the call.
Creating Safe Spaces, Eradicating Stereotypes
When Dr. David Pryluck was a medical student, most case studies he encountered involving a gay patient seemingly led down a path to a sexually transmitted infection, most commonly HIV/AIDS.
"We were never educated in considerations specific to this patient population other than sexually transmitted infections or worse, it was taught as part of psychiatry. We talked very little about sexual identity or gender identity," he says.
One painful memory stands out some 15 years later. Dr. Pryluck was the only openly gay radiology resident of 40 residents at an educational conference. The attending physician showed a chest X-ray of a male patient with a nipple piercing and pneumonia and discussed possible diagnoses.
"He was trying to lead a resident down the path that because the chest X-ray was of a male patient with a nipple piercing, the patient must be gay. And if the patient is a gay male with pneumonia, this must be an AIDS-related infection. It was a clear train of thought that he wanted the resident to say out loud," says Dr. Pryluck. "In that moment, I had 39 sets of eyes on me. It was one of the most uncomfortable moments of my entire training."
Ten years later, as an associate professor of radiology himself, Dr. Pryluck worked up the courage to send a letter to that attending physician to share with him how the experience made him feel. Dr. Pryluck keeps a copy of that letter with him as a reminder. Another 5 years has passed, and he is now senior associate dean of the Sint Maarten campus of American University of the Caribbean School of Medicine. Among the many facets of that role, Dr. Pryluck wants to ensure that campus is a safe, supportive environment and that the curriculum prepares students to become better physicians for LGBTQIA+ patients.
"When we design our curriculum, sexual or gender identity should not be used an indicator of pathology," he says, "and some things that seem basic can be a profoundly impactful signal of acceptance, such as asking a patient's pronouns during intake and knowing how to correctly take a sexual history.
"Incorporating this right into our curriculum as a legitimate, vital part of their education destigmatizes these concepts and enables students to have the language and skills to more effectively care for this patient population when they become their doctors," says Dr. Pryluck. "It also helps create an inclusive and welcoming environment.
"There is a lot of work to be done, but I'm proud to contribute to this effort," says Dr. Pryluck. "And it's not just me. Our non-LGBTQIA+ faculty are really invested and engaged in these initiatives as well."
Inclusivity is Part of the Mission at Chamberlain University
In a May 2023 study from the Robert Wood Johnson Foundation, only 32% of nurses answered that their nursing school had adequate lessons on unconscious bias or stereotypes to a great or moderate extent."
Chamberlain University, the nation's largest nursing school, seeks to reverse this trend.
"Within Chamberlain's social justice mission, our systems advocacy social mission commitment includes intersectionality, systemic racism, gender, and sexuality," says Dr. Lois Lopez, a faculty development specialist. "In the pre-licensure nursing program, we thread those concepts throughout the entire curriculum."
One way Chamberlain does this is through simulations in its SIMCARE CENTER nursing skills laboratories that replicate healthcare settings and patient scenarios. Without giving too much away from an assignment, students meet simulated "patients" like Cynthia Bennet (pronouns they/them/their) who has a fever of unknown origin, a challenging medical history, and is an active advocate for themself.
Students are assessed for their medical response and on treating the whole person. That includes social aspects such as avoiding assumptions about gender identity from outward appearances and building trust and rapport with this patient—and their partner.
In the simulation, the patient and their partner are frustrated with care they received in another department. Students might hear them say, "It is so frustrating when people just assume you are my sister and not even consider that you are my partner."
Expanding Access to Gender-Affirming Care
For five years, Abbey Baus was a physician assistant working long hours at one of the largest LGBTQIA+ health centers in the Midwest. She specialized in HIV prophylaxis and treatment. She prescribed hormones to people who are transgender and gender nonconforming. Her patients were so eager for the compassionate, culturally competent care that she and the center were dedicated to providing that they travelled eight, nine, and even 10 hours to get there.
That's why she resigned.
"I can't be the only clinician they trust in a 10-hour radius. That's my inspiration. I want to teach more medical professionals who can care for people who identify as LGBTQIA+ to improve healthcare in this population," says Baus, assistant professor in the Master of Physician Assistant Studies program at Chamberlain University. (She stills sees patients one day a week at another clinic.)
As Chamberlain's physician assistant program developed, Baus collaborated with everyone from academic leaders to facilities to create an inclusive program and space. That included everything from building an all-gender bathroom to renaming a course that at other universities might be "Women's Health" and making it "Obstetrics and Gynecology."
Patient intake sets the tone for care to come. With that in mind, Baus drafted instructional objectives for the Medical Interviewing and Documentation course that require discussing best practices with attention to sexual orientation and gender identity. To bring this to life for her students, she provides case studies and role-playing exercises that incorporate diverse patient scenarios.
"In our Endocrine Disorder course, I teach hormone replacement therapy from a very objective medical standpoint for people who are trans or gender nonconforming," says Baus. "I don't see that in some of the other physician assistant programs I have taught in."
Culturally Competent Counseling at Walden University
Dr. Mark Leggett, a faculty member at Walden University, has long been an advocate and leader for LGBTQIA+ inclusion in the counseling profession. In the early 2000s, he helped create the Alabama Counseling Association's division for lesbian, gay, bisexual and transgender issues.
"When we got this new division approved, membership exploded," he says. "The demand for more information and training to help counselors become more culturally competent in serving the LGBTQIA+ community exceeded our expectations."
Dr. Leggett says that students enter Walden's MS in Clinical Mental Health Counseling program with the empathy and compassion needed to care for all human beings from all walks of life and that they are eager to learn about critical issues facing these communities.
"The counseling strategies and skills taught in our program offer the tools needed when working with this community such as learning how to provide a nonjudgmental space for the individual to share their story, struggles, and challenges, active listening, empathy, genuineness, compassion, and most of all resources to help the individual get the support and help they need," says Dr. Leggett. "One way Walden does this is through immersive mock counseling session scenarios that leverage innovative skill-building tools."
Dr. Leggett also brings his 20-plus years of experience in private practice specializing in sexual identity to the courses he teaches. He makes a point of creating social justice discussions that incorporate current events.
"We are seeing more and more state legislatures drafting and passing legislation banning gender confirming treatment for transgender youth. Some states are advancing legislation giving healthcare providers the legal right to opt out of providing medical or mental health care for certain individuals due to the provider's own personal religious beliefs," he says. "These methods or behaviors for providing care for individuals in our community are not in line with our professional code of ethics in the counseling profession.
"It is critical that our students gain an understanding of how many members of our society, because of race, ethnicity, socioeconomic status, sexual orientation, gender identity, or even where they live, are at a disadvantage when it comes to receiving mental health care."
Contributing New Knowledge Through Doctoral Study
Students in Walden University's online doctoral programs have also pursued their interests in these topics.
Dr. Ronald Davis, who earned a PhD in Social Work, used his dissertation to explore "Social Worker Perceptions of LGBT Cultural Competent Practice Within Hospitals." Through interviews, he discovered that study participants did not feel prepared by their workplaces or their undergraduate or graduate programs. They shared that their only training happened during field practicum experiences or as part of professional development they pursued personally.
PhD in Psychology graduate Dr. Sean Meyer did his dissertation on "Rehabilitation Counseling Students' Perceived LGB Competence: Implications for Curricula Development." He found that unlike clinical mental health counseling students, many rehabilitation counseling students were not required to complete a course in human sexuality. Coursework that explores the intersectionality of sexuality with disabilities would go even further to prepare students to help people with physical and psychological disabilities live independently.