Partnership Starts Delivering Dedicated Nurse Pipeline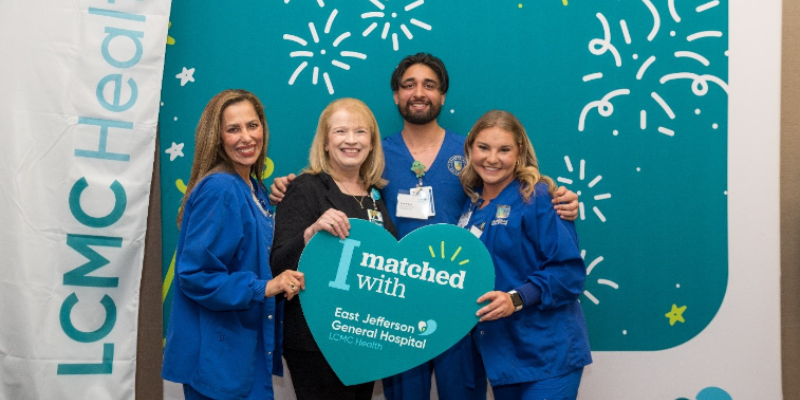 Like other healthcare systems across the United States, LCMC Health faces a shortage of nurses at their hospitals and ERs in New Orleans. They have a surplus of creativity, however, in how they are partnering to fill those positions. Their collaboration is starting to yield results.   
Called-to-Care Scholars Program 
In 2021, LCMC Health and Chamberlain University announced the Called-to-Care Scholars Program. Students can earn their Bachelor of Science in Nursing at a Chamberlain location housed in one of LCMC Health's hospitals. They are admitted by Chamberlain and reviewed by LCMC as "employees" with deferred start dates. By pledging to work for LCMC Health for up to three years after graduating and passing the licensing exam, they get their tuition covered for up to three years by LCMC Health.  
As the largest nursing program in the U.S., Chamberlain was able to quickly build out the location with classrooms and simulations areas—as well as supply faculty to teach in them. The partnership is designed to enroll 100 scholars per academic year across multiple start dates.  
Matching Nursing Students to Jobs 
The first students started in May 2022 and are already reaching significant milestones. Some students transferred course credits into the program, and 10 of them are already moving into the precepted experience portion of their education. They had the opportunity to share ranked preferences for location within the hospital system and specialty, such as pediatrics or emergency medicine. LCMC human resources balanced those requests with open positions across their locations.  
The results were revealed in an exciting Scholars Match Day ceremony with chief nursing officers, human resources administrators, and other leaders on hand from LCMC's locations.  
"It was very exciting to find out where we would be working as registered nurses for the next couple years," says Alexis Jarquin. "We were all able to celebrate our matches with the administration of our future hospitals. The experience was one I will never forget!" 
"Chamberlain's nursing program is built into the culture of the healthcare center," says Dr. Jennifer Couvillon, president of Chamberlain's New Orleans campus. "One of the things that makes this partnership special for everyone involved is that all of the activities our scholars participate in take place in the hospital, from courses to Match Day, precepted experiences, and graduation." 
This first cohort of students will next participate in required preceptor experiences on the units where they matched. Once they graduate and pass the licensure exam, they will continue serving on those units. The hope is that this continuity decreases onboarding time—accelerating the graduate's impact on a unit and saving money for the hospital.   
The first graduation is scheduled for Dec. 20 with LCMC Health CEO Greg Feirn as the keynote speaker. Chamberlain anticipates three ceremonies a year with 25 to 50 graduates each.  
"As a leading workforce solutions provider, Adtalem is committed to collaborating with organizations like LCMC Health to proactively address future workforce needs," says Dr. Karen Cox, president of Chamberlain University. "With our national reach and agility, Chamberlain is proud that we had the ability to respond quickly to LCMC's initial idea—bringing this alliance to life in just mere months while also engaging passionate, qualified nursing students from across the country to expand the pool of practice-ready nurses in the New Orleans area."