New Sustainability Report Details Adtalem's Impact on Education, Healthcare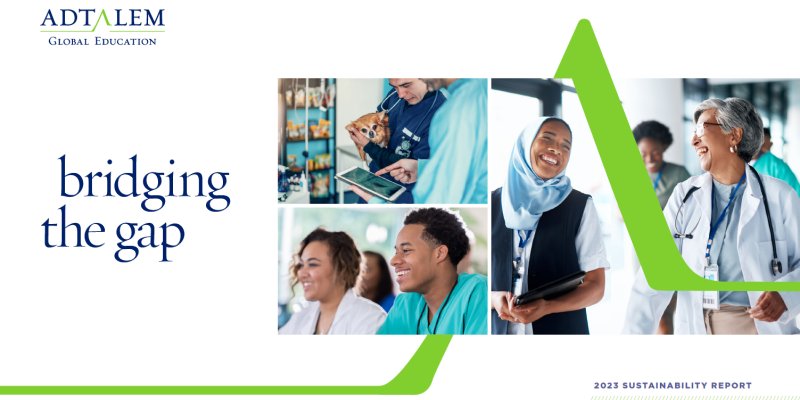 In its 2023 Sustainability Report, "Bridging the Gap," Adtalem Global Education demonstrates through data and storytelling how it is improving health equity as the nation's leading provider of healthcare education.1
"We're committed to providing health equity and educational access to those who may not have otherwise had the opportunity, and we're committed to doing it at scale," said Adtalem President and CEO Steve Beard. "We are uniquely positioned to expand access to high-quality academic programs, leading to rewarding careers that collectively serve to address workforce shortages and improve health equity."
The report, released today, includes actions taken by Adtalem in 2023 to drive forward those commitments while advancing various environmental, social and governance goals that create a measurable and meaningful impact on society.   
Sustainability Report Highlights
Demonstrating how Adtalem's priorities and areas of interest can support the United Nations 2030 Agenda for Sustainable Development.
Hiring a vice president of diversity, equity and inclusion and talent management to drive a culture of DEI throughout the organization.
Maintaining partnerships with 58 educational institutions, providing stronger pathways for students from diverse and under-resourced backgrounds to pursue their passions.
Awarding $301,700 through the Empower Scholarship Fund to 162 students across all Adtalem institutions.
Providing education that illuminates the intersections among human, animal, and environmental health.
Expanding the Healthcare Professions Pipeline
The top concern of healthcare CEOs and leaders in 2022 and 2021 surveys included personnel shortages, according to the American College of Healthcare Executives. The 2023 sustainability report shows how Adtalem is a leader in providing highly qualified, diverse graduates to the U.S. healthcare system, particularly into underserved communities. 
For more information, email the Adtalem Global Communications Team: adtalemmedia@adtalem.com.    
1Based on 2021 data.
Chart Sources
1McKinsey & Company — May 2022
2AAMC Report from June 2021: The Complexities of Physician Supply and Demand: Projections From 2019 to 2034.
3Data for U.S. pet healthcare market. Mars Veterinary Health & Animal Health Economics, LLC, "Pet Healthcare in the U.S.," August 2023.
4Based on data from the Bureau of Labor Statistics.
5American Association of Veterinary Medical Colleges. "2022–2023 Institutional Data Report." December 2022. Based on reported number of graduates in most recent class from AAVMC member veterinary institutions.