New Graduates Receive their Medical Degrees at AUC's 2018 Commencement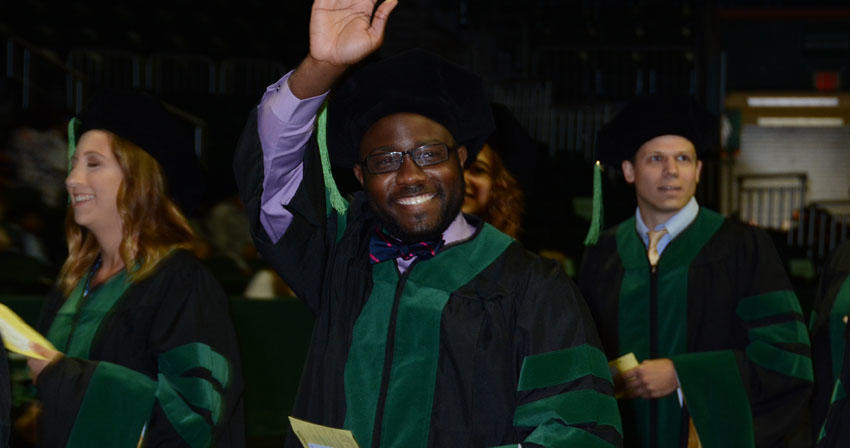 It was a festive start for American University of the Caribbean School of Medicine's (AUC) 2018 Commencement ceremony. Graduating physicians entered the University of Miami's Watsco Center on Saturday, May 19 to the thunderous sounds of the Generation New Status Drum Corps. The band, along with members of the university's faculty and administration, flew in from Sint Maarten where graduates' medical school journey first began. They now celebrated another kind of beginning—the start of their careers as MD-credentialed physicians.
Dr. Golden Jackson, Assistant Dean for Service-Learning and Community Affairs, presided over the ceremony, which included addresses by Dr. Heidi Chumley, AUC Executive Dean; Dr. Amesh Adalja, 2002 graduate and keynote speaker; Dr. Faith Dillard, 1999 graduate and member of the Alumni Association Board; and Dr. David Kenneally, 2017 graduate and class speaker. Woven throughout their remarks was a shared appreciation for "the AUC experience" and the desire for new graduates to carry that knowledge into their medical careers.
"We're very proud of the full AUC experience and what that means for you once you go out into the world to practice medicine," said Dr. Chumley. "We believe this is absolutely central to AUC, it makes us what we are, and it makes our university a very special place and it makes you very special doctors. Never underestimate the value of moving to an international location, far from home, and making your way. Never underestimate the value of immersion in another culture."
Keynote Speaker Focuses on Four Guiding Principles
Delivering this year's keynote address was Dr. Amesh Adalja, a 2002 graduate of AUC and Senior Scholar at the Johns Hopkins University Center for Health Security. Reflecting on his 16-year career in medicine, Dr. Adalja shared four overarching principles for new graduates entering residency. First, that a career in medicine is a long range journey and can be as ongoing as graduates choose to make it. Second, that medicine will change by the minute, so graduates must be the driver of their own career. Third, that graduates' competence will erase any stigma that they might fear. And finally, that medicine is a unique field that transforms day to day and should be met with continued curiosity and enthusiasm.
"You have to approach medicine as something that you are endlessly fascinated with and that you can't stop thinking about," said Dr. Adalja. "To have this feeling about medicine as your central purpose is essential for your success and happiness. You are going to read articles about physician burnout and to me, the best vaccine against burnout is to have this type of attitude towards your field."
Graduates Recognized for their Leadership and Community Service
Dr. Robert Hecht, Associate Clinical Dean for the United States, and Dr. Golden Jackson took to the stage to recognize seven graduates for their academic accomplishments and commitment to university and community service. The Outstanding Academic Achievement Award, which is granted to select graduates who maintained a GPA of 94.6 or above during medical school, went to:
Dr. Zachary Chun, Internal Medicine Resident at the University of Arizona at Tucson
Dr. Bryan Stringer, Internal Medicine Resident at the University of Connecticut
Dr. Stormi Lewis, Obstetrics-Gynecology Resident, Beaumont Health System
Dr. Rick Perez, Internal Medicine Resident at NYU Winthrop Hospital
The Excellence in Community and University Service Award, which is given to graduates with exemplary records of service to both AUC and their surrounding communities, was presented to:
Dr. Benjamin Hake, Family Medicine Resident at Mercy Health-St. Vincent
Dr. David Kenneally, Anesthesiology Resident at Sunrise Health GME Consortium
Dr. Kyle Mihaylo, Pediatrics Resident at the University of Oklahoma
During their time with AUC, these award recipients participated in the Student Government Association, led student clubs and organizations, participated in peer-to-peer tutoring programs, and developed partnerships with local organizations and activism programs in Sint Maarten. Dr. Mihaylo, who will begin his Pediatrics residency in July, initiated AUC's connection with Player Development SXM, a little league baseball and mentoring program for at-risk youth in Sint Maarten. The university's involvement with Player Development has since grown and medical students regularly volunteer with the program.  
A Strengthening Alumni Network
Friends and family cheered on as graduates walked the stage to be hooded by a member of AUC's administration. After the last name was called, the class of 2018 joined together to read the Physician's Oath/Declaration of Geneva and pledged to abide by the humanitarian goals of medicine as they begin residency training.
This year, 291 AUC graduates earned residencies in specialties such as child neurology, dermatology, orthopedic surgery, interventional radiology, general surgery, and emergency medicine among others. Many will also help to address the United States' significant unmet need in family medicine, internal medicine and pediatrics. Residencies are set to begin in late June and early July.