Meet Da'Quan Findlay '25: The Recipient of the AORN Nursing Scholarship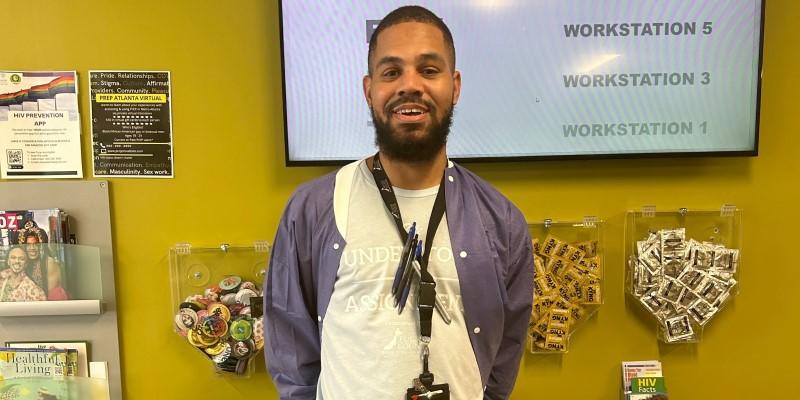 "I want to be the person who makes a difference in someone's life by providing extraordinary patient care with love and compassion," said Da'Quan Findlay, a student of Chamberlain University's class of 2025 and recipient of the 2023 Association of periOperative Registered Nurses (AORN) Nursing Scholarship.
Funded by AORN and created in collaboration with Chamberlain and the Empower Scholarship Fund, this scholarship aims to support the LGBTQ+ community. "As part of our Diversity, Equity, and Inclusion initiatives, AORN has increased our efforts to improve care among underserved populations where data indicates that socioeconomic, race, ethnicity, gender, religion, and other factors are impacting access and quality. We know that health outcomes are enhanced when there is a diversity of caregivers who look like and speak the same languages as their patients – including LGBTQ+ communities. Expanding opportunities for more LGBTQ+ students to become nurses is consistent with that goal, and the Empower Scholarship does that," said Linda Groah, CEO and executive director of AORN.
Da'Quan's passion for the medical field, commitment to education and compassion for his fellow students and patients have helped him achieve this praiseworthy milestone. However, one of the most inspiring aspects of his journey is the triumphs he has made over personal barriers.
Born and raised in the south side of Jamaica, Queens, in New York City, Da'Quan's first challenges included understanding what it meant to be a gay man in his family and community. "Growing up in a Caribbean family and being gay is difficult. In my culture, it is not accepted and in some parts of Jamaica people are killed for displaying any signs of homosexuality," he said.
When his father was hospitalized with a brain hemorrhage, Da'Quan found himself by his father's side, despite his sexuality not being accepted by his family. Moving through the pain he had experienced, Da'Quan found himself overwhelmed with feelings of love and compassion. "In my opinion, that exact moment defined what it takes to be a nurse to me. It doesn't matter what life that person had lived, what matters is the compassion that it takes to care for someone in their darkest hours," he says.
While pursuing his education with Chamberlain University, Da'Quan also works for the Fulton County Board of Health in the Ryan White program, bringing healthcare to low-income patients living with HIV. His personal experiences have given him the ability to connect with his patients in a way others aren't able to. "I offer a nonjudgmental atmosphere in my office, where my patients can speak freely. More importantly, I relate to them in ways that heterosexual people cannot," he said.
Da'Quan's perspective puts him in a position to help not only patients, but other staff members as they learn about and engage with members of the LGBTQ+ community. One example being his involvement with a trans-experience seminar where patients helped to educate the staff on the ins and outs of helping their trans patients.
With the support of the those around him and the AORN scholarship, Da'Quan is looking to the future. "Words can't express how elated I am to openly speak about my experience of being gay," he said. "I have done all this work as a nurse technician. Just imagine what I could do once I hold a professional license and I am able to get into more rooms that offer different opportunities for the LGBTQ+ community."