Maternity Care Deserts Impact on High-Risk Pregnancies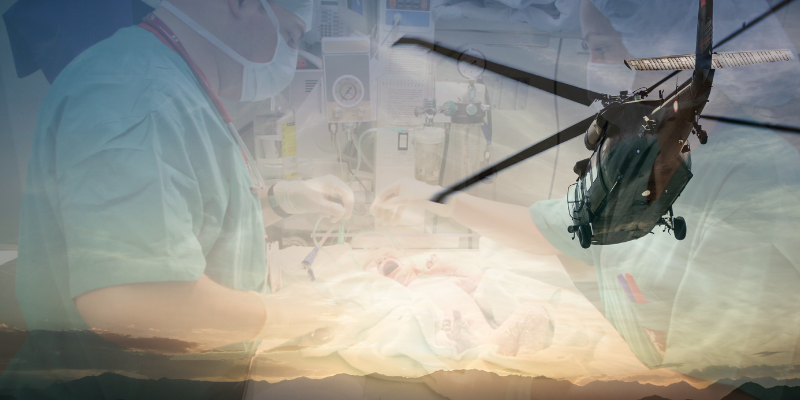 What it's like to be a labor-and-delivery nurse surrounded by rural areas, and how online nursing degree programs can help alleviate shortages.  

When Dr. Marsha "Masey" Bonnell was a labor-and-delivery nurse, she worked in a high-risk unit in the Midwest surrounded by rural maternity care deserts. The lack of healthcare resources in those areas meant that any pregnancy in a 300-mile radius that could end in death arrived by ambulance or helicopter at the hospital where she worked.  
"There was no lack of adrenaline," says Dr. Bonnell, now a curriculum and instruction developer at Chamberlain University, a part of Adtalem Global Education. "Patients on a high-risk unit need constant supervision. Tiny changes in their condition could indicate more serious complications for mom or baby." 
Maternity Care Deserts 
According to the March of Dimes, 36% of U.S. counties are maternity care deserts—where there are "no hospitals providing obstetric care, no birth centers, no OB/GYN, and no certified nurse midwives." That's in addition to other counties rated as having "low" or "moderate" access to maternity care services. Of those counties considered maternity care deserts, 61.5% are rural like the area around the hospital where Dr. Bonnell worked.  
"It can be particularly difficult in large rural areas for women to find the care that they need," says Dr. Bonnell. "Adequate access to high-quality health care is widely accepted as reducing maternal mortality. With the right care, you can determine whether something is a normal maternal change due to pregnancy or a risk factor for moving into a disease process." 
6.5% of Adtalem medical school graduates practice in rural health professional shortage areas (HPSAs), per a March 2020 report.  
Online Education Supports Rural Nurses 
When nursing students learn online from the rural areas where they live, it does more than make higher education convenient for them. It makes it possible to stay in their communities as healthcare providers.  
While Chamberlain has m​ore than 20 campuses nationwide in 15 states, its pre-licensure Bachelor of Science in Nursing program is available online. Like Walden University, another Adtalem Global Education institution, it offers master's and doctoral programs online.  
​Adtalem had over 50,000 nursing students from Chamberlain and Walden in the fall of 2021. In calendar year 2022, Adtalem's nursing programs across Chamberlain and Walden graduated more than 19,000 nurses with either a Bachelor of Science in Nursing, Master of Science in Nursing, Doctor of Nursing, or certificate in nursing. 
Helping Prepare Future Nurses for Maternity Care 
In Chamberlain's pre-licensure Bachelor of Science in Nursing program, students prepare for challenges they could one day face with pregnant patients. That includes understanding social determinants of health, which the World Health Organization defines as "non-medical factors that influence health outcomes … conditions in which people are born, grow, work, live, and age, and the wider set of forces and systems shaping the conditions of daily life." 
Chamberlain has course modules on infection and other complications during pregnancy as well as on possible postpartum complications. The university also engages students in simulations to help them recognize the symptoms of preeclampsia and postpartum hemorrhage, including subtle changes that can mean danger.  
Working in High-Risk Labor and Delivery  
Something else that future nurses at Chamberlain learn is the importance of educating their patients.  
"Education for expectant mothers is really paramount to understanding that while pregnancy is a natural and normal thing for the body, issues can arise and they can arise quickly," says Dr. Bonnell. "Major warning signs for pregnancy complications can be easily dismissed as normal signs of pregnancy by those who are unfamiliar with the pregnant body." 
Dr. Bonnell says she loved her time working in high-risk labor and delivery not long after completing her Bachelor of Science in Nursing at Chamberlain, where she also earned a master's and doctorate. "It is scary and it's hard and it's painful, and so many things can go wrong. My job was to help women through something extremely hard and scary and beautiful," she says.  
"In the high-risk unit, you needed to create a bond so that they knew that what you were doing was in their best interest and in the best interest of their babies," she says. "You learned to be a rock for your patients." 
For more information, email the Adtalem Global Communications Team: adtalemmedia@adtalem.com.