Listening to Black Women: Maternal Mental Health and Endometriosis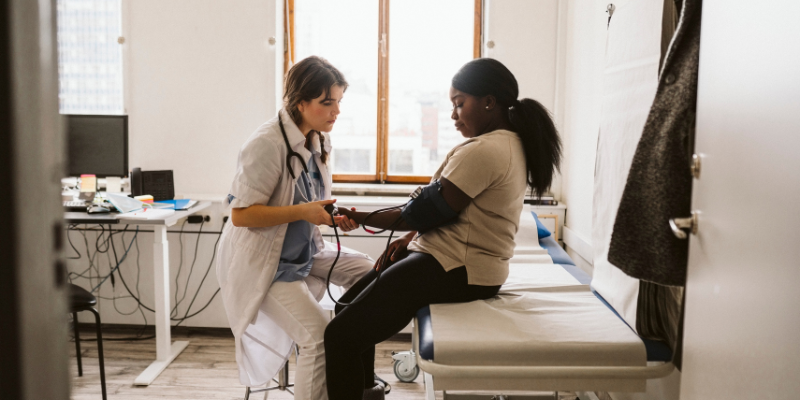 Valuing the experiences of people with debilitating diseases reveals insights that can benefit healthcare providers and their patients.  
 
Pain. Chronic pain, fatigue, memory loss, I suppose, or memory fog. Struggles with anxiety and depression.
That's how one participant described her symptoms of endometriosis in research about the disease's impact on Black women. The study was conducted by 2023 grad Dr. Anjanette Blunt for her PhD in Psychology dissertation at Walden University, an Adtalem Global Education institution.  
"It's definitely impacted me having dreams of a family," said another participant. 
What Is Endometriosis? 
Endometriosis is when tissue similar to the lining of the uterus grows in other areas of the pelvis. For the 10% of reproductive age people with the disease, there is no known cause or cure. There are also challenges getting pregnant and delivering a healthy baby, according to the World Health Organization.  
Valuing Black Women's Experiences 
As a result of racial and ethnic health care disparities and gaps in research on minority women with endometriosis, Black women continue to be under-studied, under-treated, under-diagnosed, and misdiagnosed.
For her dissertation, she interviewed eight Black women with endometriosis between the ages of 18 and 40. She explored their experiences with delayed diagnoses, symptom management, the healthcare system, perceptions of the care they received, and more.  
Here's just some of what the women in her study had to say: 
Racial Disparities 
One of the first things I heard from a doctor was that endometriosis was probably not a possibility for me because it was mainly a disease seen in White women. And to hear that from a doctor and then find out almost like a few months later that I actually do have endometriosis is grossly irresponsible.
Gender Differences  
For my last baby, my OB-GYN was a male, and I kept telling him something's wrong. You know, I'm having all these symptoms a little too early. I'm not even halfway through my pregnancy. [The doctor said] 'Oh you're fine!' and then they come to find out no, I wasn't fine.
Taking Control of Their Care  
I actually found a midwife and a doula. Those are the only ones that I really feel like have … cared for me more and tried to see … what can make me more comfortable. Or [find out] what's going on.
Impact on Mental Health 
Mentally, it's like experiencing the miscarriage from [endometriosis] with my other two pregnancies. It was like every day...you're like checking...for symptoms or signs of maybe miscarrying.
Behind the Doctoral Research  
Dr. Anjanette Blunt's hope is that their stories and her research motivate the medical community to increase research funding and improve cultural sensitivity. She dedicated her Walden University PhD in Psychology dissertation—"Mental Health in Black Women With Endometriosis-Related Symptoms During COVID-19"—to every woman who has ever struggled with endometriosis: "I pray that your healing journey is fruitful, and I pledge to continue being an advocate and fighting for advancing this complicated and misunderstood disease." 
Dr. Blunt's career in the federal government spans more than 18 years, including seven years of active-duty military experience. She describes herself as a proud public servant and an avid lifelong learner.  
For more information, email the Adtalem Global Communications Team: adtalemmedia@adtalem.com.