Inspiring Stories of Empower Scholarship Fund Spring Recipients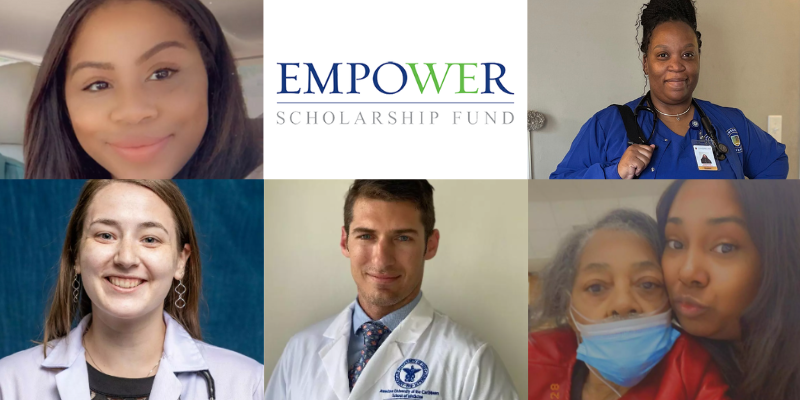 This spring, Adtalem Global Education's universities announced new Empower Scholarship Fund recipients who demonstrated academic success and financial challenges.
Here are a few of their stories.
Chamberlain University
Conquering Cancer and Nursing School
Crystalynn Bell has a passion for nursing that stems from personal testimony. A stage 3 invasive ductal carcinoma survivor, Bell once thought nursing school was unattainable. Instead, the toughest battle she's ever fought proved to be an awakening. Today, she aspires to follow in the footsteps of those who helped her persevere.
"After conquering breast cancer, I decided to step out on faith and become a nurse. I want to provide the same comfort and hope my nurses gave to me in my journey," she says. "My goal after graduation is to provide quality care to patients at the same hospital that helped me through my cancer journey."
A divorced, single mother, Bell wants her children to witness her walking across the stage. "It takes a village. A lot of mothers are faced with putting their dreams on hold because they're unable to pay for class," she says. "There aren't enough words to describe how grateful I am to this scholarship."
Ross University School of Veterinary Medicine
Compassion on Display in the Wolf Exhibit
Grace Pechman's family will tell you that her first words were "kitty cat." She's not so sure but admits she grew up surrounded by pets in her home and strays in her neighborhood. As far back as she can remember, she wanted to help animals but doubted her ability to become a veterinarian. That was until a fateful day working at a zoo—in the wolf exhibit.
"The wolf killed a possum, but I checked the pouch and found babies that were not more than a few days old trying to suckle," she recalls. "I knew some basic rehabilitation from working at a wildlife sanctuary and was able to keep the possums alive until I could drive two hours north to the sanctuary where they could grow and thrive. As I handed them off to a professional rehabilitator, I knew that I was meant to be a veterinarian."
At Ross Vet, she is known for being quick to help struggling classmates and for founding and leading the Hard of Hearing and Deaf Veterinary Students club. She found out about receiving the Kremer Veterinary Strategies Telehealth Scholarship shortly after learning from her audiologist that her hearing was deteriorating faster than anticipated.
"A physical disability on top of a challenging program is extremely stressful," she says. "This scholarship will help relieve me of the financial burden of a veterinary program and allows me to balance my finances for my new hearing aids."
Chamberlain University
Finishing Strong for Her Family
A career in healthcare has never been a foreign concept for Sharonda Newcombe. She knew as soon as she graduated high school that she wanted to advocate for others. However, life happened in the form of giving birth to a child with health challenges, suffering a stroke, and her mother battling an illness. One constant throughout every tribulation was her appreciation for nurses.
"The nurses who assisted me in caring for my mother, the NICU nurses who went the extra mile to FaceTime me when I couldn't see or be around my daughter, and the nurse who held my hand and gave me silent comfort when I couldn't speak after suffering my stroke are the people I want to emulate in my career."
Newcombe has had to pause her nursing aspirations many times to be a support pillar to those depending on her. She is extremely thankful to have received an investment to her own success. "To know someone believed in me and invested in me, will make me work harder. This means the world to me as a nursing student who had to give up on my calling many times," she says.
"I want to show my 13-year-old, it doesn't matter the age, it doesn't matter how you start, just finish and finish strong."
Walden University
Inspired Under Pressure
Shanae Brock grew up in one of the most notorious projects in Baltimore. Her mother suffered from addiction, so Brock was one of five children raised by her grandmother. As age and illness took its toll, it was time for Brock to care for her grandmother along with two children of her own.
"I nurtured her, loved her, and researched every resource to keep her home with me while she went through her illness," she says. "I promised her I'd help as many people as I could who didn't have the support she did."
Brock is living up to that promise by earning a Bachelor of Science in Social Work and owning and operating a house for veterans and disabled individuals at risk of homelessness.
American University of the Caribbean School of Medicine
Calm and Focused
Medical student Samuel Aiken knows from experience that every action he takes can make a real difference in someone's life. For five years, he worked as an EMT and paramedic.
"Each call is different, and each patient requires a unique approach to care whether it is comforting a patient in pain or performing life-saving interventions," he says. "This often requires quick thinking, rapid decision-making, and the ability to remain calm and focused under pressure."
The experience inspired him to become an emergency medical doctor.
On campus, he is the research coordinator for the Emergency Medicine Special Interest Group, an anatomy teaching assistant, and is working with a faculty member on a research study about substance use in the most vulnerable regions in Sint Maarten.
"Your belief in my potential and your investment in my education inspire me to continuously strive for excellence and reach new heights," says the Dr. Karl Stockhausen Memorial Scholarship recipient.