Diabetes Care: How American Indians in Urban Areas Balance Health Options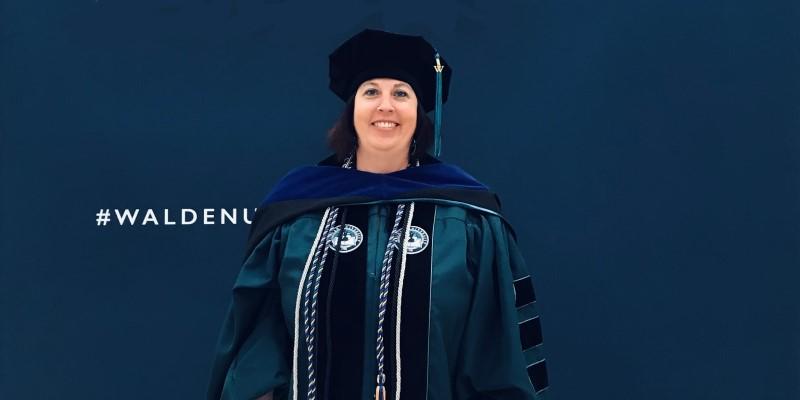 Student research from Adtalem's Walden University expands thinking on cultural competence. 
In June, experts updated projections on the worldwide public health issue of diabetes. According to research published by The Lancet, by 2050 more than 1.3 billion people are projected to have diabetes. That will be up dramatically from 529 million living with the disease in 2021.  
Disparities in Diabetes 
Zooming in to the U.S., the Centers for Disease Control and Prevention estimate that in 2019 37.3 million were living with diabetes. That's 11.3% of the population, but the problem isn't spread evenly. The prevalence is more than double, 23.5%, for the American Indian and Alaskan Native population, according to the U.S. Department of Health and Human Services Office of Minority Health.  
Even though 87% of the American Indian and Alaskan Native population lives in urban areas, they balance options for Western medicine and traditional healing such as sweat lodge ceremonies, herbal remedies, and dancing rituals.  
Deepening Cultural Understanding 
Understanding how these populations view their healthcare options is the subject of "Urban American Indian Experiences: Living With Type 2 Diabetes Mellitus" in the Journal of Social, Behavioral, and Health Sciences, a peer-reviewed journal sponsored by Adtalem Global Education's Walden University. The authors are Walden PhD in Health Education and Promotion graduate Dr. Elin Kambuga along with her dissertation chair Dr. Yitza Arcelay Rojas.  
Dr. Kambuga found that research participants experienced barriers, including inaccessibility of care and communication with providers, when using traditional healing and Western medicine. The influence of family and community was another theme.  
"Every person is an individual and there is a need to see the person as an individual when providing health care and health education," says Dr. Kamubga. "Health care personnel need to listen and be open to traditional healing and other modes of healing that support the whole person. When a patient is able to share about their different healing modes, the healthcare provider can offer more effective medical programs/medicine." 
The participants in Dr. Kambuga's research were all surprised by their type 2 diabetes. Most were diagnosed when they were under 18 leading to "feelings of confusion, worry, fear, and nervousness." One was diagnosed while pregnant. Research shows that American Indians and Alaska Natives are disproportionately affected by gestational diabetes, which can cause health risks for mother and baby. 
Connecting Health and Heritage 
Dr. Kambuga lived most of her life in the Southwest working with Native Americans but not knowing about her own ancestry. "A little over 20 years ago we found out we are Mohawk, and we have very good documentation about our ancestor," she says. "Our history was systematically erased. 
"I have always worked with different types of people in the health field who use traditional healing from many different cultures and what is considered alternative or complementary healing modes," she adds. "I wanted to finally research a health issue in the community." 
She focused her research on urban American Indians because she found that most studies were conducted on or near reservations. "I now live in a city area that is not near any reservations and have seen how health services are different, including for Native Americans who do not have access to Indian Health Services or Native health services." 
In Their Own Words 
The study was qualitative, with 13 participants mainly female in their 20s and 30s completing a survey and interview. Here's what some of them had to say about their experiences:  
"When I do [traditional] healing, that's not contemporary. I don't tell [my medical doctor] because you will not hear any encouragement. I keep those things to myself." 

"I was going periodically to sweat lodges and seeing the healing effects of some of the medicines, such as bear grease. The bear is considered the healer. And his fat is used because it contains roots, leaves, stems, berries, everything. And that resides in the fat. So, when you put it on you, you're putting on a medicine, a multilevel medicine to work with. And the first time I did it, it helped with my arthritis. But, you know, the sweat lodge itself has so many healing powers, so it is not just you go in there and you sweat. It's more than that. It's a spiritual experience. And it reconnects you with the with the creation itself, which we have divorced ourselves from in our world." 

"I feel like the doctor that I've been seeing currently I have seen him for a while now. So, I feel he's so qualified. And he has connected me to so many resources that I need, mental health resources in terms of, of support groups, and from the support groups, I've made friends." 

"I also use an interesting thing about the Sundance. I was not supposed to take any of my meds. And my wife, she questioned the medicine man very carefully about this whole idea of me fasting and having no food or water, what was going to happen, because I also have other ailments that require medication. And he [traditional healer] said, "Everything will be taken care of, I will be watching everybody." While dancing, one of the times I started feeling, you could tell that I was starting to wane. And he gave me a liquor stick, licorice root, and I chewed on it. And later on, I felt fine, almost immediately." 
For more information, email the Adtalem Global Communications Team: adtalemmedia@adtalem.com.