Combatting Sickle Cell Disease Disparities with Public Health Campaigns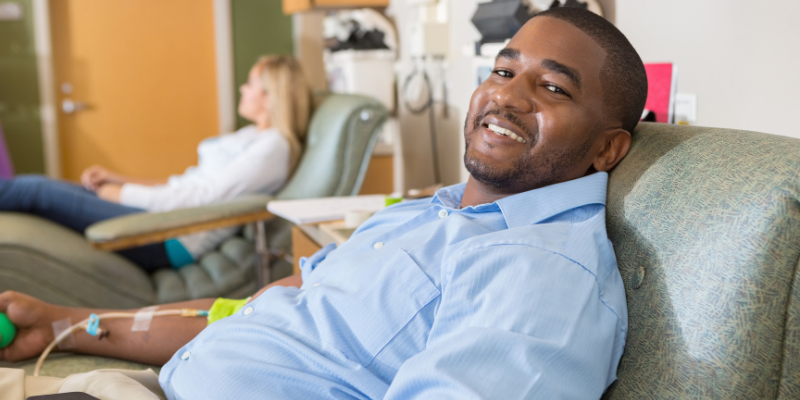 In the United States, sickle cell disease affects an estimated 100,000 people—but it's not evenly dispersed. According to the Centers for Disease Control and Prevention, across the Hispanic population, it occurs in one of every 16,300 births. Among Black births, it's one in every 365.
Sickle cell disease is an inherited, genetic disorder that affects red blood cells. Instead of being round and moving smoothly through the bloodstream delivering oxygen, red blood cells become hard, sticky, and C-shaped. They don't last as long, and they clog small blood vessels.
Flare-ups are incredibly painful and sometimes life threatening. Treatment often requires blood transfusions, with some patients needing up to 100 units of blood in a year. Because of specific attributes in red blood cells, blood from donors of similar ethnic descent is often the most effective.

A Sickle Cell Story
Support for the American Red Cross
To help get the word out about the need for blood donations from people of African and Latino descent, the Adtalem Global Education Foundation supports the Sickle Cell Initiative of its longtime partner the American Red Cross. The initiative works with communities and organizations to increase awareness and host blood drives. In addition to providing a grant, this year, Adtalem hosted a holiday blood drive, offering its diverse employee base up to eight hours off to donate blood or volunteer.
The Role of Public Health Promotion
Public health campaigns like the American Red Cross' Sickle Cell Initiative are integral to promoting behaviors that improve health and quality of life according to Dr. India Rose, associate professor at Chamberlain University.
"Public health promotion campaigns get the right message to the right people using a number of digital technologies, including social media and artificial intelligence," says Dr. Rose. She is the lead faculty member for Chamberlain's Master of Public Health course Public Health Communication and Behavioral Theories. 
"In this course, students not only learn about the importance of public health and social marketing campaigns, but in one of their final assignments, students develop a health communication campaign targeting a public health issue of their choice," adds Dr. Rose. "Past student public health promotion campaigns have focused on the opioid epidemic, COVID-19 and mental health, just to name a few."
Adtalem's Walden University is one of the top five conferrers of master's degrees in Public Health Education and Promotion and was No. 1 in public health doctoral graduates in the U.S. in 2021.