Cleveland Clinic Health System Executive Chief Nursing Officer Reflects on Her Time at Chamberlain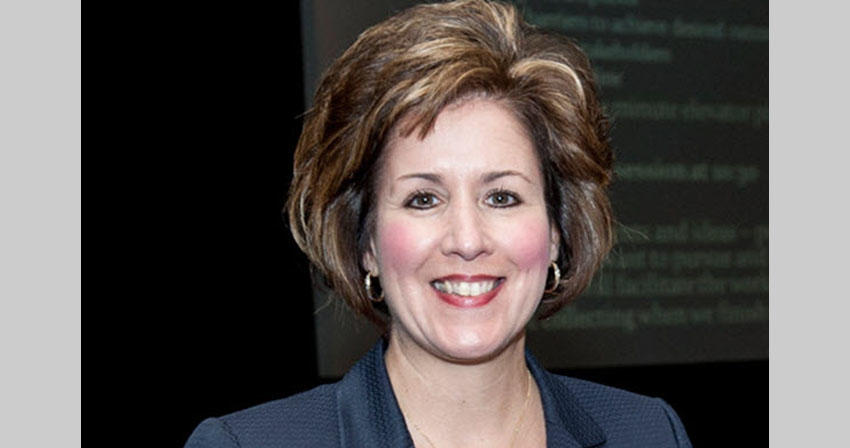 Kelly Hancock, DNP, RN, NE-BC is the Executive Chief Nursing Officer of the Cleveland Clinic Health System and a 2015 graduate of Chamberlain's Doctor of Nursing Practice (DNP) program. She shared the following as a foreword in the new book "Designing & Creating a Culture of Care for Students & Faculty: The Chamberlain University College of Nursing Model," edited by Chamberlain University President Susan Groenwald, PhD, RN, FAAN, ANEF.

In 2015, I proudly achieved one of the greatest milestones of my professional career: I earned my DNP from Chamberlain College of Nursing. Obtaining my DNP was something I had wanted to do for years, but like many who lead busy personal and professional lives, the timing was never right. When I finally realized the time was now or never, I looked for a higher education institution that would deliver on everything I wanted and needed in my DNP pursuit. I was impressed by Chamberlain's rich history, committed values, high standards, and extensive offerings, and I knew I could achieve my goal if I attended a respected, high-quality institution like Chamberlain. Thus, after little debate, my choice was clear, and I began my DNP journey.

In all honesty, I expected that my DNP experience would be rather challenging. After all, I was earning the highest degree of my career while continuing to fulfill my role as an executive chief nursing officer (ECNO) for the world-renowned Cleveland Clinic health system and its 22,000 nursing caregivers. I expected to have even earlier mornings and later nights than usual. I expected that my time with my husband and two kids might be less than I would prefer some days. I expected that the work would be intense. And I expected that I would really need to push myself.

But I also expected that my experience would be highly beneficial and, truthfully, career changing. I expected my instructors to be experienced and informative. I expected to receive a well-rounded, comprehensive education. I expected to be able to apply what I was learning in the classroom to my daily work environment. And I expected to grow and emerge a better nurse.

However, what I did not expect was how much those at Chamberlain College also wanted me to succeed. What I did not expect was the extent to which my professors cared or the degree to which I received incredible faculty support. What I did not expect was how diverse my experience would end up being. What I did not expect was having the opportunity to really learn from fellow students, who came from a variety of clinical settings and roles from across the United States. What I did not expect was how these extra benefits would positively impact my own scholarly work, my leadership role at Cleveland Clinic, and the future of my professional nursing career.

Throughout my experience, I saw firsthand how Chamberlain College aims to instill in its students the values required to be an extraordinary nurse. This culture of service and care was so evident and familiar to me because not that long ago, the Cleveland Clinic Nursing Institute made it a priority to design and create a similar culture within our own nursing organization. We wanted our nursing caregivers to really believe in our mission; to get excited about coming to work and be engaged and compassionate; to see the value in our Professional Practice Model and practice according to it; and to truly live, eat, and breathe our "patients first" mantra and deliver on the promise our nurses make to deliver patients world-class care. We worked diligently to give our caregivers the tools and resources they needed to be successful – to be extraordinary – by aiming to create a culture of service, education, research, innovation, collaboration, and quality care. We focused on values that define nursing excellence, such as quality, innovation, teamwork, service, integrity, and compassion – and we made it a priority to ensure that our nursing caregivers knew their leadership team cared about them, their well-being and their success.

As a student at Chamberlain, I could easily recognize the way in which the organization promoted values of nursing excellence in my own learning, like self-determination, accountability, confidence, and courage. I can also see the success of Chamberlain's efforts through the many, many Cleveland Clinic nurses who are currently enrolled in Chamberlain's programs or are Chamberlain University College of Nursing graduates. Subsequently, the work that Chamberlain College has done to design and create its own culture of nursing excellence through superior service and care is phenomenal. It is research driven, evidence based, strategic, and measurable – and it directly improves the culture of healthcare organizations and patient care worldwide. The caliber of nurses who graduate from Chamberlain College is the caliber of nurses we seek at Cleveland Clinic health system.

Learn more about Chamberlain's Doctor of Nursing Practice program.