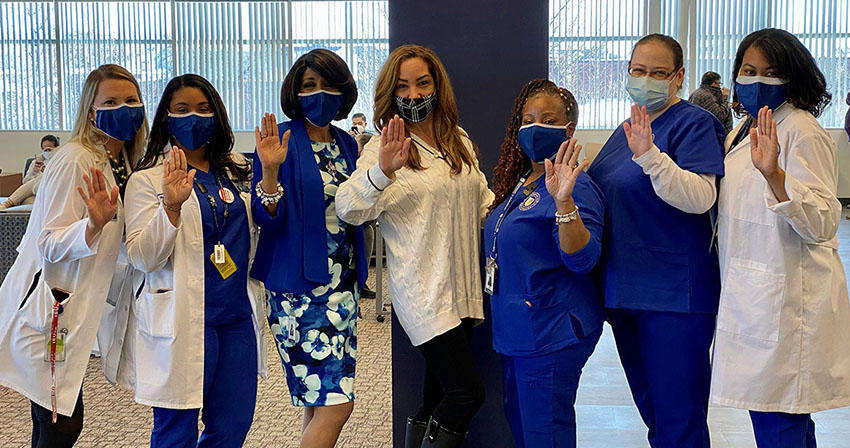 The proverbial "glass ceiling" is shattering around us, and I've never been more optimistic as we celebrate  International Women's Day, start a new year and continue to be resilient after the highs and lows of 2020. History is being written with U.S. Vice President Kamala Harris taking her seat within the executive branch as the highest-raking female official in U.S history and finally, not one, but two Black female CEOs will be leading Fortune 500 companies as Rosalind Brewer  takes the reins of Walgreens one week from today and  Thasunda Brown Duckett will lead investment management firm TIAA in May.
We've made progress on several fronts, but with the "she-cession" — coined by president and chief executive of the Institute for Women's Policy Research (IWPR), Dr. C. Nicole Mason — it seems unfitting to deem this past year a success for women. According to an IWPR analysis of labor department data, more than  11 million women have lost their jobs and another 2.65 million have left the workforce  entirely since February 2020 — Black women faring the worst of all racial groups. For the women (and men) who remain in the workforce, most are still struggling to balance life's competing priorities  causing mounting mental health concerns and burnout.
But, while the pandemic has seemingly widened the gender and racial parity gap, it serves as a pivotal opportunity for corporate America to be highly intentional with its hiring and talent development efforts, potentially offsetting some of the fallout. If companies really choose to prioritize gender equality, the data shows revenue growth at companies with a greater share of women — on both boards and in leadership roles — can  outperform their competitors that have weaker diversity representation by as much as 27 percent, according to McKinsey & Co.
Across nearly every social and economic system we have in the U.S. – both private and public – there is an opportunity for us to improve, better value the work and perspectives of women, and thereby increase gender parity. It's a matter of awareness, allyship, intentional execution and continued measurement.
It's Personal, It's Intentional
As one of very few Black women at the helm of a publicly-traded company, I don't fit the profile of what most people envision as a Chairman and CEO. I've had to overcome being constantly underestimated throughout my career; from my ability to drive operational execution and make hard decisions, to thinking strategically and responding appropriately to stakeholders. But it's because of both my personal and professional experiences that I have developed a lens that enables me to uniquely understand the world and harness adversity as a means to inspire equitable change.
For me and my team across Adtalem, the focus on diversity, equity and inclusion has been intentional at both the corporate level—where  we've increased our gender and ethnic diversity  on our board of directors to 67% and on our leadership team to 75% —and across the healthcare and financial services industries that we serve. Two ways I have been able to drive this change is by (1) eliminating the requirement for board appointees to have prior board experience – a requirement that has historically kept people of color and women from being considered for board seats in the past; and (2) tying managers' performance goals to diversity initiatives, including the recruitment of women and people of color. A more inclusive and equitable workforce will not only improve business outcomes, but collectively can help strengthen the economic framework of our nation and societal outcomes. As the work we do across Adtalem looks to address the critical healthcare workforce shortages and other training needs at scale, we do so with this acute understanding and foresight.
In the healthcare industry (and as an example),  data shows  that women are more likely to survive serious health conditions, like heart attacks, when they are treated by female physicians; yet, when we look at the physician talent pipeline, only  36 percent of active physicians are female  (as of March 2020) and women have been largely underrepresented among medical school graduates. At the same time,  women make up 51 percent of the U.S. population . The numbers don't add up. Similarly,  studies demonstrate  that patients of color often receive better care when paired with a physician of the same race. However, approximately  only 5 percent of physicians are Black  (Blacks making up  13 percent  of U.S. population) and 90 percent of all U.S. med schools graduate 20 or fewer Black physicians each year. This imbalance — between the supply and demand of healthcare workers — and the diversity of the workforce not reflecting the gender and/or racial diversity of the United States,  is a critical issue we are looking to solve .
I am proud of the work we are doing across Adtalem to correct this imbalance. On average, our medical institutions graduate a higher proportion of female physicians when compared to U.S. private or public non-profit medical school, as well as more Black physicians than any other U.S. school at more than 100 graduates per year. With our nursing school,  Chamberlain University  being one of the nation's leading suppliers of nursing graduates and our medical institutions contributing 2.5 times more active physicians than the next largest U.S.-based medical school, we pursue our mission, student outcomes and societal impact with great responsibility and pride. It's because of these highly intentional efforts that we can create a more sustainable healthcare ecosystem and better address public health disparities at scale.
A More Equitable Future
This year and every year, I #ChooseToChallenge inequality, biases and the glass ceiling. I hope many leaders across corporate America will join me. Look inward to determine if your infrastructures of attracting and retaining talent are inclusive, and if not, devise a plan to address it. It's not an easy fix, but a moral, social and economic imperative that perhaps could serve as your differentiator. Similar to the racial reckoning we've gone through this past year, I remain hopeful for the progress of our nation, as I see more companies and individuals taking action around addressing biases and striving for both racial and gender equality.
Finally, I reference the 'proverbial glass ceiling' because it's important to understand the challenges women face aren't as simple as climbing a ladder and breaking through a fragile barrier, which a swift blow could shatter. As women, and especially women of color, we are navigating very complex and rigid hierarchies that require all of us, both male and female, to be allies. I've been successful in my career because of my network (i.e.  personal board of directors) – the support and access they've bestowed upon me is often woefully lacking for other minority executives and women. I believe if more executives and corporate leaders are aware of these systemic challenges and actively seek to broaden access to opportunities for more women and women of color, we would be able to change the statistics in a consistent and permanent way.
While there is plenty of work to do, there is a lot to celebrate. As we embark on 2021 and on the heels of a very tough year, look around — but most importantly and perhaps for the first time — look up. Whether you are a Black, white, brown, Latinx or LGBTQIA woman, you will now see someone who looks like you. There are strong women who are finding their voices and place within the top ranks of organizations eager to pull you up. Believe in yourself. It's not until you first believe that #YouBelongInTheRoom, will you convince other people that you do.