Carrington College Faculty Spotlight: Kathy Ortega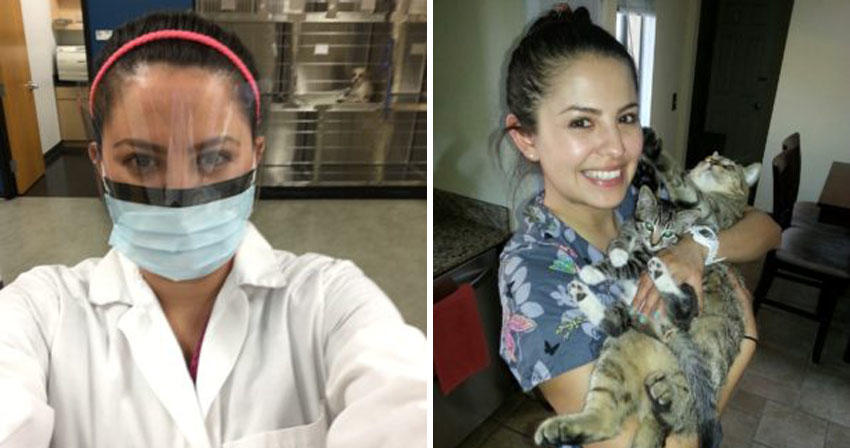 When you think of a veterinary technician, you probably picture someone who loves animals and wants nothing more than to make them feel better. Kathy Ortega did too when she was a young girl. Her passion for animals led her to become a Registered Veterinary Technician, and eventually an instructor in the Veterinary Technology program1 at Carrington College's Pomona campus!

Preparing Through Real-World Experience

As a hard-working college student, Kathy was eager to begin working with animals.

"When I was working on my degree, I went through labs that taught me how to restrain animals, like sheep, cattle, birds, rats, mice and rabbits. I learned how to take radiographs and monitor anesthesia too. Some labs specifically taught me about laboratory animal medicine, pharmacology practices, anatomy and dissections."

She loved being in the labs because it sharpened her skills and prepared her for her future career. Before she graduated from college in 2009, she accepted an offer to work at a nearby veterinary clinic and began to live her dream! Not only that; she took and passed her licensing exam, making her an official Registered Veterinary Technician.

Kathy knows that being a veterinary technician is more than just playing with puppies and kittens. It's about working with others to take care of all kinds of animals when they are in need.

"To me, I define a Veterinary Technician as someone who plays a significant role in an animal's health. We work right by veterinarians and we are carrying out a good portion of the delegated health care tasks. We do everything that many human medical fields do individually. We monitor anesthesia, perform dental cleanings, fill prescriptions, take radiographs and run laboratory tests."

Teaching the Next Generation

In 2013, Kathy became a Veterinary Technology program instructor at Carrington College's Pomona campus. She loves being able to teach her students and share her passions with others.

"I teach a lot of the introductory subjects to students who may not have any background in the veterinary or science field. I enjoy being the instructor to set the tone for their interest and success in our program, and I do not take this role lightly. I love to see students grow as they progress in the program. I'm constantly working to inspire my students to become the Vet Tech that they would want their pet to have, hopefully one that is knowledgeable and compassionate."

Carrington's Veterinary Technology program helps students prepare for their future career, not just through classroom lectures, but also through hands-on training in the lab. These labs allow the students at Carrington's Pomona campus to learn with and directly work on live animals. Kathy works hard to make science and anatomy a fun hands-on learning experience!

"The labs go hand in hand with lecture and it's a time for instructors to let their students learn by "doing". Some of the labs include students bringing their own pets to practice restraint and handling animals, performing a physical exam, taking radiographs and much more. Students get to experience what a veterinary technician does during a spay/neuter procedure by assisting in the process themselves. They are supervised by instructors and working with the campus veterinarian who performs the actual surgery."

From assisting in surgical procedures to performing medical tests to treating various conditions, working on live animals gives students a greater understanding of their future veterinary roles. While Kathy gets to expose her students to these exciting opportunities, she also prepares them for the Veterinary Technician National Examination2 and teaches them about what working in the veterinary field can be like.

"One thing that I tell my students when they are hesitant to change is that veterinary technicians need to be able to adapt to the ever changing environment of the animal hospital. I also try to teach my students kindness, compassion and overall tips for success in life. As I put it, you have to take care of you first before you can help others. What really matters to me is the ability to look in the mirror at the end of the day and know that I have done my best and am happy with what I'm doing in life."

Kathy loves the work that she does and is looking forward to teaching more Veterinary Technology students for years to come!

To learn more about the Veterinary Technology program, click here.
1. Important information about the educational debt, earnings and completion rate of students who attended this program can be found at carrington.edu/GE
2. Carrington College prepares students to take appropriate certification and licensure exams related to their individual majors. The College does not guarantee students will successfully pass these exams or be certified or licensed as a result of completing the program. Credential preparation varies by location.