Director and Senior Advisor, Retired CEO, Adtalem Global Education Ronald L. Taylor
Ronald L. Taylor is the Co-Founder and retired Chief Executive Officer of Adtalem Global Education.
Ronald L. Taylor is the Co-Founder and retired Chief Executive Officer of Adtalem Global Education. Taylor and a partner founded Adtalem in 1973. Taylor was Adtalem's chief operating officer from 1973 until 2002, when he became Co-CEO, and was subsequently appointed CEO in 2004. Mr. Taylor retired in 2006 and currently serves as a Director and Senior Advisor to Adtalem.
The purpose of Adtalem Global Education is to empower students to achieve their goals, find success, and make inspiring contributions to our global community. Adtalem Global Education Inc. (NYSE: ATGE; member S&P MidCap 400 Index) is a leading global education provider and the parent organization of Adtalem Educacional do Brasil, American University of the Caribbean School of Medicine, Becker Professional Education, Carrington College, Chamberlain University, DeVry University and its Keller Graduate School of Management, Ross University School of Medicine and Ross University School of Veterinary Medicine.
Taylor earned his master's degree in business administration from Stanford University in 1971 and graduated cum laude with a bachelor's degree from Harvard in 1966.
After graduating from Harvard, Taylor was commissioned in the U. S. Army. From January 1968 until January 1969, he served in South Vietnam, and was awarded the Army Commendation Medal with oak leaf cluster for his service. Taylor served as Illinois State Chair of U.S. Department of Defense Committee for Employer Support of the Guard and Reserve, for which he received the Department of Defense Distinguished Service Medal.
He is a member of the Board of Trustees of The Higher Learning Commission and previously served on the Board of Trustees of the North Central Association of Colleges and Schools. He was a founding member of the Stanford University School of Business Management Board and serves on the Rehabilitation Institute of Chicago Foundation Board.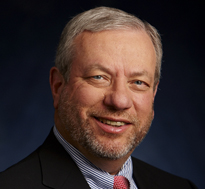 Ronald L. Taylor
Director and Senior Advisor, Retired CEO, Adtalem Global Education