President, Chamberlain University Karen Cox, PhD, RN, FACHE, FAAN
Adtalem Global Education (NYSE: ATGE) today announced Dr. Karen Cox, PhD, RN, FACHE, FAAN, as the new President of Chamberlain University, and she will begin her leadership on August 27, 2018. Dr. Cox is a highly accomplished nursing and healthcare leader, who most recently served as Executive Vice President and Chief Operating Officer of Children's Mercy – Kansas City, an independent, academic medical center in Missouri. Prior to that role, Dr. Cox was Senior Vice President for Patient Care Services and Chief Nursing Officer. She is President of the American Academy of Nursing, and was previously elected to the American Hospital Association, Section on Maternal and Child Health Governing Council, and appointed to the Children's Hospital Association, Child Health Committee. She started her healthcare career as a Licensed Practical Nurse, and earned subsequent degrees including an Associate Degree in Nursing from Excelsior College, a BSN from the University of Kansas, and an MSN and PhD from the University of Missouri–Kansas City.
Dr. Cox was named a Fellow in the Robert Wood Johnson Executive Nurse Fellowship Program and is a Fellow in the American College of Health Care Executives. She was appointed to a term on the National Advisory Council on Nurse Education and Practice, U.S. Health and Human Services, and served as board chair of the National Initiative for Children's Health Quality. She is also a member of the UMKC Board of Trustees and was an inaugural member of the National League of Nursing Foundation Advisory Council. In addition, Dr. Cox has contributed articles to publications including Modern Healthcare, American Journal of Nursing, Nursing Economics, Seminars for Nurse Managers, Journal of Nursing Administration, Nursing Leadership Forum, Nursing Administration Quarterly and Journal of Public Health Nursing.
"We are so pleased to have Dr. Karen Cox lead Chamberlain University in this next chapter of its growth and evolution. Her career accomplishments are well-aligned with the mission of Chamberlain and its dedication to students, who share her passion for making valuable contributions to nursing and healthcare," said Lisa Wardell, President and CEO of Adtalem Global Education.
Also today, Adtalem recognized the accomplishments and retirement of Chamberlain University President Dr. Susan Groenwald, PhD, RN, ANEF, FAAN, which had been previously announced in May of 2018. Dr. Groenwald's title will change to President Emeritus. Throughout the last 12 years, she has led the evolution of Chamberlain University, leading the institution from one campus to 21 campuses, while developing all undergraduate and graduate nursing programs. She established the Chamberlain Care culture, which created an environment that embodies excellence in nursing, and was the basis of a book she published last fall. Susan successfully launched master's and doctoral degrees and, most recently, the master of public health program. Dr. Groenwald will continue her affiliation with Adtalem in her roles as Board Member for the Adtalem Foundation and as a Trustee for Ross University School of Medicine and Ross University School of Veterinary Medicine.
"Dr. Susan Groenwald's transformational contributions to Chamberlain University are truly remarkable, and her passion for the education of nurses has directly impacted many lives," said Wardell. "We wish her the very best in this next chapter of her life, and are grateful for her continued connections with Adtalem going forward."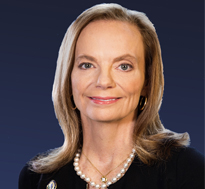 Karen Cox, PhD, RN, FACHE, FAAN
President, Chamberlain University