President, Carrington College Donna Loraine, PhD
Dr. Donna Loraine was appointed President of Carrington College in 2016, with responsibility for managing the academic policies, processes and operational execution of Carrington's growth strategy to ensure more students have access to accredited healthcare training and education.
Dr. Loraine joined Adtalem in 1993 as an assistant professor and instructor for Carrington's sister school, DeVry University. She held several positions with DeVry University, including Group and Regional Vice President of Operations, President of the Atlanta area campuses, Dean of Instruction, Dean of Academic Affairs, and Chief Academic Officer and Provost, where she was responsible for accreditation and academic licensing of all programs and setting and providing faculty training and support for academic policy and processes. Her milestone accomplishments include successfully leading DeVry University in its reorganization to colleges of study, championing its movement to the Higher Learning Commission's Academic Quality Improvement pathway, and engaging with faculty to author "The Professor's Guide to Excellence," a key publication on faculty career development.
In addition to her academic experience, Dr. Loraine served in the U.S. Air Force for 10 years, holding the titles of Chief of Tactical Operations and Senior Director for several radarand aircraft control units in Germany. She also has seven years of private-sector industry experience, working in defense industry management.
Dr. Loraine is a member of many educational and professional organizations, including the National Association of Academic Affairs Administrators and the Women in Military Service for America. In 1994, as a member of the American Society for Public Administration, she participated in a cultural exchange delegation to Russia and Estonia to share ideas and provide support in the areas of governmental budgeting and information systems.
She holds doctorate and master's degrees in public administration from the University of Colorado, a Master of Science degree in management from Troy State University and a bachelor's degree in economics/business administration from Park University.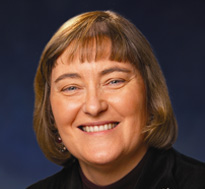 Donna Loraine, PhD
President, Carrington College