Senior Vice President, Strategy and Innovation Catherine Anderson
Catherine Anderson was appointed Senior Vice President, Strategy and Innovation in 2017.
She is responsible for strategy, analytics and product innovation across the organization, with a focus on strategic planning and support, efforts designed to drive financial and operational improvement and leveraging technology to improve course delivery, operational efficiency and student outcomes.
Anderson joined Adtalem in 2011, with a background in management and strategy consulting, and has assumed several leadership roles before moving into her Vice President position. Prior to Adtalem, Anderson worked as a strategy consultant with McKinsey & Company, focused on operational efficiency, process redesign and more traditional strategy efforts related to marketing and green-field growth. Prior to McKinsey, she was a management consultant with Ernst & Young and Capgemini, with a focus on custom system development and client relationship management.
She holds a MBA with concentrations in accounting, finance and strategy from the University of Chicago's Booth School of Business, and a bachelor of business administration with a concentration in accounting from the University of Notre Dame.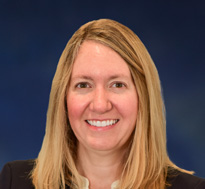 Catherine Anderson
Senior Vice President, Strategy and Innovation