Group President, Business and Law, Adtalem Global Education Carlos Filgueiras
Carlos (Degas) Filgueiras was appointed Group President, Business and Law in 2016, with responsibility for overseeing Adtalem Educacional do Brasil. He will continue with the organization through June 30, 2019.
Filgueiras co-founded one of the first colleges that made up Adtalem Educacional do Brasil in 2000, and in 2004 assumed his position as President and CEO. In this role, he managed Adtalem Educacional do Brasil's growth from 2,500 students to nearly 11,700 students in 2009, when the institution was acquired by Adtalem Global Education. Filgueiras continued as President, helping to grow enrollment to 81,000 degree-seeking students across 13 educational institutions nationwide in the most important cities in the country for business and growth. Adtalem Educacional do Brasil is comprised of three different groups of education providers: Ibmec, Damásio Educacional and Wyden Educacional. Through these three brands, Adtalem Educacional do Brasil offers healthcare, law, business management, engineering and technology programs.

Before joining Adtalem, Filgueiras was a co-founder and Director of InterCouriers and eventually helped facilitate the merger of InterCouriers with four other companies, forming ebX Express Brasil, the largest private parcel delivery company in the country.
In addition to serving on the Board of Directors for Adtalem Educacional do Brasil, Filgueiras is also an advisor of SiM Clinic in Fortaleza, Eleva Educação and Cultura Inglesa - Rio de Janeiro. In 2016, Filgueiras was elected by Forbes Magazine as one of the best CEOs in Brazil.
Filgueiras holds a master's in business from Stanford University, a bachelor's degree in civil engineering from the University of São Paulo and a bachelor's degree in business administration and management from Fundação Getúlio Vargas.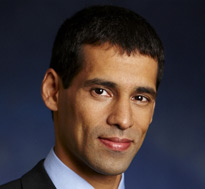 Carlos Filgueiras
Group President, Business and Law, Adtalem Global Education