Ross University School of Medicine (RUSM) Celebrates Opening of its Temporary Campus in Knoxville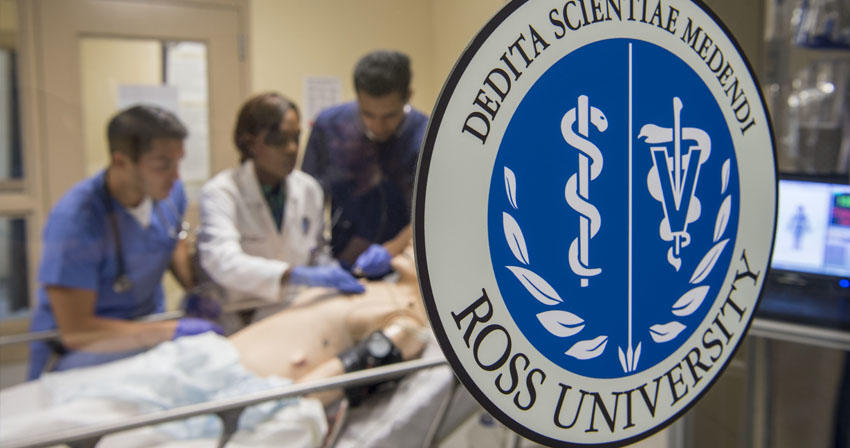 Faculty, staff and students at Ross University School of Medicine (RUSM) celebrated the start of their Winter 2018 semester during an opening ceremony at a new temporary campus in Knoxville, TN, USA. Knoxville Mayor Madeline Roger was in attendance with leaders from RUSM and Lincoln Memorial University (LMU), which is graciously leasing classroom and office space to RUSM for this purpose.

In September 2017, Hurricane Maria struck the RUSM campus on the island of Dominica, resulting in an evacuation of more than 1,300 members of its campus community. With the urgent obligation to sustain its students' education, RUSM resumed the fall semester classes on a cruise ship docked on the island of St. Kitts. The instruction was concluded in early January. Now, RUSM has entered a new phase of academic continuity in Knoxville.

On January 15, RUSM students began medical instruction by about 75 RUSM faculty and skilled professionals at the temporary location in Knoxville while damage assessments and repairs continue on Dominica.

RUSM Dean and Chancellor William F. Owen, Jr., MD, FACP said, "We are extremely pleased with the facilities for our students in Knoxville. There is about 110,000 sq. ft. of purpose-remodeled space that offers state of the art learning spaces like lecture halls, small group learning rooms as well as dedicated areas for instruction on patient examinations. Within the next several weeks, our students will be able to learn human anatomy in a fully equipped dissection laboratory."

"Lincoln Memorial University is proud to be able to accommodate Ross University School of Medicine under these extreme circumstances. We heard of a need, had the space and made special efforts to move up our construction timeline to make sure these students were able to continue their studies," said LMU Chairman Autry O.V. "Pete" DeBusk. "This facility is well-suited in size and scale to meet the needs of a medical school curriculum and it is great to see it alive with students and faculty."

"Lincoln Memorial University has been very supportive during an unprecedented time of challenges for RUSM," said Stanley J. White, PhD, FPhysiol, senior associate dean of Medical Sciences at RUSM. "We appreciate the opportunity to lease LMU's facility, where we will be good tenants and hospitable neighbors."


About Ross University School of Medicine
Ross University School of Medicine is a member of Adtalem Global Education (NYSE: ATGE), a global education provider headquartered in the United States. The organization's purpose is to empower students to achieve their goals, find success and make inspiring contributions to our global community. Founded in 1978, RUSM is committed to educating a diverse group of skilled physicians to serve as leaders in the U.S. healthcare system. With more than 13,000 alumni, RUSM is an important contributor to healthcare in North America. Students complete their foundational studies in Dominica, West Indies, before completing their clinical training in one of RUSM's affiliated teaching hospitals throughout the United States. RUSM is accredited by the Dominica Medical Board and the Caribbean Accreditation Authority for Education in Medicine and Other Health Professions (CAAM-HP). For more information, please visit medical.rossu.edu.

About Adtalem Global Education
The purpose of Adtalem Global Education is to empower students to achieve their goals, find success and make inspiring contributions to our global community.  Adtalem Global Education Inc. (NYSE: ATGE; member S&P MidCap 400 Index) is a leading global education provider, and the parent organization of Adtalem Educacional do Brasil, American University of the Caribbean School of Medicine, Association of Certified Anti-Money Laundering Specialists, Becker Professional Education, Carrington College, Chamberlain University, DeVry University and its Keller Graduate School of Management, Ross University School of Medicine and Ross University School of Veterinary Medicine. For more information, please visit adtalem.com.