Carrington College Launches Phlebotomy Technician Program in Nevada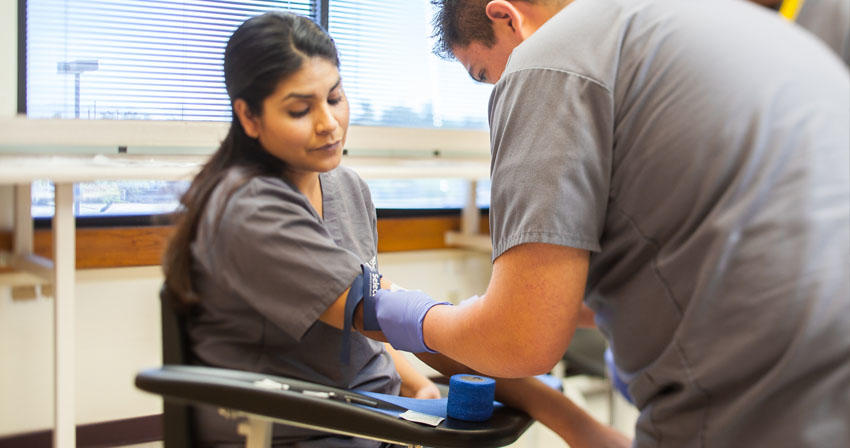 Carrington College is committed to providing an education that supports the growing need for phlebotomists in Nevada with the launch of its Phlebotomy Technician program in Reno. Employment of phlebotomists is projected to increase 25 percent by 2024, according to the Bureau of Labor Statistics.

"Health care careers are projected to grow significantly over the next ten years. The need for phlebotomists in health care is on the rise," said Barbara Halle, Carrington College Senior Dean of Nursing.

Carrington College's program is designed to be completed in as few as three months. Students will have the opportunity to complete their classroom studies in a flexible and engaging online environment, and practice blood draws on campus prior to spending 100 hours in the clinical portion of the program. Carrington College's Reno campus is currently accepting applicants for its first Phlebotomy Technician Certificate of Completion program.

The Reno campus will partner with local hospitals and labs for these clinical experiences to immerse students in real-world medical environments, honing their skills while strengthening critical thinking and communication abilities. Once they finish the program, graduates will be eligible to sit for the national certification exam required to become a certified phlebotomist.

"I am thrilled to offer this new program at Carrington College, where students can complete an interesting and functional certificate that will help prepare graduates for an exciting health care career," said Ravinder Dayal, Carrington College Provost and Vice President of Academic Affairs.

For additional information on Carrington College's Phlebotomy Technician program, visit http://carrington.edu/degrees/phlebotomy-technician/.

About Carrington College
Carrington College is a member of Adtalem Global Education (NYSE: ATGE), a global education provider headquartered in the United States. The organization's purpose is to empower students to achieve their goals, find success and make inspiring contributions to our global community. Carrington College offers a diverse range of programs that lead to a Certificate of Completion, Certificate of Achievement, Associate of Science degree or Associate of Occupational Studies degree. As the starting point for health care careers, the college offers programs that prepare students for careers in the medical, dental and veterinary fields.

Carrington College is accredited by the Accrediting Commission for Community and Junior Colleges, Western Association of Schools and Colleges, 10 Commercial Blvd., Suite 204, Novato, CA 94949, (415) 506-0234, an institutional accrediting body recognized by the Council for Higher Education Accreditation and the U.S. Department of Education. Additional information about accreditation, including the filing of complaints against member institutions, can be found at: www.accjc.org.

Important information about the educational debt, earnings and completion rate of students who attended Carrington College can be found at carrington.edu/GE.

Individuals seeking to enter this career field may be subject to screenings such as, but not limited to, criminal background checks and drug/alcohol testing prior to externship, to attain occupational licensure/certification or employment and throughout their careers.  

Carrington College prepares students to take appropriate certification and licensure exams related to their individual majors. The College does not guarantee students will successfully pass these exams or be certified or licensed as a result of completing the program. Credential preparation varies by location.

About Adtalem Global Education
The purpose of Adtalem Global Education is to empower students to achieve their goals, find success and make inspiring contributions to our global community. Adtalem Global Education Inc. (NYSE: ATGE; member S&P MidCap 400 Index) is a leading global education provider, and the parent organization of Adtalem Educacional do Brasil, American University of the Caribbean School of Medicine, Association of Certified Anti-Money Laundering Specialists, Becker Professional Education, Carrington College, Chamberlain University, DeVry University and its Keller Graduate School of Management, Ross University School of Medicine and Ross University School of Veterinary Medicine. For more information, please visit adtalem.com.