Adtalem Global Education Completed Implementation of Student Commitments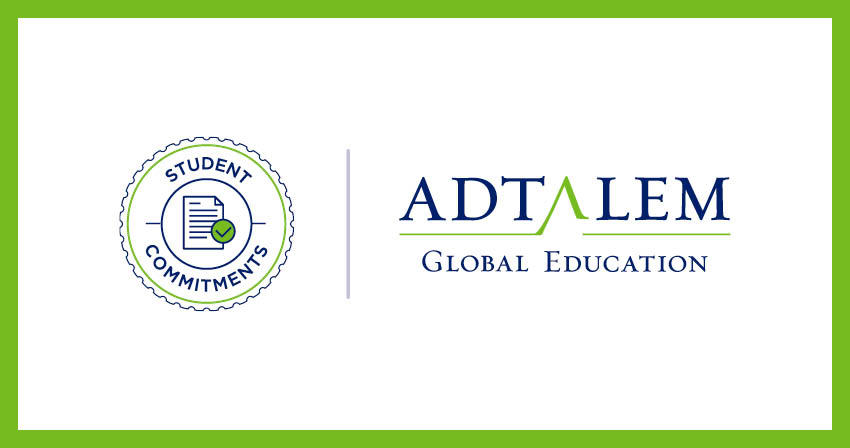 Adtalem Global Education (NYSE: ATGE), a leading global education provider, is pleased to announce the implementation of its Student Commitments, a set of practices unveiled in October of 2016 that surpass standard higher education policies, including a reduced dependence on federal financial aid and greater transparency for students regarding borrowing practices and academic program outcomes. An independent review, conducted by Berkeley Research Group, assessed the implementation of the student commitment program.

"This review of our Student Commitments demonstrates our resolve to improve transparency and accountability in higher education," said Lisa Wardell, president and CEO of Adtalem Global Education. "We're proud to take a leadership role – it's the right thing to do for our students, but also for all of our stakeholders."

The commitments include voluntarily limiting the amount of revenue that each of Adtalem's six Title IV institutions derive from federal funding to 85 percent, including Department of Veteran Affairs and military tuition assistance benefits. The review confirmed that all institutions were under the voluntary threshold for Adtalem's 2017 fiscal year, which ended on June 30, 2017. Current federal regulations call for a 90 percent threshold and exclude veteran and military funding.

"Adtalem expended substantial time and resources to implement these commitments within a very aggressive target date," said Peggy Daley, Managing Director of strategic advisory and consulting firm Berkeley Research Group. "Berkeley Research Group analyzed over a dozen relevant institutional information systems used across Adtalem, interviewed more than 40 key employees and reviewed over 1,000 documents in the course of our assessment." Daley is a leader in BRG's Global Investigations practice and has more than 25 years of experience in high profile investigations and regulatory compliance with higher education institutions.

Key findings from the review include:
Over 117,000 students and alumni have access to the Manage My Loans portal, a robust and easy-to-understand database that gives students immediate access to their program history, current loan obligations and the future financial commitments necessary to complete their chosen academic program.
Adtalem institutions' current enrollment agreements do not contain mandatory arbitration clauses. Furthermore, the current academic catalogs of each of the schools where these clauses were previously in use state that the schools will forgo their right to invoke these clauses for all such agreements executed prior to May 13, 2016 (the date when the clauses were removed).
Adtalem has implemented marketing policies above industry standards and hired an independent firm to monitor all third party lead generators with which Adtalem contracts. The third party monitor reported that many marketers used by peer institutions do not meet Adtalem's high standards.
All undergraduate institutions send current students Borrowing Advisory Notice Letters that include financial information about their current loan status including outstanding principle amount, interest amount, total payoff amount and expected monthly loan payments. The letter also includes program completion progress and federal loan limit utilization. Adtalem reported it delivered over 50,000 notifications to students in fiscal year 2017.
The Student Commitments also include measures to promote responsible recruitment and enrollment, financial literacy and academic transparency, and informed student choice.

"Student success is a process that begins with informed student choice," added Wardell. "These commitments build on our strong existing practices and establish new standards of excellence for the benefit of students and the public. We will continue to evolve these commitments and provide ongoing communications regarding their maintenance."
 
About Berkeley Research Group, LLC
Berkeley Research Group, LLC (www.thinkbrg.com) is a leading global strategic advisory and expert consulting firm that provides independent advice, data analytics, authoritative studies, expert testimony, investigations, and regulatory and dispute consulting to Fortune 500 corporations, financial institutions, government agencies, major law firms and regulatory bodies around the world. BRG is headquartered in Emeryville, California, with offices across the United States and in Asia, Australia, Canada, Latin America, the Middle East and the United Kingdom.