ACAMS 17th Annual AML & Financial Crime Conference to Address Evolving Technologies and Trends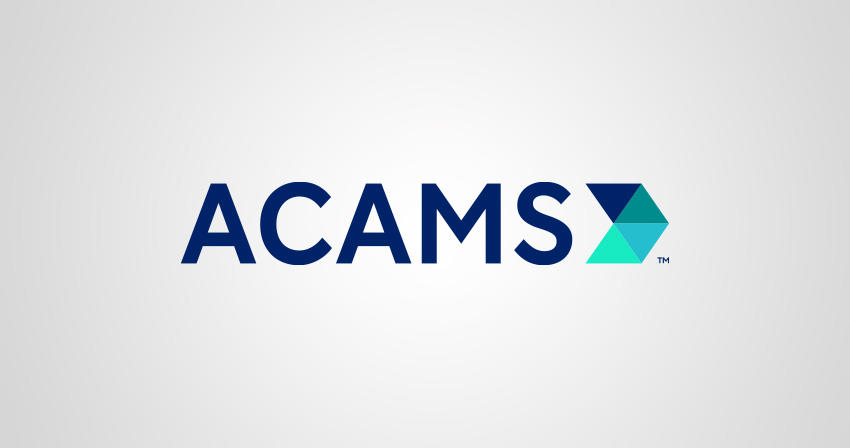 With rapidly evolving regulations, technology and financial crime methods, anti-money laundering (AML) and financial crime prevention professionals are faced with the challenge of staying abreast of new developments in financial crime, payment methods and money laundering schemes. The ACAMS 17th Annual AML & Financial Crime Conference draws influential AML professionals, regulators, law enforcement investigators and government officials worldwide for expert analysis of the changing compliance landscape and practical strategies to master the complexities of this demanding era. Centered on the theme "Viva the Future! Acing the New AML," the conference will take place at the Aria Resort & Casino in Las Vegas on October 3–5, 2018.
"The financial crime landscape is constantly evolving," said Timothy D. McClinton, president and managing director at ACAMS. "It is critical that financial crime prevention professionals have a forum where they can stay up-to-date on new AML developments and best practices. Our conference in Las Vegas is filled with opportunities to network with more than 2,500 anti-financial crime professionals and learn from subject-matter experts on various AML trends, such as cryptocurrencies, artificial intelligence, synthetic identities and more."
This conference is one of the largest gatherings of ACAMS members and AML professionals in North America. During the course of three days, the financial crime prevention community has the opportunity to learn from inspiring subject-matter experts, connect with other industry professionals and gain new insights and practical strategies to help their institutions combat financial crime.
Sessions include:
News, Views and Emerging Issues: A Regulatory Roundtable on the Latest AML Trends
Artificial Intelligence: A Real Option to Improve AML?
A Bright and Shining SAR: Practical Tips to Polish SAR Narratives
Crafting Compliance Models to Mitigate Unique Cryptocurrency AML Risks
Special Presentation and Q&A: Southwest Border Anti-Money Laundering Alliance
Other speakers include:
Spencer W. Doak, Director for BSA / AML Policy, Office of the Comptroller of the Currency (OCC)
Lisa D. Arquette, CAMS, Associate Director, Division of Risk Management Supervision, Federal Deposit Insurance Corporation (FDIC)
Suzanne L. Williams, Deputy Associate Director, Federal Reserve Board
André Burrell, Director of Industry Solutions, Cloud, Banking and Capital Markets, Microsoft
Bob Hurst, Global Head of Sanctions, PayPal
Frank Lawrence, CAMS, Global Head of Payments Compliance, Chief Compliance Officer, Facebook
Benjamin J. Floyd, CAMS, Senior Vice President, Corporate AML Officer, Caesars Entertainment
Paul Camacho, CAMS, Vice President of AML Compliance, Stations Casinos
For more information and to download the full conference schedule, visit https://www.acamsconferences.org/vegas/. The conference offers a real-time broadcast option that provides access to live streaming videos of keynote addresses and panel discussions, downloadable session audio recordings, online chat capabilities with participants, and certificate of participation and CAMS credits.
Editor's Note: Members of the media may contact Kieran Beer at kbeer@acams.org or +1 646.330.4866 for credentials to cover the conference or for login information to participate through the virtual conference option.
About the Association of Certified Anti-Money Laundering Specialists® (ACAMS®) ACAMS is a member of Adtalem Global Education (NYSE: ATGE), a global education provider headquartered in the United States. ACAMS is the largest international membership organization dedicated to enhancing the knowledge and skills of anti-money laundering (AML) and financial crime professionals from a wide range of industries, with extensive resources designed to develop and sharpen the skills required for superior job performance and career advancement. Its CAMS certification is the most widely recognized AML certification among compliance professionals worldwide. Visit acams.org for more information.
About Adtalem Global Education
The purpose of Adtalem Global Education is to empower students to achieve their goals, find success and make inspiring contributions to our global community. Adtalem Global Education Inc. (NYSE: ATGE; member S&P MidCap 400 Index) is a leading global education provider, and the parent organization of Adtalem Educacional do Brasil, American University of the Caribbean School of Medicine, Association of Certified Anti-Money Laundering Specialists, Becker Professional Education, Carrington College, Chamberlain University, DeVry University and its Keller Graduate School of Management, EduPristine, Ross University School of Medicine and Ross University School of Veterinary Medicine. For more information, please visit adtalem.com.
Contacts
Media Contact:
Kieran Beer, CAMS
Director of Editorial Content
ACAMS moneylaundering.com ®
o: +1 646.330.4866
kbeer@acams.org