ACAMS 14th Annual AML & Financial Crime Conference - Europe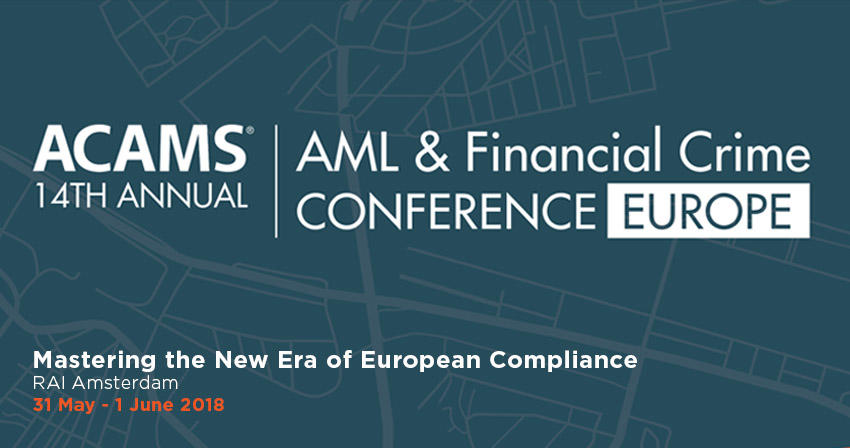 Regulatory changes and technological disruption are currently reshaping European Anti-Financial Crime initiatives. ACAMS' 14th Annual European AML & Financial Crime Conference brings together industry leading experts to offer insight on the new skills, tools and strategies that will help compliance professionals successfully navigate this era of rapid change. The conference, centered on the theme "Mastering the New Era of European Compliance" will take place at the RAI Amsterdam, Netherlands from May 31 – June 1, 2018. The conference includes a keynote presentation by Alexandra Jour-Schroeder, director for criminal justice at the European Commission, on 5AMLD and its practical implications for compliance professionals.
"The role of the AML professional is quickly evolving from one of sub-area specialists to those with a broader knowledge base and diverse skills," said Rick McDonell, executive director of ACAMS and former executive secretary for the Financial Action Task Force. "Accelerating the evolution of AML compliance practices and professionals will require greater dialogue between the private sector, enforcement bodies and regulators – something ACAMS is well-positioned to facilitate."
The Europe conference provides in-depth training, regulatory updates and critical solutions to regional AML compliance challenges. It is the largest dedicated AML conference in the region, and represents a unique opportunity for the AML/CTF/anti-financial crime community to meet. Plenary sessions will address topics as 4AMLD & GDPR, Sanctions, the Terrorism Threat in Europe and Cybercrime. Specialist 'AML Knowledge' and 'AML Innovations' tracks will spotlight the latest breakthroughs in sector technology.
"The pace of change in European anti-financial crime policy and practice continues unabated, and topics like artificial intelligence, cybercrime, AML data analytics and how to combat terror financing and human trafficking have never been more important," said Angela Salter, head of Europe at ACAMS. "This conference brings together current and future leaders of our industry to learn from one another and to connect with their peers across both private and public sectors. We're proud to be the catalyst for this sharing of cutting-edge best practice and anti-financial crime professional development."
Led by industry leaders in banking, government and law enforcement, the Europe Conference's panels and workshops tackle critical AML issues head-on, with thought-provoking sessions, such as:
Cybercrime: Can it Ever be Prevented?

Analyze recent cybercrime cases to highlight the current cyber threat landscape
Create models for common cyber-typologies and red flags indicating potential cybercrime activities
Create a cyber-event response plan to investigate damage, restore systemic integrity and notify stakeholders including law enforcement and regulators

Compliance with Converging Regulation: A Holistic Approach Towards the Implementation of 4AMLD/ GDPR & PSD2

Raise awareness of regulatory impact assessments as a tool for more effective regulatory change planning

Making the Invisible More Visible: Tackling Bribery and Corruption

Examine recent FCPA prosecutions of European entities and lessons learned from them
Review approaches taken by other financial institutions to identify the behavior of customer involved in bribery and corruption

The Ever-Changing Specter of Sanctions Risks

Evaluate the impact of the current evolving global political landscape in Venezuela, Russia, Cuba, Myanmar and others, and sanction screening activities
Learn about new and emerging evasion techniques used sanctions targets to gain access to the global financial system
Speakers include:
Remy Jansen, Head of Department De Nederlandsche Bank, Netherlands
Erik Barnett, Europe Regional Head of Financial Crime Threat Mitigation, HSBC
Sharon Campbell, Global Head of Financial Crime Compliance, Nordea
Geraldine Lawlor, Global Head of Financial Crime, Barclays
Philippe Vollot, Managing Director, Global Head of AFC & Group Anti-Money Laundering Officer, Deutsche Bank
Eric Strom, Cyber Specialist, FBI, Netherlands
Andy McDonald, former Head of UK National Terrorist Financial Investigation Unit, New Scotland Yard, United Kingdom
For more information and to download a full conference schedule, visit http://www.acamsconferences.org/europe.
About the Association of Certified Anti-Money Laundering Specialists® (ACAMS®)
ACAMS is a member of Adtalem Global Education (NYSE: ATGE), a global education provider headquartered in the United States. ACAMS is the largest international membership organization dedicated to enhancing the knowledge and skills of anti-money laundering (AML) and financial crime professionals from a wide range of industries, with extensive resources designed to develop and sharpen the skills required for superior job performance and career advancement. Its CAMS certification is the most widely recognized AML certification among compliance professionals worldwide. Visit acams.org for more information.
About Adtalem Global Education
The purpose of Adtalem Global Education is to empower students to achieve their goals, find success and make inspiring contributions to our global community. Adtalem Global Education Inc. (NYSE: ATGE; member S&P MidCap 400 Index) is a leading global education provider, and the parent organization of Adtalem Educacional do Brasil, American University of the Caribbean School of Medicine, Association of Certified Anti-Money Laundering Specialists, Becker Professional Education, Carrington College, Chamberlain University, DeVry University and its Keller Graduate School of Management, Ross University School of Medicine and Ross University School of Veterinary Medicine. For more information, please visit adtalem.com.