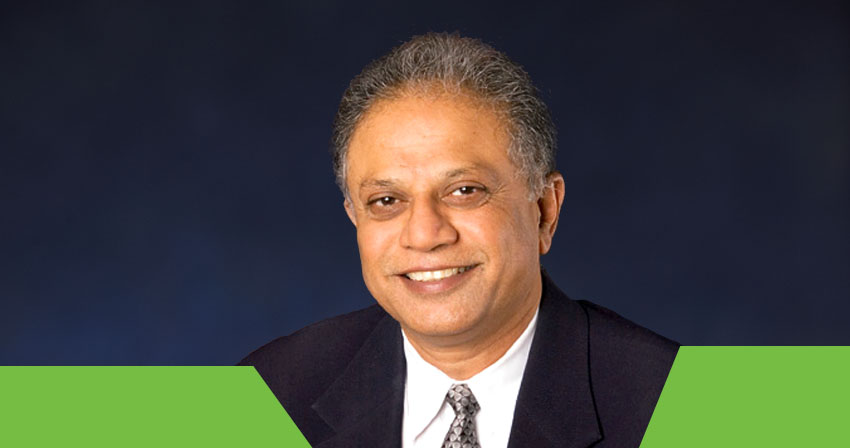 Seeth Vivek, MD, DLFAPA, has joined Ross University School of Medicine (RUSM) as Associate Professor and Chair of Psychiatry. Dr. Vivek's nearly 40-year career has included a number of leadership roles in New York state, where he currently serves as the president of the New York State Psychiatric Association and Chairman of the Departments of Psychiatry and Addiction Services at Jamaica and Flushing Hospitals in Queens, New York. He is also the past president of the Queens County Psychiatric Society.
Dr. Vivek will draw upon his experience in mental health advocacy and organized medicine to help RUSM students gain a better understanding of mental health issues and addiction medicine.
"Dr. Vivek has been a leader in the field of psychiatry as a clinician, educator and an administrator. With his 360 degree view of medicine, he offers unique insight that will help us enhance our clinical training in psychiatry at our affiliate U.S. teaching hospitals throughout the country," says Dr. Vijay Rajput, Associate Dean of Clinical Sciences at RUSM. "As students are exposed to Dr. Vivek's passion for psychiatry and benefit from his extensive experience, students will gain a better understanding of career opportunities in the field and how to establish a path to achieve their aspirations."
"I spent a significant part of my career encouraging colleagues to escape the trap of offering 'one size fits all' treatments for their patients. A diagnosis should include all elements and a treatment plan should be comprehensive," says Dr. Vivek. "I look forward to challenging RUSM students at this stage in their journey about how they think about mental health and treatment for patients."
Dr. Vivek has been deeply devoted to training the next generation of physicians. He has served as an examiner for the American Board of Psychiatry and Neurology. As a beloved teacher, Dr. Vivek was awarded the Leo Davidoff Award for Excellence in Medical Student Teaching. Other awards Dr. Vivek has received include the Red Cross Award for Distinguished Service following the events of September 11, the Harvey Bluestone Award for Distinguished Service and many other accolades to recognize his public service.
Dr. Vivek is board certified in general psychiatry, psychosomatic medicine, addiction psychiatry, forensic psychiatry, geriatric psychiatry and addiction medicine.
About Ross University School of Medicine
Ross University School of Medicine is a member of Adtalem Global Education (NYSE: ATGE), a global education provider headquartered in the United States. The organization's purpose is to empower students to achieve their goals, find success and make inspiring contributions to our global community. Founded in 1978, RUSM is committed to educating a diverse group of skilled physicians to serve as leaders in the U.S. healthcare system. With more than 13,000 alumni, RUSM is an important contributor to healthcare in North America. Students complete their foundational studies in Dominica, West Indies, before completing their clinical training in one of RUSM's affiliated teaching hospitals throughout the United States. RUSM is accredited by the Dominica Medical Board and the Caribbean Accreditation Authority for Education in Medicine and Other Health Professions (CAAM-HP).
About Adtalem Global Education
The purpose of Adtalem Global Education is to empower students to achieve their goals, find success and make inspiring contributions to our global community. Adtalem Global Education Inc. (NYSE: ATGE; member S&P MidCap 400 Index) is a leading global education provider, and the parent organization of Adtalem Educacional do Brasil, American University of the Caribbean School of Medicine, Association of Certified Anti-Money Laundering Specialists, Becker Professional Education, Carrington College, Chamberlain University, DeVry University and its Keller Graduate School of Management, Ross University School of Medicine and Ross University School of Veterinary Medicine.